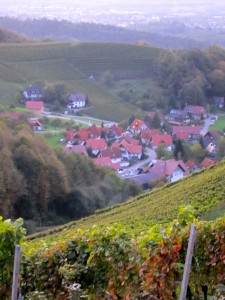 It's been honored as "the most beautiful town in Germany, "but despite a picture-perfect setting surrounded by hills of vineyards on the sunny side of the Black Forest, and despite being loaded with picturesque timbered houses overflowing with flowers, Sasbachwalden is not just a pretty face. It is also a village dedicated to family and fitness travel, fresh-air activity and fabulous food. YES!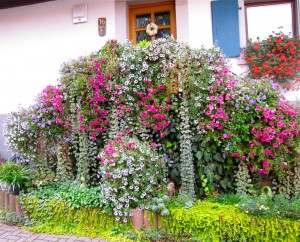 But let's cut to the chase.
The tiny community located in the heart of what is called, "Germany's finest Gourmet corner," boasts 40 restaurants. These range from wine-focused taverns to homey country inns to fine-dining establishments starred by Michelin and most offer must-try specialties.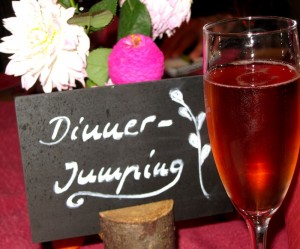 Although the cornucopia creates the classic foodie conflict—so much to eat/so little time—not to worry. Forward-thinking Sasbachwalden restaurateurs have come up with a totally pleasing program that allows visitors to sample four different restaurants in one fine meal.
"Dinner jumping," works like this: you reserve and prepay (65 Euros—about $84), by phone or online at least 14 days in advance of the dinner, and then pick up your dinner voucher at the tourist office when you reach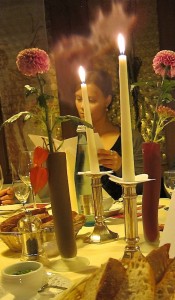 Sasbachwalden. The voucher lists four restaurants, all within walking distance of each other, each serving a different course of your extravagant four-course meal. You don't order specific dishes, but vegetarian options are available and the "surprise" menu represents the best of the chef's repertoire using the freshest ingredients available that day.
My dinner jumping started at Gasthof Zum Holzwurm with the house-specialty Flammkuchen. The pizza-like bites of heaven served as an appetizer to the appetizer course, so as soon as I devoured the Flammkuchen I was served a generous first-course salad of greens topped with topped with vegetables and fish. Next, at Restaurant Sonne, I gobbled the second course (a rich barley risotto), before moving on to Hotel-Restaurant Engel for the main course  (perfectly cooked lamb with all the trimmings).  Dessert at the Restaurant Fallert included five exotic-flavored ice creams and mousses followed by a plate of the chef's most divine candies and miniature pastries.  OMG. Sehr gut!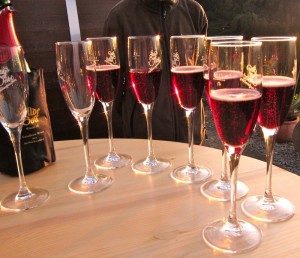 Mineral water and appropriate wine (usually the region's famed Alde Gott) accompanied each course as did warm attentive service.
Four restaurants/four courses/flowing wine/ fabulous experience—foodies, you need to get yourself to Sasbachwalden.
For more information or to reserve, click here: Sasbachwalden Dinner Jumping.
For a sampling of the wunderbar Flammkuchen, read on.
FLAMMKUCHEN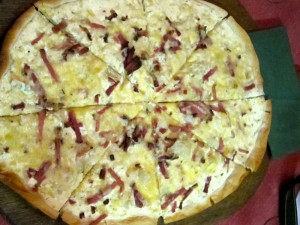 Yield: 1 flammkuchen, 4 large pieces.
1/4 pound thickly sliced smoky bacon, cut crosswise into 1/4-inch thick lardons
1 small to medium onion, peeled and thinly sliced
1/2 cup quark
1/2 cup sour cream
2 teaspoons chopped chives
Salt
Pepper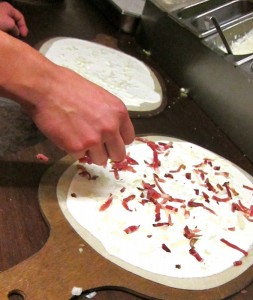 Crust (You can use packaged thin pizza crusts, or thawed frozen pizza or bread dough or homemade pizza dough. If using dough, roll it 1/8-inch thick into a 12-inch circle.)
Start heating oven to 450°F.
Put bacon in a medium skillet and set over a moderate heat until the bacon renders its fat and just starts to brown, about 4 minutes. Transfer bacon to a paper towel to drain. Add onions to bacon fat in skillet and cook until just softened, but not browned, about 2 minutes. Transfer onions to a paper towel to drain. Set bacon and onions aside until cool.
Combine quark, sour cream and chives.
Spread mixture over crust coming to within 1/4 inch of the edge. Sprinkle lightly with salt and pepper. Sprinkle onions and bacon evenly over the crust.
Set flammkuchen on the bottom rack of the preheated 450°F oven and bake until the crust turns golden brown, 12 to 15 minutes.
Serve immediately.