Ask locals to name the things that shaped St. Louis's historical character as well as contribute to the city's current charisma and everyone will reply: baseball and beer. Chocolate lovers will add Bissinger's.
Beloved by St. Louisans since first opening in 1927, Bissinger's Handcrafted Chocolatier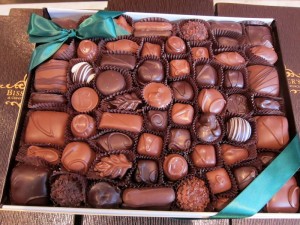 continues to make traditional high-quality chocolates and old-fashioned confections (HALLELUJAH), but keeps current by adding contemporary flavors to its candy repertoire and innovative concepts to it's retail outlets.
For example the Bissinger's store located on Maryland Plaza in the heart of St. Louis, double dips as a shop selling chocolates as well as a café serving to-die-for chocolate desserts (and wine and savories).
One can enjoy St. Louis baseball and beer outside of St. Louis via TV and bars, and one can buy a selection of Bissinger's candies through the Internet and catalogues, but to capture the magic of the café's divine desserts, you have to be there. Unless you score a recipe. Look below.  GLORY BE!
Bissinger's chief chocolatier, Dave Owens, created Milk Chocolate Semifreddo for Maryland Plaza and claims that the semi-frozen magic is his favorite best seller. Although Owens dresses up the café version in fancy garnish (pictured), he says that the recipe is versatile and can "wow" even if garnished with nothing more than a sprinkling of toffee, a dab of whipped cream and/or a shot of liqueur. AMEN
MILK CHOCOLATE SEMIFREDDO
(Adapted from a recipe supplied by Dave Owens of Bissinger's Handcrafted Chocolatier. Although the original recipe calls for milk chocolate, the semifreddo is also fabulous when made with dark chocolate.)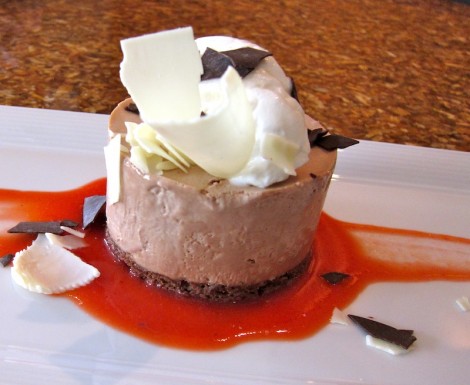 Yield: 8 servings.
3 large egg yolks
6 tablespoons sugar
1/4 cup milk
1/2 vanilla bean, halved or 1/2 teaspoon vanilla extract
6 ounces milk (or dark) chocolate, chopped
1-1/3 cups heavy cream
Choice of garnish:
About 8 tablespoons coarsely chopped chocolate-covered English toffee (optional)
Whipped cream (optional)
Dark chocolate shavings (optional)
White chocolate shavings (optional)
Hazelnut, amaretto or chocolate liqueur (optional)
Beat egg yolks in the top of a double boiler or in a large mixing bowl until well combined. Continue beating, gradually adding sugar until mixture thickens. Beat in milk. If using the vanilla bean, add it to mixture.
Put water in the bottom of a double boiler or a saucepan, set over low heat and let water get hot. Set  top of double boiler or bowl over hot water and, whisking constantly, cook mixture until it is hot and thickens into a custard, about 10 minutes. Do not overheat or overcook.
Remove custard from the heat and, if using, remove the vanilla bean, scraping seeds into the custard. If using vanilla extract rather than vanilla bean, add extract to custard. Add chocolate and whisk until chocolate melts completely and custard is well blended. Set custard aside to cool completely.
Whip the cream until soft peaks form. Fold the whipped cream into the chocolate mixture until completely combined.
Spoon the mixture into eight ramekins, chocolate dessert cups, or dessert molds. Cover with plastic or foil and freezer several hours or overnight, until mixture is frozen solid.
To serve, (if using molds, unmold onto dessert plates) allow the semifreddo to stand at room temperature for 10 minutes. Garnish as desired, with chopped toffee, whipped cream, shaved chocolate and/or liqueur.
Serve immediately. Expect raves.