No one knows the secrets of Milwaukee's food scene better than Theresa Nemetz.
A Milwaukee native and tourism ambassador with a passion for the city, Theresa showcases the food of Milwaukee through Milwaukee Food Tours, a business she runs with husband Wade.
The various 2-1/2 hour tours take participants on walks through Milwaukee's historic, food-laden neighborhoods, stopping at restaurants, bakeries, and other specialty food outlets for sampling and savoring.
According to Theresa, "Milwaukee has a rich history, and the city's cuisines are reflective of the many German, Italian and Polish influences of its immigrant past."
Theresa looks to delicious ethnic Milwaukee when not only designing Food Tours, but also choosing restaurants to recommend to visitors. When asked for a list of personal favorite Milwaukee restaurants, Theresa replied:
MADER'S RESTAURANT, 1041 North Old World 3rd Street 414-271-3377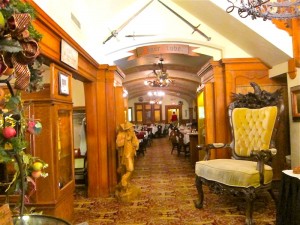 To sample the city's German cuisine, step back in time and visit Mader's on Old World Third, a cobblestone street once considered the heart of Milwaukee's German activity.
Mader's offers an extensive menu and you can't go wrong trying their most famous German dishes, two of which are the Pork Shank with an apple demi-glaze and  Rouladen, a beef tenderloin rolled with pickle spear, smoked bacon and caramelized onions. Or if you just can't decide, go with the German Sampler, which includes Wiener Schnitzel, Kasseler Rippchen and Rheinischer Sauerbraten with potato dumpling, sauerkraut and red cabbage.
CARADARO CLUB PIZZA, 5010 W. Vliet, .476.7700
Milwaukee was strongly influenced by the Italians and Sicilians, and so how could you visit Milwaukee without a sample of excellent cracker thin crust Sicilian pizza? Any of the local favorites, such as Balistreri's, Barbiere's, DeMarini's and Zaffiro's, are divine, but for a special treat, try stopping at the The Original Caradaro Club for a slice of pie using the original recipe for the first pizza ever served in Milwaukee.
RISTORANTE BARTOLOTTA, 7616 West State Street, 414-771-7910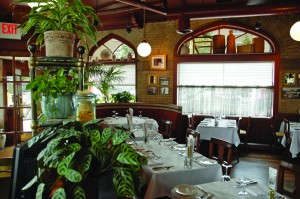 My personal favorite of the Bartolotta Family restaurants, is Ristorante Bartolotta, located in the quaint village of Wauwatosa, just outside of downtown Milwaukee.
Ristorante Bartolotta's menu features hand-made pastas, (I especially like the Pappardelle al Ragu d'Anatra, a hand-cut Tuscan ribbon pasta tossed with a traditional slow-braised duck ragu) and seafood dishes (my favorite: Grigliata Mista di Mare, a seaside-style assortment of grilled seafood).
THREE BROTHERS, 2414 S Saint Clair St, 414-481-7530
Tucked away on an unassuming corner of the Bay View neighborhood you'll find Three Brothers, a charming Serbian restaurant owned by Branko Radicevic, a 2002 James Beard award winner. The signature Serbian dish, burek, requires 45 to 60 minutes of attention in the kitchen before arriving at your table, but it is worth every minute. While waiting, be sure to nibble on the stuffed grape leaves as well as the Serbian hors d'oeuvres platter. (Please note – cash only.)
POLONEZ, 4016 South Packard Avenue, 414-482-0080
Another great place for Eastern European food is Polonez, owned and operated by Polish immigrants George and Aleksandra Burzynski. George cooked alongside his grandmother as a child, learning how to make her traditional Polish dishes, which he put on Polonez's menu.  In my opinion, the Pierogi – Polish dumplings – and Czarnina soup are a must.
COMET CAFÉ, 1947 N. Farwell Avenue, 414-273-7677
Comet Café offers a wide lunch and dinner menu, but their passion is firm in everything bacon. Don't miss their Sunday brunch complete with FREE bowls of bacon at each table,  Bloody Mary's topped with bacon and Bacon Cakes (you guessed it – pancakes with bacon in them).
SANFORD, 1547 North Jackson Street, 414-276-9608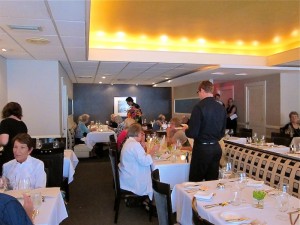 Chef Justin Aprahamian presents an ever-changing menu to his guests at Sanford on Milwaukee's East Side. Justin studied with and recently took over the operation from founder, Chef Sandy D' Amato. Sandy received accolades both locally and nationally in Food and Wine, Bon Appetit, Wine Spectator, Milwaukee Magazine, Chicago Tribune, New York Times and Esquire. 
What to order?  Just ask for the Seven-Course Surprise Tasting Menu where caution is thrown to the Sanford kitchen and a custom tailored menu is created for you!
WOLF PEACH, 1818 North Hubbard Street, 414-374-8480
Arguably offering one of the best views of downtown Milwaukee, Wolf Peach sits high above the city and offers a farm-to-table menu. Ask for seating on the patio with a view and dine on some gourmet favorites, including their selection of wood-fired pizzas.
KOPP'S CUSTARD, 5373 N. Port Washington Ave., 414-961-2006
Known equally for their jumbo butter burgers and frozen custard, Kopp's Custard is a must  when in Milwaukee. Nothing can fully describe that overwhelming taste of buttery goodness with your first burger bite, or the deliciousness of any of their rich custard flavors. Although there are multiple locations, be sure to visit the Glendale location just north of downtown Milwaukee – it is on the site of the former Milky Way drive-in restaurant, which is rumored to be inspiration for Arnold's Drive-In of Happy Days TV fame.
LAKEFRONT BREWERY, 1872 N. Commerce St., 414-372-8800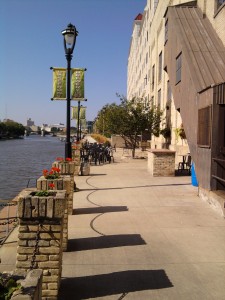 You can't leave Milwaukee without experiencing a classic Friday Night Fish Fry, and what better place to do so than Lakefront Brewery, complete with polka music by Brew Haus Polka Kings and of course, a pint of Milwaukee-brewed beer. Consistently voted the #1 fish fry in Milwaukee, chose between the beer battered cod or the lightly breaded perch. While you're there, be sure to stick around for a tour of the brewery – cheers, from Milwaukee!