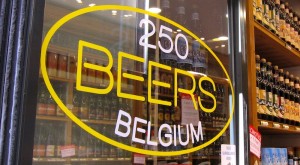 100 bottles of beer on the wall,
100 bottles of beer.
Should one of those bottles happen to fall—
400 more bottles of beer on the wall.
Belgium produces about 500 types of beer and Brussels tempts tourists with a staggering number of restaurants, cafes, bars that serve the brew. But Sweet Leisure readers headed to Brussels need not be bamboozled by beer bounty, thanks to Chef Robert Wiedmaier who knows all about Belgium and beers and tells us where to jump on the beer bandwagon in Brussels.
Born to a Belgian father and American mother, Robert trained in the Netherlands and worked under leading chefs in Brussels and Washington, D.C. before opening his own restaurants. Each of Robert's restaurants incorporates Belgian elements. For examples the elegant Marcel's in Washington serves "French cuisine with Flemish flair" and Brasserie Beck, also in Washington, offers Belgian brasserie fare and the city's largest selection of Belgian beer. Robert's two other restaurants, the fine-dining Brabo in Alexandria, and the casual Mussel Bar in Bethesda, both feature the best of the best Belgian cuisine.
An unofficial ambassador of Belgian food and drink, Robert was officially enthroned as an Honorary Knight in The Knighthood of the Brewers' Mashstaff in Brussels last August. I am not exactly sure what this means, except that it's a big honor and given to only those who are extraordinary Belgian beer authorities and experts, which is why Sweet Leisure is so happy to bring you Robert Wiedmaier's list of personal favorite Brussels beer bars located near the Grand Palace.  No doubt you'll want to tap into these ASAP.
WHERE TO DRINK BEER IN BRUSSELS
by  Robert Wiedmaier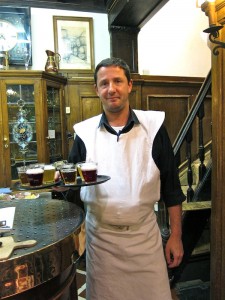 A la Bécasse ("The Lark") This place is a snapshot of 19th century Belgium. The small, simple space is filled with long wooden benches, the waiters wear Monk-style uniforms, and they have their own house barrel beers. This café is one of the only spots that I've seen that serves lambic on draught, in stoneware jugs. It's a few blocks from the Grand Place but hidden down a narrow passageway across from St. Nicholas. Rue de Tabora 11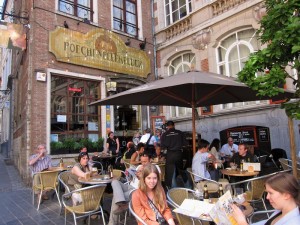 The Poechenellekelder (The Puppet Cellar) is a quirky little bar across from the Mannekin Pis (the "pissing boy" statue). It's busy for both locals and tourists, and usually difficult to find a seat. The place is covered with hanging marionettes and trinkets. This place has been around a long time and is well known for its extensive beer list that has close to one hundred Belgian varieties, most pretty standard, but with some harder to find Belgians like the unlabeled Westvleteren Trappist. Plus, if you stick around for a few beers, they'll bring you snacks on the house. Rue de Chene 5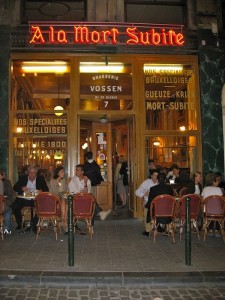 A la Mort Subtite (Sudden Death)  is a busy historic bar that brings all sorts of people. La Mort serves Belgian classics like Gueuze, lambics and Trappists. It's reasonably priced and has basic snacks to pair with beers like meat and cheese cubes. I should also note that unlike many of the other Brussels beer houses, which are often rustic and small, la Mort has an elegant interior with tall ceilings, pillars and huge mirrors. Rue Montagne-aux-Herbes-Potagères 7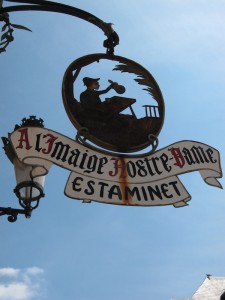 A L'Imaige Nostre-Dame is one of the oldest cafes in Brussels, and like most of the city's best-kept secrets, it is pretty hard to find unless you know where to go. Similar to "The Lark," the cafe is at the end of a very long, very narrow alleyway just a few minutes from the Grand Palace, but off the tourist route. It is windowless, rustic and a little tight (especially if you are tall like me), but it has some good local beers and about two dozen bottles with some standards like Affigem and Juliper. The have Saint Feuillien Blonde on draught along with a good range of rare beers and some seasonal varieties. Their specialty is La Bourgogne des Flandres, which is Belgian brown ale brewed in oak barrels. Rue Marche-aux Herbs 8.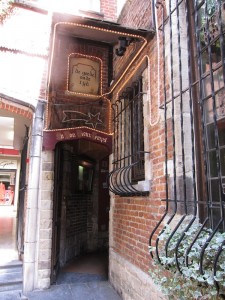 Au Bon Vieux Temps (The Good Old Days) is close to à l'Imaige Nostre-Dame and keeps a pretty low-key local vibe. It has a smaller beer list with about 25 or so traditional Belgians, but the atmosphere alone is worth stopping in for a look. It has been around for more than 300 years and has a Gothic-church décor with stained glass windows and dark wood. Rue du Marché aux Herbes 12
Le Corbeau (The Raven) is a local favorite and has one of the best beer menus in the city. The Chimay Bleue comes in a two-foot high Chevalier glass. They have 30 or so bottles and about eight draughts including Kriek and Framboise (cherry and raspberry). It's a good lunch place and is reasonably priced, but in the evening I have been told it gets pretty rowdy with the student crowd. Rue Saint Michel 18