Spanish tourism authorities claim that Germans head to Valencia for the beach and the gastronomy; that the French seek fashion, the design hotels and the gastronomy; and that Americans like the history, the culture and the gastronomy. See a pattern here?  Everyone loves Valencia's gastronomy. I know the reason. It's called Paella.
That luscious rice concoction that catapulted to stardom in cities all over Spain was actually born in Valencia.
Invading Moors planted rice in the marshlands of what is now Albufera Natural Park (on the outskirts of the city). Workers cooked that rice, in the fields, over an open fire with ingredients on hand (snails, rabbits, backyard vegetables, and an occasional chicken). Eventually farm-style paella was joined by seafood paella. (Valencia is, after all, overflowing with seafood being located on the Mediterranean Sea, at the mouth of the Turia River and minutes from a super large freshwater lagoon.)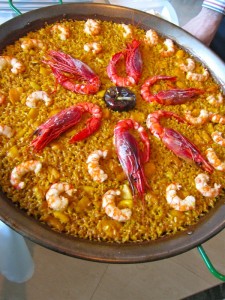 Today Valencians produce the purest paellas of them all—not deviating much from centuries-old tradition. For example, Valencians still serve two types of the dish, Paella Valenciana (the meat variety) and Paella de Marisco (with seafood); it is considered a no no to mix meat and seafood in the same paella. Also, Valencians, as they have for centuries, generally cook paella for a family lunch (not dinner) on Sundays (the non-work day), outdoors over an open fire. By tradition, cooks are men (who are strong enough to carry the large pans, endure the heat of the outdoor fire and—as one gentleman confessed—prefer cooking to going to church).
Visitors to Valencia can not only sample the best of the best classic paellas, but also learn how to make them in workshops and classes held in restaurants owned by paella masters Rafael Vidal and Rafael Galvez Benedito.
Rafael Vidal cooked paella for the king and queen of Spain on their first visit to Valencia and has taken his paella show on the road in the United States and elsewhere, earning an international reputation. Vidal owns two restaurants named Restaurante Levante, one is in Benisano outside of Valencia and a sleek new version in Valencia itself.
Rafael Galvez Benedito cooks for celebrities, tourists and locals at his farmhouse restaurant, La Matandeta, located on the edge of a rice marsh in Albufera Natural Park.
Both men contributed to the composite recipe below, Vidal sharing sage information at a luncheon party at Restaurante Levante Valencia and Galvez actually giving a workshop demonstration at La Matandeta.  In addition, tourism authority Maximo Caletrio offered wise tips, translations and tidbits from his family's treasured recipe.
Before attempting to make a classic Paella Valenciana you will need:
A classic paella pan made of steel, with a flat bottom, gently sloping sides and two handles. The rivets of the handle are an important marker for the amount of liquid and rice to use. The size of the pan dictates the amount of ingredients and the number served. My 15-inch pan yields eight servings.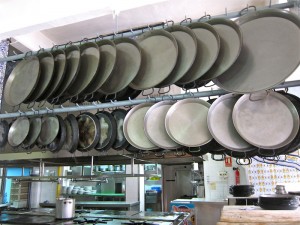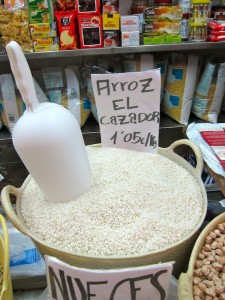 Rice grown around the village of Calasparra awarded a Denominacion de Origen designation for quality. Connoisseurs consider two varieties of short-grain Calasparra rice for their paella, Sollana (also called Calasparra) and the best of all, Bomba.
Ingredients of the highest quality available locally, including:
Liquid: most country-style paellas are made with water (purified water suggested) and/or broth. 
Meats: Rafael Vidal's recipe calls for white vaqueta snails collected only after a rain. Like, how many of those will you find in your back yard? You can leave them out and also skip the rabbit, making paella with only chicken and vegetables. Keep meat pieces small to insure meat and rice will finish cooking at same time.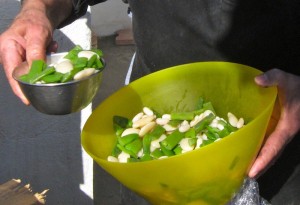 Beans: Valencians use both fresh and dried beans such as green runner beans (bachoqueta de herradura) and white butter beans (garrofons), but you can substitute what you have at hand: long flat green beans (cut into 1-inch pieces), fava beans, lima beans, regular green beans, peas and/or butter beans. If using dried beans, soaked them overnight and precooked until tender. Fresh beans need to be blanched before going into paella. Frozen beans just need thawing.
Colorant: Valencians like their paella strongly colored, thus they add a colorant. Unless you have access to a good Spanish specialty shop that sells a colorant, you might want to stick with saffron plus some paprika to intensify color.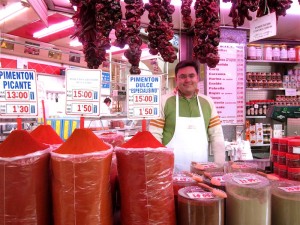 Important points to keep in mind:
Proportions in the recipe's ingredient list below are only an approximate—vague at that.  Amount of ingredients depends on many factors including amount of meat, type of rice and intensity of heat. After you make your first paella, you will be able to judge amount of ingredients for subsequent ones.
Once the rice is spread in the pan, it is never ever stirred. (The fire is manipulated, not the rice.)
Valencians consider the brown crust that forms on the bottom of properly cooked paella a delicacy.  Brown and crisp without burn is hard for the novice to achieve. Actually making the perfect Valencian-style paella is a bit tricky first time around. Best to keep in mind that if at first you don't succeed try try again and practice makes perfect.
PAELLA  VALENCIANA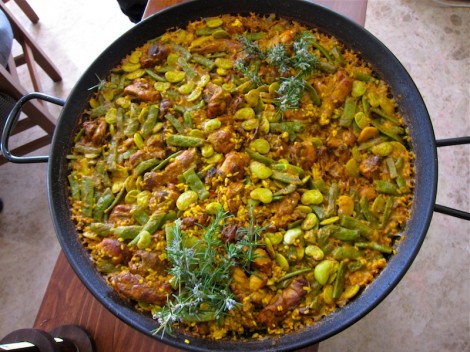 Amounts approximate for a 15-inch pan yielding 8 servings.
8 small pieces, skin on free-range chicken
8 small pieces rabbit, skinned (or use all chicken)
Coarse kosher salt
Black pepper
About 3 large cloves garlic, mashed
Olive oil
2 vine-ripe tomatoes, peeled, seeded and finely diced
About 1/2 teaspoon pulverized saffron threads
1 teaspoon sweet Spanish paprika
About 2 cups fresh green beans, cut into 2-inch pieces, blanched (or use frozen and thawed)
About 1 cup fresh lima beans, blanched (or use frozen and thawed)
About 8 to 9 cups purified water or chicken broth (or a combination)
2-1/2 to 3 cups short-grain Calasparra rice, preferably Bomba
Season chicken and rabbit with salt, pepper and mashed garlic. Set aside.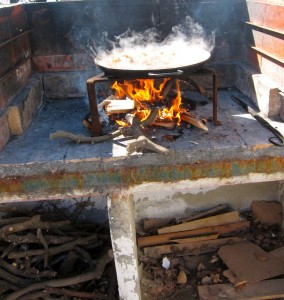 Build a wood fire (wood adds smoky flavor and keeps the temperature high and even).
When fire is hot, set a grate over it and put a paella pan on the grate. Sprinkle coarse salt in the bottom of pan (will prevent rice from burning) and add a thin layer of olive oil. When the oil is hot add seasoned chicken and rabbit and sauté, turning pieces until they are golden brown and beginning to crisp, but not fully cooked, about 8 minutes. 
Add tomato saffron, paprika and beans; cook briefly, stirring gently, then add enough liquid to come to the bottom of the rivets on your paella pan (the rivets attaching the handles).
Build up the fire with twigs or wood to create a high heat and give the liquid a steady rolling boil over the whole pan. Add rice to pan in a cross pattern, about 1-inch wide and 1/4- inch deep. With a spatula, gently spread rice evenly over pan. From this point on liquid should remain at an even gentle boil and rice should not be stirred. You can control the fire by spreading the it to the edges of the pan, away from the center.
Let mixture simmer until liquid is absorbed, about 20 minutes. 
 As soon as the rice absorbs all of the liquid, remove the paella from fire, cover lightly with kitchen towels, and let rest 5 to 10 minutes before serving.
 Serve directly from pan.