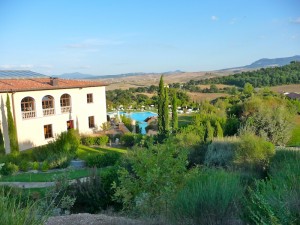 Talk about the best of all possible spa worlds. Adler Thermae Spa Resort culls the finest characteristics from its German/Italian partnership to create an ideal wellness getaway. Forgive the stereotyping, but due to the German management, the spa resort is orderly, spotlessly clean and run with medical precision. Italians contribute not only a fabulous location in the lovely Orcia Valley in the heart of sunny Tuscany, but also a staff producing incredible food and an atmosphere that is happy, charming and pleasure focused.
In spa terms, Adler Thermae's is in perfect balance, providing guests with the tools to become healthy and wellness aware as well as the facilities to enjoy life to the fullest.
Guests can approach the five-acre, 90-room resort/spa, as they desire. Some seek a medically designed and supervised regime that includes prescribed diets, activities and educational programs. Others simply want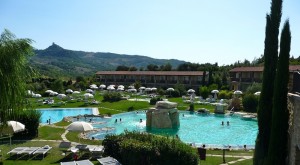 a wellness-focused vacation in a beautiful setting complete with wonderful food, wine and health and beauty treatments.
The five-star property sports a cornucopia of amenities, including gracious rooms and suites, two restaurants, swimming pools, thermal springs, and a separate spa area with a generous number of dramatic treatment and relaxing areas.

Gardens garnish the grounds and the herb garden and vineyard, add not only to the beauty of the setting, but also supply ingredients for the dining table and spa treatments.
Adler takes its mind, body and spirit connections seriously, and the spirit aspect can seem downright decadent. (Consider the Brunello body scrub and the Bacchus Ritual, that includes a bath with vino nobile di Montepulciano.)
The mind, body and spirit are also well fed in the kitchen, which serves diet-friendly foods as well as indulgent Italian specialities.
As fitting a resort in the center of Italy, Adler Thermae chefs excell at making pasta dishes, the favorite of which is Mezze Maniche with Duck and Chard Sauce. (Mezze maniche refers to pasta cut into a stout cylinder shape.)
ADLER THERMAE'S
MEZZE MANICHE WITH DUCK & CHARD SAUCE
Yield: 4 first-course servings.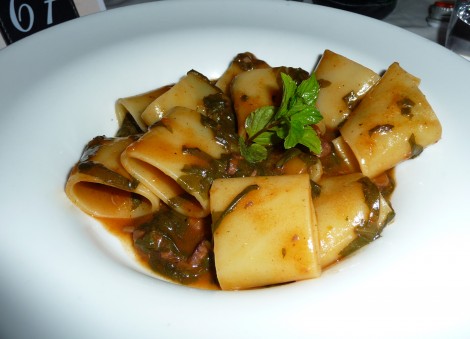 Extra virgin olive oil
1 medium onion, peeled and finely chopped
2 stalks celery, trimmed and finely chopped
1 carrot, peeled and finely chopped
6 large cloves garlic, peeled and finely chopped, divided
1 full duck breast (about 12 ounces), trimmed of skin and fat and diced
Salt to taste
Pepper to taste
About 1 cup red wine
1-1/2 to 2 cups rich, flavorful duck or other poultry stock
1 tomato peeled, seeded and chopped
1 teaspoon finely chopped fresh sage (or 1/2 teaspoon dried)
1 teaspoon fresh rosemary (or 1/2 teaspoon dried)
About 12 to 16 ounces chard
About 12 ounces mezze maniche or other broad, tubular pasta
Put a light layer oil in the bottom of a heavy saucepan or Dutch oven and set pan over medium heat. When the oil is hot, add onion, celery, carrot and 4 cloves chopped garlic; sauté until the vegetables soften, about 5 minutes. Add duck, and sauté until pieces begin to brown, 5 to 10 minutes. Sprinkle lightly with salt and pepper. Add wine. Scrape any brown bits that stick to bottom of pan into the liquid and cook until wine evaporates. Add stock, tomato, sage and rosemary. Bring to a boil, reduce heat and simmer until broth reduces, duck is tender and flavors are well blended, at least 30 minutes.
Meanwhile, trim off coarse mid ribs of chard and julienne or chop the leaves.  Put a layer of olive oil in a skillet and set over medium heat. When oil is hot, stir in remaining garlic and then add chard and toss gently. Sauté chard until it is tender, about 5 minutes. Add cooked chard to duck sauce.
Bring a large pot of water to a rapid boil. Add pasta and cook al dente. Drain pasta and toss with duck sauce. Serve immediately.