TEN THINGS TO LOVE ABOUT ALBUQUERQUE

and

TEN REALLY GOOD RESTAURANT RECOMMENDATIONS
1. OLD TOWN sits in the historic heart of Albuquerque and the neighborhood (which is full of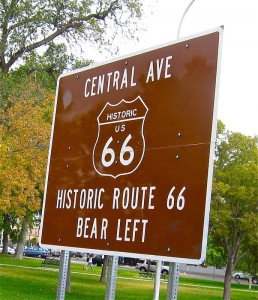 authentic Spanish Colonial buildings housing restaurants, galleries, shops and museums) is as much a city center as was when the city was founded in 1706.
2. ROUTE 66 is greatly touted in history books, songs and legends, but nowhere is the spirit of this Mother Road kept alive than in Albuquerque. The name has changed to Central Avenue, but the kicks are still available at any number of great places stretching through Albuquerque's Downtown area and trendy Nob Hill District.  Personal favorite restaurants along the route: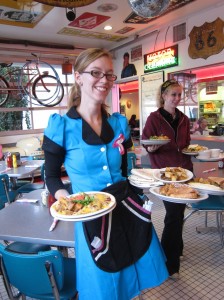 66 DINER (A diner with old-fashioned décor serving usual diner fare with a NM twist—I'm talking chiles here.)
FRONTIER (A local favorite for wonderfully gooey sweet rolls and inexpensive meals.)
KELLY'S BREW PUB (The quintessential brew pub with good bar food and great handcrafted beers—you can even brew and bottle your own.)
THE GROVE CAFÉ AND MARKET (This light, bright, contemporary café/shop, open only for breakfast, brunch and lunch, focuses on organic and natural foods.)
3. CULTURAL CENTERS
The INDIAN PUEBLO CULTURAL CENTER represents the 19 Pueblos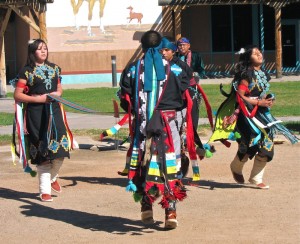 of New Mexico with informative cultural and artistic displays and, on weekends, special Native American dancing and ceremony performances. The center also houses a good gift shop and the PUEBLO HARVEST CAFÉ, serving a luscious sampling of authentic Native American dishes.
The NATIONAL HISPANIC CULTURAL CENTER showcases Hispanic culture through exhibition galleries, performing arts theatre, and the LA FONDA DEL BOSQUE restaurant (try the lunch buffet of traditional New Mexico cuisine). New to the NHCC offerings and not-to-be-missed spectacular is the 4,000 square-foot Torreon Fresco by Frederico (call to see when it's open and plan your trip accordingly—trust me. This is a must.)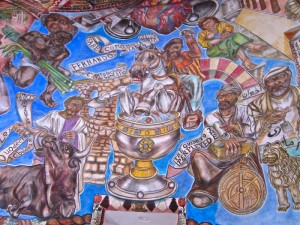 4. SANDIA PEAK TRAMWAY climbs 2.7 miles from desert floor to the 10,378-foot peak of the Sandia Mountains, offering breathtaking views of the Rio Grande Valley.
5. PETROGLYPH NATIONAL MONUMENT stretches over 17 miles and holds around 20,000 ancient images that have been etched or pecked into stone by ancestral Native Americans and early Spanish settlers. Visitors can get close up and personal views of many of the petroglyphs from various hiking trails.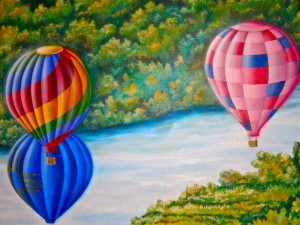 6. BALLOONS have taken off, both literally and figuratively on the ABQ scene. Year-around hot-air balloon rides, an International Balloon Fiesta and the Albuquerque International Balloon Museum make Albuquerque the world's hot-air ballooning capital of…well…of anywhere.
7. THE GREAT OUTDOORS and ABQ's mild, high-altitude climate infused with sunshine, lures visitors as well as locals for hiking, biking, golf and other outdoor sports and pleasures.
8. MURALS by different artist decorate the city making it a veritable museum of open-air art. Most of the murals are painted on private buildings, but a handful grace public walls and were commissioned by the city and supported by tax dollars.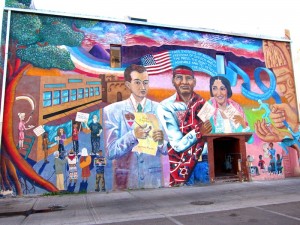 9. HOTEL ANDALUZ was built by NM native Conrad Hilton in 1939, and took honors as the tallest building in NM and the first to boast air conditioning. Today's Four Diamond Hotel Andaluz still racking up the accolades, this time as the most sustainable historic hotel in the nation. It is also one of the most charming and the IN place to stay, drink and dance (tango in the lobby) as well as dine (at the hotel's 4-star LUCIA restaurant).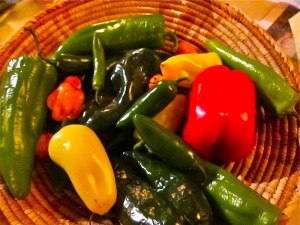 10. CHILES rock. Chiles rule. Chilies dominate Albuquerque's food scene flavoring practically everything including cookies, nuts, jams, candy and most of the dishes in most of the food outlets. Guess one could find a restaurant without chiles on the menu (but who would want to). The state's "official question" remains, "Red or green?"  (Respond "Christmas" and you'll get both.) Three hot places to sample chile magic:
GOLDEN CROWN PANADERIA (A bakery specializing in pizza, coffee and New Mexican baked goods including a green-chile bread. Show up early in the day for the baked goodies as they sell out quickly.)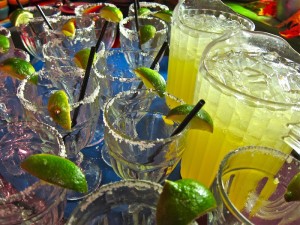 EL PINTO AUTHENTIC NEW MEXICAN RESTAURANT (A widely popular cavernous place—seats up to 1,000 diners—with it's own salsa and chile factory. Wash down the chile dishes with divine margaritas.)
SADIE'S OF NEW MEXICO (A perpetual "best of the city" award winner for the restaurant as well as for a variety of individual popular New Mexican dishes.) Although he wouldn't divulge the official recipe, Executive chef Brian Stafford gave the following as a reasonable facsimile for the prize-winning Chile con Queso served at Sadie's:
CHILE CON QUESO

Yield: About one quart. (The recipe can be halved.)
8 ounces butter
1 cup diced onion
1 cup diced tomato
1 cup diced green chile  (can used Hatch select canned diced green chile, well drained)
1 pound or more diced or shredded American cheese or a mixture of American and Swiss. ("Kraft sliced singles work," says Brian)
Melt butter. Add onion, tomato and chile and gently sauté until onions are translucent and falling apart, 10 to 15 minutes (do not brown the onions). Add cheese, a little at a time, stirring constantly until mixture is smooth and creamy.  Serve hot with fresh tostados.
For more information about  Albuquerque see: www.itsatrip.org.