If you're apprehensive about preparing a big Thanksgiving meal, just think of Stephen Flowers and by comparison your cooking will seem easy as pie.
Flowers cooks for passengers riding the historic Cumbres & Toltec Scenic Railroad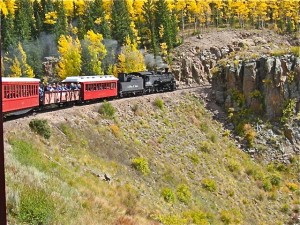 through the Rocky Mountains between Chama, New Mexico and Antonito, Colorado.
The steam engine, narrow-gauge train rides include a lunch stop at Osier Station, a secluded outpost in the middle of the mountains. Flowers is Osier's chef and everyday that the trains run (from the end of May to mid October), he roasts six to twelve 25-pound turkeys and bakes 15 to 20 pies—and that's in addition to preparing a variety of soups, salads, vegetables, breads and other dishes to please several hundred diners.
This cheerful chef says that he has two secrets to pulling off a made-from-scratch Thanksgiving feast day after day.
"One secret is that we aren't so focused on presentation," says Flowers who serves buffet style,  "so we cook the turkeys breast-side down in about two inches of water. We cook them slowly, about 10 to 12 hours at 275°F, and then we remove the meat from the bone to serve. The turkey is always moist and tender.
"The second secret is our recipe for Southern
buttermilk pie. We have one basic recipe that we can change with only a few ingredient switches or additions. These minor changes allows us to make a wide variety of different flavored pies each day."
For those who want to copy Flowers, here's his base recipe with a few variation suggestions, but the recipe is so adaptable, cooks can get creative and season to suit their own taste.
SOUTHERN BUTTERMILK PIE
1-1/3 cups sugar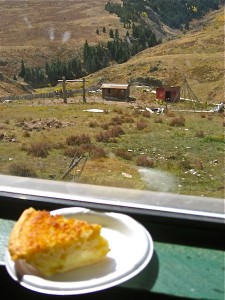 1/3 cup flour
3 eggs
1 cup buttermilk
1/3 cup melted butter
1 tablespoon lemon juice
Dash salt
1 unbaked 9-inch pie shell
Ground cinnamon
Ground nutmeg
Preheat oven to 350°.
Mix sugar and flour and set aside.
Put eggs in a medium size mixing bowl and beat just to combine yolks and whites. Add buttermilk, butter, lemon juice, salt and sugar-flour mixture. Beat just to combine ingredients; do not over mix.
Pour mixture into pie shell. Lightly sprinkle cinnamon and nutmeg over top.
Bake at 350°F for until set, about 45 minutes.
VARIATIONS
PINEAPPLE BUTTERMILK PIE
Add drained crushed pineapple to base mixture.
COCONUT BUTTERMILK PIE
Add shredded coconut and a touch of coconut flavoring to base mixture. (Do not top with cinnamon and nutmeg.)