TWO GREAT SOUPS
Both:
French-connected,
white and creamy,
luxuriously rich
and
beautifully versatile (can be served hot or cold, summer or winter, with any number of garnishes changing the flavor).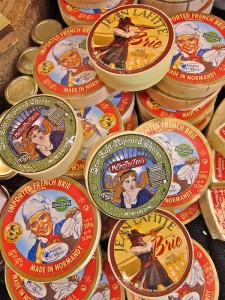 I developed the Cream of Brie Soup for Food and Wines from France to serve at a convention. The organization wanted a dish that would showcase the rich, subtle flavor of Brie, yet have personality of its own and multiple uses. The soup was perfect, as garnishes contribute to flavor and change the nature of the dish, allowing it to enhance a variety of meals. I love to serve this soup at formal dinner parties garnished with seasonal fruits, and consider it sumptuous enough for Christmas brunch, especially if I can get my hands on white truffles for garnish.
The Cream of Bean Soup comes from Le Chef Coq Restaurant in Nuits-Saint-Georges, where Chef René Pianetti presides over the kitchen and serves food that is both contemporary and original. I found the soup on a summer luncheon menu disguised under the name "Gaspacho."  The custard-smooth bean soup had nothing to do with gaspacho, except it was chilled, but it offered extraordinay flavor that was unique and distinquished. I like this soup best at casual seated dinners on chilly evenings and I sometimes serve it at Thanksgiving, garnishing with prosciutto, country ham, assorted grilled and diced sausages and even sautéed-slivered fennel, if smoked duck is not available.
TWO GREAT SOUPS
Each:
lusciously unique,
dramatically different
and
extravagantly delicious.
Bon Appétit!
CREAM OF BRIE SOUP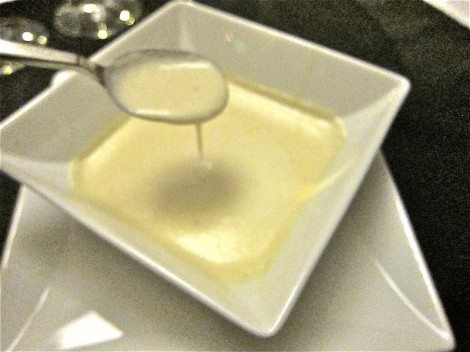 Yield: About 4 servings.
4 tablespoons unsalted butter
1 leek, trimmed and chopped (use white part only)
1 celery rib, trimmed and chopped
1/4 teaspoon dried thyme
1 bay leaf
2 black peppercorns
Pinch ground cloves
3 tablespoons all-purpose flour
2 cups chicken broth
1 cup whole milk
1 cup light cream
1/2 pound Brie, rind removed
Garnish suggestions:
Cognac
Crumbled Roquefort
Crumbled Roquefort and diced pears
Fresh berries (perfect for a chilled brunch soup)
Julienne strips of steamed root vegetables
Sautéed apples
Sauteed mushrooms
Shaved white truffles
Toasted nuts and brown sugar (a dessert garnish)
Melt butter in a 3-quart saucepan. Add leek, celery, thyme, bay, peppercorns and cloves; stir well. Cover pot and "steam" ingredients until they are soft, about 15 minutes.
Sprinkle flour over ingredients and stir until flour is absorbed. Cook, stirring, 1 minute. Stir in broth, milk and cream. Simmer 30 minutes. Cut Brie into chucks and stir into soup. Continue to simmer, stirring constantly, until Brie completely melts. Strain soup.
Serve immediately, garnished as desired. Or if serving chilled, cool soup at room temperature and refrigerate until well chilled. Serve chilled with appropriate garnish.
CREAM OF WHITE BEAN SOUP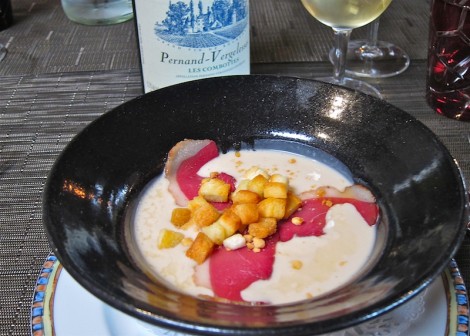 Yield: About 4 servings.
2-1/2 cups dry white beans (about 1 pound 2 ounces)
Water
6 to 7 cups rich flavorful chicken broth
1 thick slice smoked bacon
1 carrot, peeled and halved
Several sprigs thyme
1 bay leaf
1 large garlic clove, peeled and halved
1 cup heavy cream
About 3/4 cup buttery croutons
Hazelnut oil (optional)
Garnish suggestions
Thin strips of smoked duck
Thin strips of prosciutto
Thin strips of country ham
Sautéed sausage, diced
Cover the beans with cold water and let soak overnight.
Drain beans and put in a 4-quart saucepan. Add chicken broth, bacon, carrot, thyme, bay leaf, garlic. Gently simmer the beans until they are tender, about 3 hours. Set aside until cool enough to handle. Drain beans reserving broth. Discard bacon, carrot, garlic, thyme and bay. Mash beans. Stir in cream and enough (2 to 3 cups) reserved broth to make a thick soup. Pass soup through a food mill or strainer.
Serve immediately, garnished with croutons, a drizzle of oil and duck, country ham, prosciutto or sausage. Or if serving chilled, cool soup at room temperature and refrigerate until well chilled. Serve chilled, garnished with croutons, a drizzle of oil and duck, country ham or prosciutto.