To say I love coffee, understates. I adore, crave, treasure coffee. The only thing better than drinking a perfect cup of coffee, is drinking a perfect cup of coffee in an amazing setting.
Here are 8 sensational places where I find ultimate coffee-drinking joy.
INVERLOCHY CASTLE HOTEL
FORT WILLIAMS, SCOTLAND
This baronial mansion turned hotel in 1969 earned the praise of Queen Victoria who said, "I never saw a lovelier or more romantic spot."
The accolades keep flowing as Inverlochy continues to win top awards for both its hotel and restaurant. A day at Inverlochy that begins with wake-up, room-service coffee consumed in a luxuriously plush bed, and then, more coffee to accompany a full Scottish breakfast served in a lovely sunshine-filled dining room just could be my ultimate coffee-drinking experience.
Click HERE for more about Inverlochy Castle Hotel and for the restaurant's delectable shortbread recipe.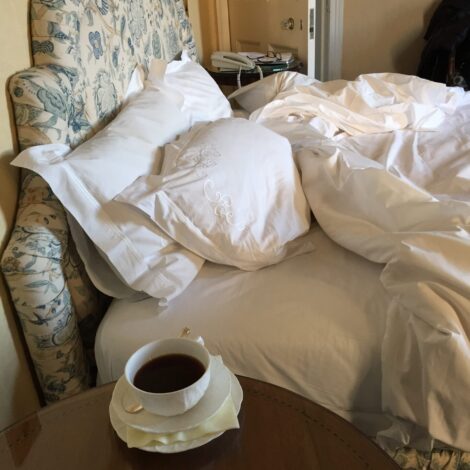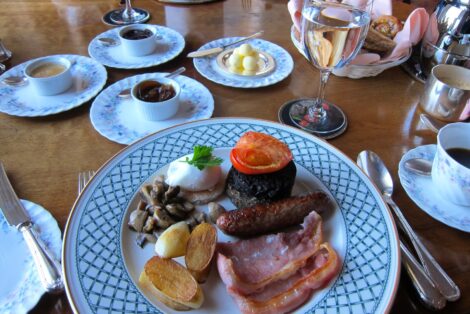 FRENCH COUNTRY WATERWAYS HORIZON II
UPPER LOIRE, FRANCE
Nothing beats traveling divinely, dreamingly, deliciously on a French hotel barge, especially on the Horizon II, a barge that floats with the grace of a swan, through the man-made canals of the Upper Loire. Everything about the Horizon II charms. I adored breakfast at the dining table, but lounging on the deck, sipping a cup of coffee while floating through the backyard waterways of France could just be my ultimate coffee-drinking experience.
Click HERE for more about a Horizon II cruise.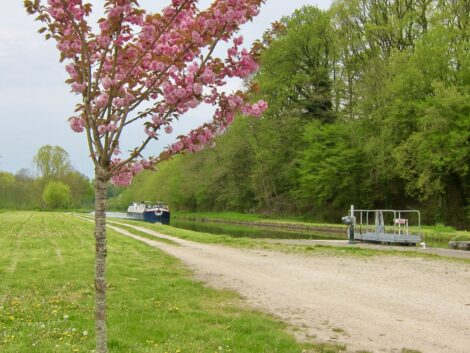 TONGABEZI LODGE
ZAMBIA
This luxury lodge near Victoria Falls in Zambia sports guest houses with only three walls. The fourth wall is open air where the bedroom and patio overlook the Zambezi River. Without telephones or alarm clocks, the lodge sends a valet with coffee, biscuits and a breakfast menu to rouse guests from sleep. Lounging on the patio as the sun rises, watching monkeys frolic in the trees and hippos bathe in the Zambezi River while drinking strong and fragrant morning coffee, could just be my ultimate coffee-drinking experience.
Click HERE for more about Tongabezi Lodge and unique recipes for sweet potato jam and Zambian beans.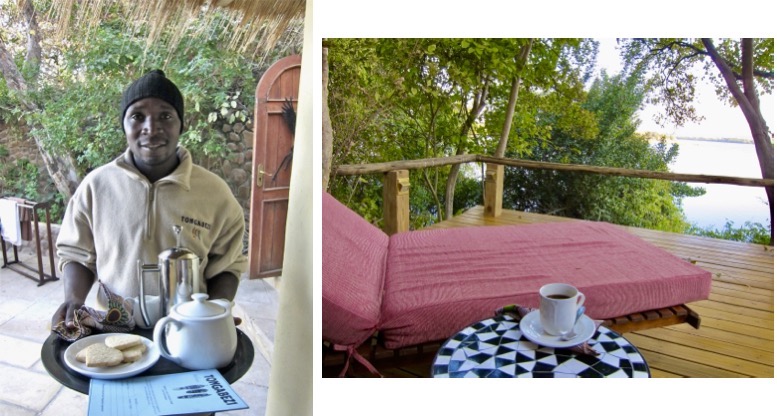 CAFÉ DE FLORE and/or CAFÉ DEUX MAGOT
PARIS, FRANCE
Café de Flore, named for the Roman goddess of flowers and fertility, opened sometime in the 1880s. Its rival, Les Deux Magot, named for "two stocky figurines from the Far East," is equally historic. The cafes sit across from each other in Saint-Germain-des-Pres, in Paris' 6tharrondissement. Through the years, both cafes collected a long roster of famous guests, including high-profile writers, philosophers, intellectuals, actors and celebrities. Sitting at one of these historic cafés, squeezed into a table facing the street, sipping un café and watching Paris walk by, could just be my ultimate coffee-drinking experience.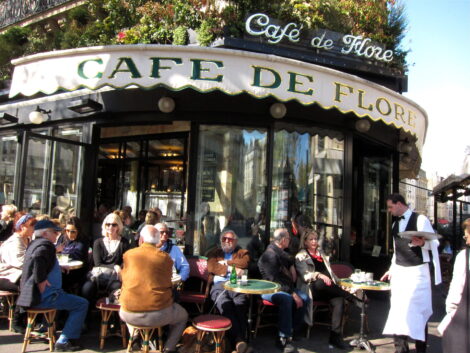 SUNSET AT THE PALMS
NEGRIL, JAMAICA
Palms and ferns, bamboo, orchids and jasmine, plus a jungle worth of other lush vegetation surround the 43 stilted treehouses at Jamaica's Sunset at the Palms resort. While walking paths yield a garden of earthly delights, lounging on the deck of a treehouse room, overlooking gorgeous greenery while listening to woodpeckers add drumbeats to songbird serenades, just could be my ultimate coffee-drinking experience.
Click HERE for more about Sunset at the Palms resort and a terrific Jamaican chicken recipe.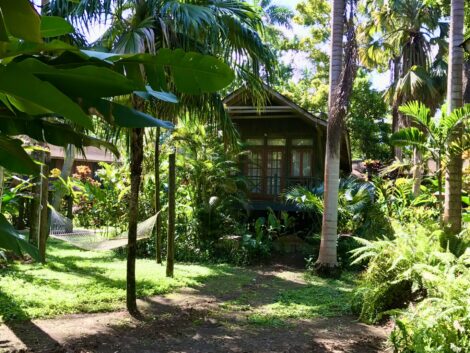 CANYON OF THE ANCIENTS GUEST RANCH
Near MESA VERDE and CORTEZ, COLORADO
A rooster crows a wake-up call. I brew a cup of coffee in my rented stone cottage and take it out to a lounge chair placed in front of the pasture. The rising sun revels flawless blue sky. The brilliantly fresh and cool air wears the scent of drying dew on growing grass. Mooing cows and clucking free-range chickens play the soundtrack. Enjoying coffee in the incredibly peace of this working ranch/farm could just be my ultimate coffee-drinking experience.
Click HERE for more information about Canyon of the Ancients Guest Ranch and a wonderful lamb stew recipe.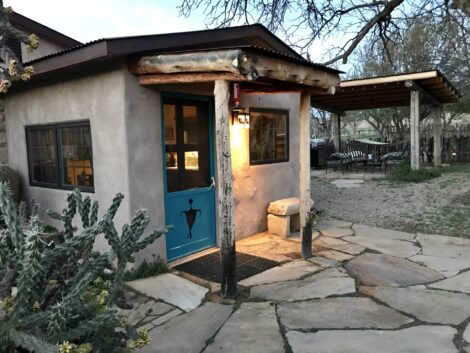 JADE MOUNTAIN RESORT
SAINT LUCIA
I don't want to make anybody jealous, so am going to list a few drawbacks to my room at Jade Mountain in Saint Lucia. The room at this luxurious mountain-top resort only has three walls. The infinity pool, where the fourth wall should be, doesn't stretch forever into the Caribbean—it's an illusion. The mountainous Pitons that dominate view never change; I waste a lot of time just staring at them. And although drinking butler-brought morning coffee at the ledge of the infinity pool overlooking the Caribbean and the awesome Pitons may be my ultimate coffee-drinking experience, the coffee eventually disappears from the cup before I am ready to move on. Just saying, nothing to arouse jealousy here.
 Click HERE for more information about Jade Mountain and for an extravagant chocolate ice cream sundae recipe.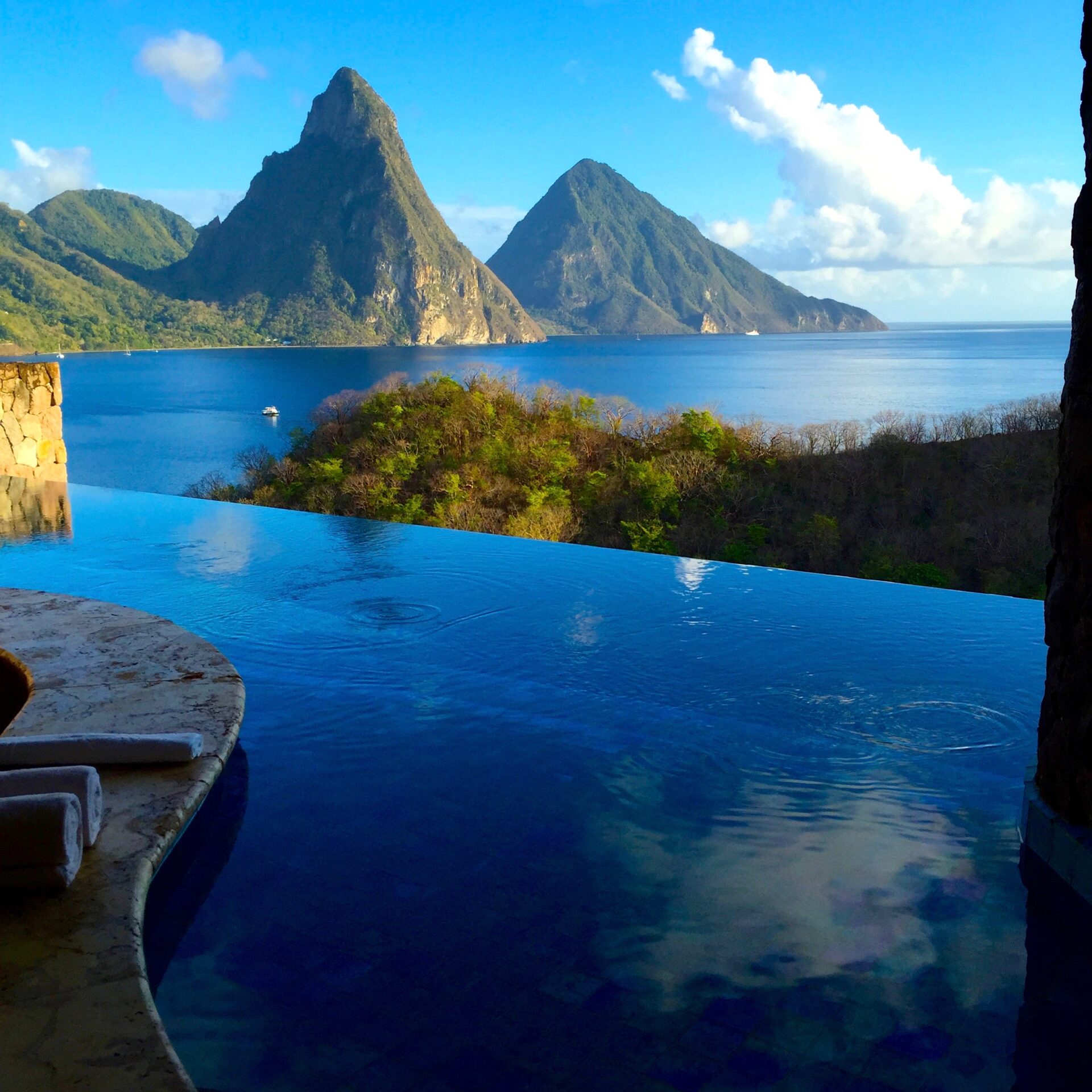 LAKE MEADE
NEVADA/ARIZONA
Untold glory awaits families and/or friends who rent a Forever Resorts houseboat and steer it through the Lake Mead National Recreation Area in Nevada and Arizona. Swimming, fishing, cooking and just hanging out fill the days, but it's the early morning that brings me supreme pleasure. While my companions sleep, I make a cup of coffee and wander away from the boat to find a secluded spot among the rock formations that line the shore. Alone with Mother Nature and her exotic desert creatures–lizards, burrowing owls, cacti, boulders–sipping strong and flavorful coffee while I wait for the family to wake could just be my ultimate coffee-drinking experience.
Click HERE for more about the houseboating experience and for an outstanding egg strata recipe.