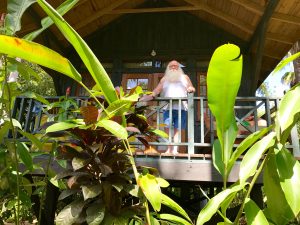 I know where Santa Claus vacations.
And I know why he chooses Sunset at the Palms in Negril, Jamaica. The resort is the polar opposite of the North Pole.
Here wooden treehouse-style guest rooms sit on stilts surrounded by tropical splendor.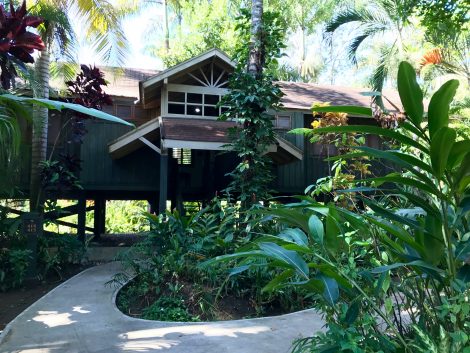 A profusion of palms and ferns and bamboos fill the property, covering the grounds, rising to heights that shade the treehouse roofs. Orchids, jasmine, ginger, lilies and a cornucopia of other garden glories garnish walking paths.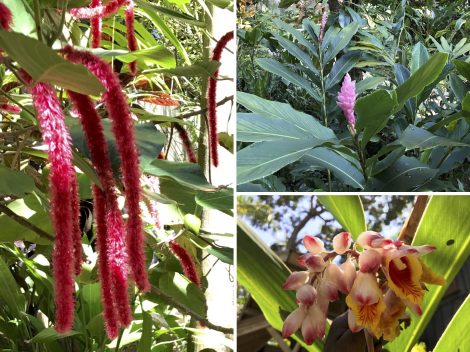 Woodpeckers add drum beats to songbird serenades. Frogs join in with lyrical mating calls. Trees sway in the breeze like reggae dancers. The sun shines with intensity and rainy season showers add spurts of growth to the already lush vegetation. The whole resort is a Garden of Eden with guest rooms, pool, restaurants and bars attached.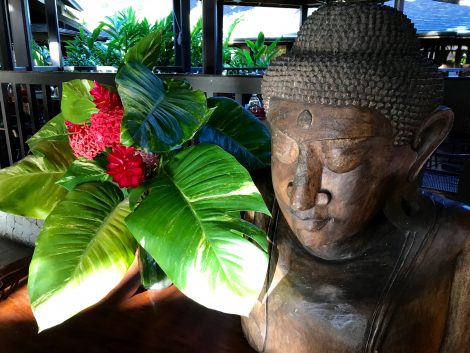 Guests seeking the serene find Sunset at the Palms enchanting for not only what the resort has, but also what it lacks.
Being an adult-only property, the resort lacks noisy kids.
Having only 43 treehouses spread over 10 acres, the resort lacks crowds.
Personal and intimate, the resort lacks razzle dazzle activities found at mega resorts. A weekly mixology class, cooking demonstration and garden tour sum up the scheduled events.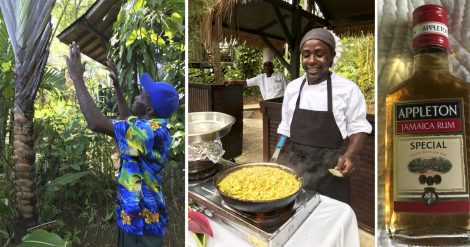 The resort lacks sports bars with giant TVs blaring and lacks speakers booming pulsating soundtracks in public places. Instead, Sunset at the Palms employs a mellow mix of musicians for lively, but not intrusive, nightly entertainment.
And the beach lacks…well…just about everything that interferes with a great beach experience. The resort's beach sits on a two-mile crescent of glistening white sand, said to be one of the loveliest beaches in Jamaica. Located on five acres across the street from the treehouse guestrooms, (a crossing guard stops traffic), the resort's beach lacks struggles to claim lounges (as there are plenty for guests), lacks an overload of haggling merchants (controlled by local laws, location and resort staff) and lacks loud and disruptive motorized sports equipment (banned by Sunset at the Palms).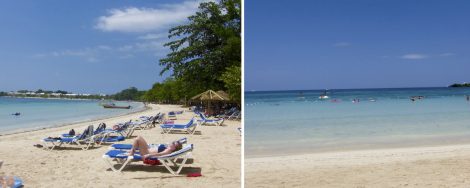 In addition to the treasured lacks that make this resort blissfully relaxing, Sunset at the Palms offers a Santa's sleigh full of amenities to pamper guests.
A welcoming service run by Club Mobay meets resort guests as they exit their plane at the Donald Sanger International Airport in Montego Bay. The service (included in the resort fee) fast-tracks guests through immigration, customs and luggage claim, then takes them to a private Arrival Lounge to await their assigned driver for transport to the resort 75 miles away.
Staff greets arriving guests in an open-air pavilion, that, like other buildings on property, reflect Balinese style-architecture. Dark wood and gracefully high ceilings with exposed rafters offers shady respite from Jamaica sun.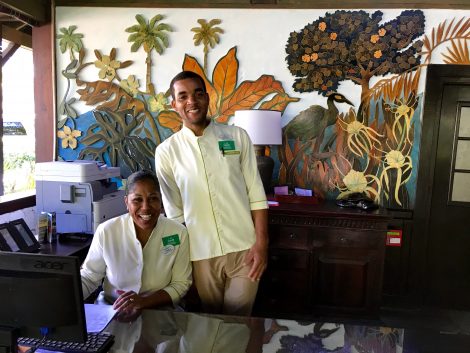 Check in couldn't be easier and made even more fluid with a welcoming rum punch (or two).
Garden paths lead to individual treehouses, some containing two-level suites and others divided into two individual guest rooms.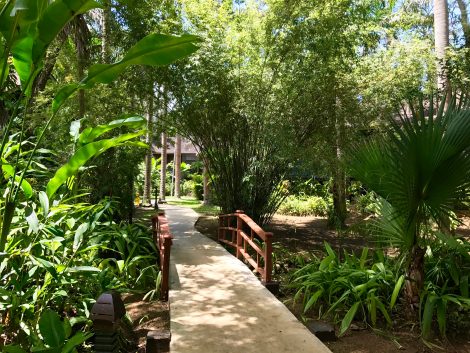 Rooms repeat the Balinese influence with dark wood furniture, white linens and modern bathrooms with large showers. Guests adjust room temperature by turning on the air conditioning, opening the louvered screened window or just letting the ceiling fans whirl overhead. French doors open to a private balcony with table, chairs and a daybed (divine for early morning lounging, heat-of-day napping and cocktail sipping).

Now comes the best part. Sunset at the Palms is an all-inclusive that
serves exceptionally good food and premium liquor in a choice of restaurants and bars.
Dining options include a range of international and Caribbean favorite foods served at breakfast, lunch and dinner in the open air Palm Grove Restaurant buffet. (Santa loves the buffet.)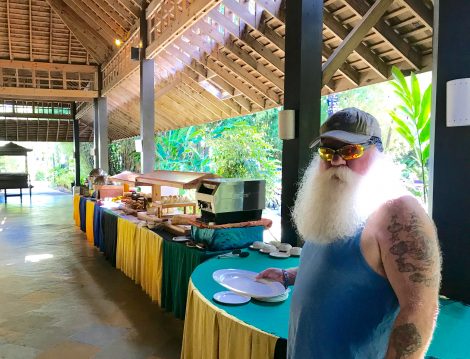 The beach grill sports nachos and sandwiches, such as bacon cheeseburgers, red snapper in coco bread and jerk chicken.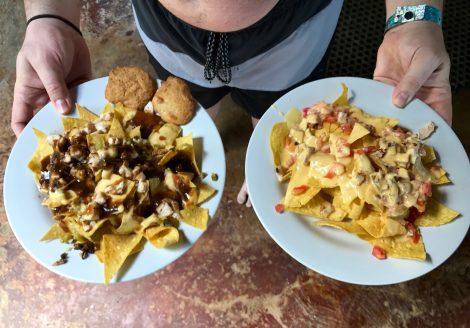 Upscale specialities, such as lamb chops and chocolate mousse, grace the menu of the white-tablecloth Lotus Leaf restaurant.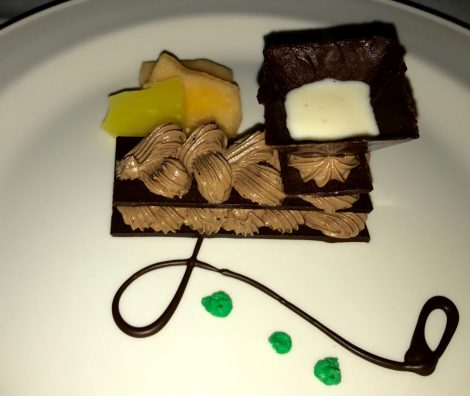 And creative fusion dishes, such as risotto cakes with sautéed salmon, callaloo sauce and watermelon chutney, highlight the Chef's Showcase, which is held several nights a week in a garden setting.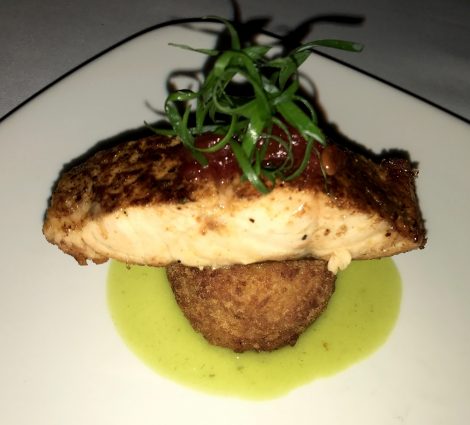 Credit executive chef, Dwight Morris, with not only buying ingredients from local organic farms but also adding a generous sampling of Jamaican specialties to menus. Here's where to find authentic, well-prepared ackee and saltfish, curry goat, patties, jerk chicken and pork, bammy, rice and peas…well…the list goes deliciously on and on.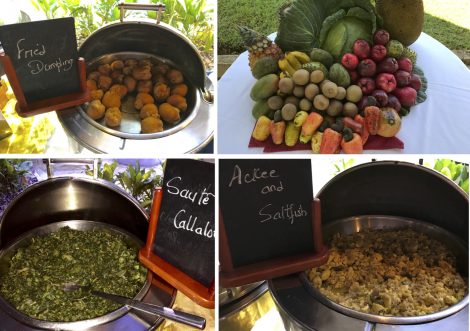 So there you have the lure: graceful accommodations, glorious gardens, gourmet food. But there's even more to keep Santa returning year after year: Perks include a pool with swim-up bar,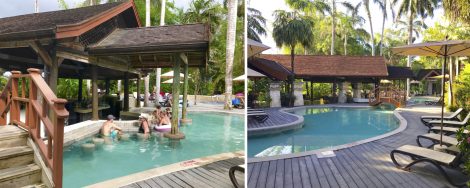 a tennis court, fitness center, spa with one large open-air treatment room, Blue Mountain coffee and a charming, helpful, friendly staff.
The following recipe comes from a Sunset at the Palms' cooking class taught by Junical Bruce, the resort's butcher. Junical said that the hardest thing about making a "rundown" is prepping the ingredients. Those addicted to chicken rundown, feel the hardest thing is to stop eating when full. But nuh worries mon, Collinton Jennings, the resort's food and beverage manager, shares the secret of making room for more:
CHICKEN RUNDOWN
Yield: 6 servings.
2 chicken breast, skinned, boned and julienned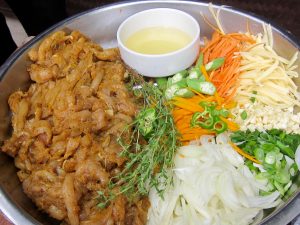 Curry powder
Salt
Black pepper
About 1/2 cup vegetable oil
About 6 cloves garlic, peeled and chopped
2 slices Scotch bonnet pepper
1 large sprig thyme
2 onions, peeled and sliced
2 small potatoes, peeled
and julienned
2 carrots, peeled and julienned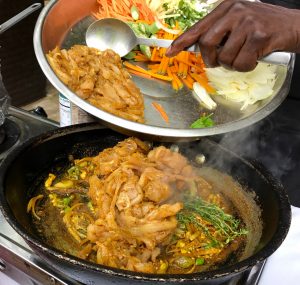 5 pieces okra, trimmed
3 green onions, chopped
About 1/2 cup julienned pumpkin or acorn squash
13 to 14 ounces coconut milk
Put chicken in a bowl and sprinkle heavily with curry powder and lightly with salt and pepper. Stir until chicken is well coated with curry. Cover, refrigerate and marinate about 2 hours.
Put oil in a large skillet and set over moderately high heat.
When oil is hot add garlic and about 2 tablespoons curry powder. Cook ingredients, stirring constantly, about 3 minutes. Add Scotch bonnet pepper and stir well. Add thyme sprig. Stir in chicken and continue cooking and stirring until chicken pieces are separate and partially cooked, about 5 minutes.
Add all remaining ingredients except coconut milk.
Stir well. Cook 2 minutes, stirring constantly. Add coconut milk and stir well. Cover pan and simmer until chicken is completely cooked and coconut sauce thickens, about 10 minutes.
Serve with rice and peas.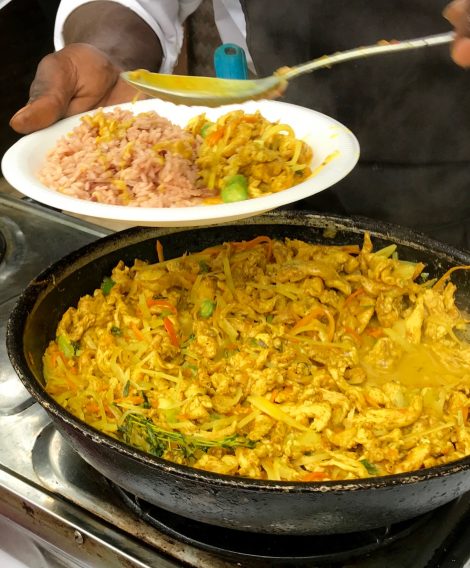 For more information about Sunset at the Palms, click HERE.
To find fun excursions to supplement a Sunset at the Palms vacation, check out:
Jamwest Motorsports & Adventure Park for ATV, zipline and horseback riding tours.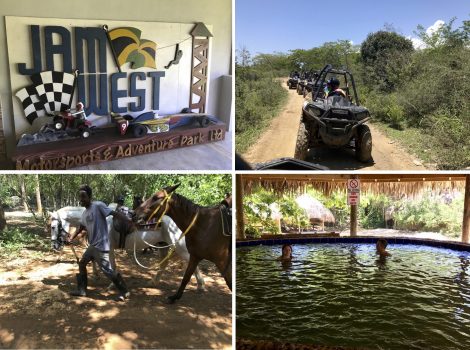 Cosmo's Seafood Restaurant and Bar for local Jamaican foods served beach front.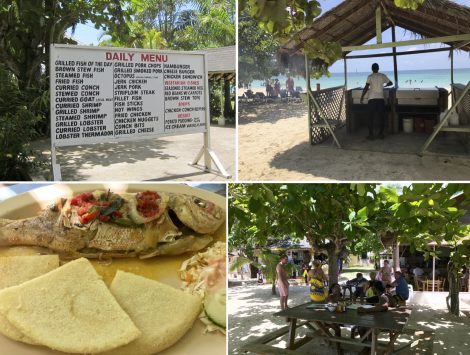 Scuba Caribe for cruising, snorkeling, fishing, scuba diving and more.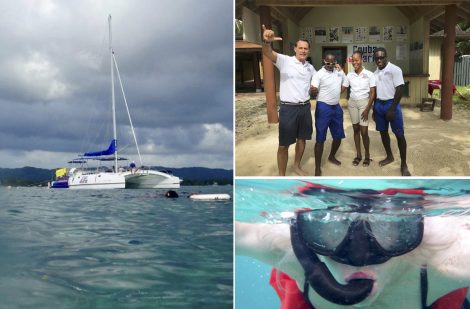 and
Rick's Cafe to drink rum punch, take part in Jamaican-style party pizzaz, watch cliff divers and the sunset.