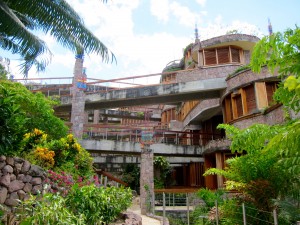 What can I say about Jade Mountain in Saint Lucia that hasn't already been said. Readers of travel magazines know the resort has been called the best in the Caribbean as well as one of the three top in the world. Devotees of luxury know Jade Mountain is over the top in terms of service and amenities. Lovers of architecture know that owner/architect, Nick Troubetzkoy, designed a masterpiece—as unique in the world of hospitality as it is dramatic.
Perhaps what is not known, is that the incredibly luscious resort sits on a verdent mountanious hill above it's sister resort, Anse Chastanet, with whom it shares facilities, and there is not one elevator, escalator, funicular on property. Guests must climb heart-panting flights just to reach the nearest restaurant or the shuttle that twists and turns down a narrow road to the beach. Those not in tip-top shape could find the exercise taxing (just to mention one drawback to keep the gods from getting jealous before I tell you of the glories).
As to the heavenly, Troubetzkoy designed Jade Mountains infinity pool sanctuaries (aka rooms), to maximize views. Each sanctuary is unique in design and decor. Like most, mine (JC2) had only three walls. The fourth is open air fronted by an infinity pool that seems to stretch into the Caribbean. I am willing to bet that photographers head to my sanctuary when they are snapping pictures for postcards of Saint Lucia's ionic World Heritage Site Pitons—the two iconic mountains (volcanic spires) thrusting up from the sea.
My sanctuary's bathroom, up a short flight of stairs, is also open air and packed with amenities such as duel sinks, a whirlpool tub big enough for two, and a shower spraying water water everywhere.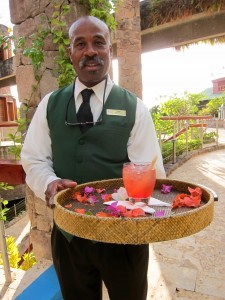 Rooms lack air-conditioning, TVs, radios and telephones, but do have Major Domos (aka butlers) on call 24/7 to see to every need. Right after offering a welcome drink, your Major Domo hands you a cell phone embedded with his number. Want something, just call. Major Domos see to everything: arranging sightseeing, making restaurant reservations, packing and unpacking. If you are at the beach and forgot your suntan lotion, a Major Domo will bring it to you. Major Domos run bubble baths. They bring you chocolates, cocktails and afternoon tea. Major Domos ruin life forever after.
One never has to leave the sanctuary as room service sends luscious meals, the spa sends therapists for massages and the Major Domos bring everything else. But if desired guests can enjoy both Jade Mountain and Anse Chastanet facilities which include two glorious beaches, spas, tennis courts, boutiques, a variety of water activities and a luscious choice of restaurants and bars.
Hard as it was, I did leave my sanctuary on several occasions. I headed to the beach, of course,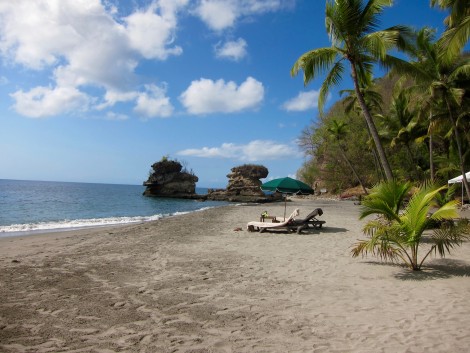 and to the divine Jade Mountain Club restaurant for some magical meals.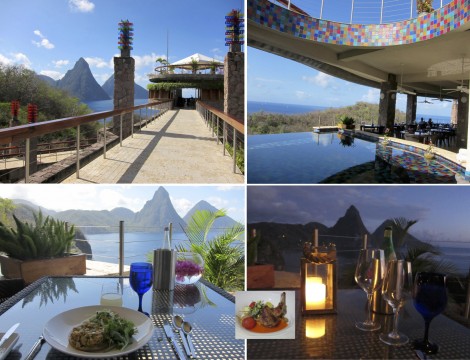 I enjoyed a heavenly "Chocolate Delight" massage in Jade Mountain's spa, Kai en Ciel (translates house in heaven). Masseuse Kayla Augustin used fragrant chocolate-based body products for the massage and, instead of tea that is served at oh so ordinary spas, brought a plate of chocolates after the massage. Rapture! Exaltation!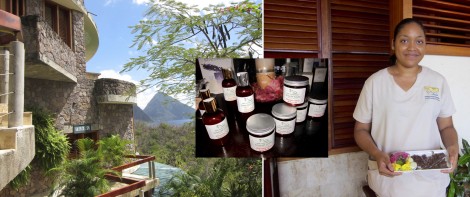 And I also left the room for a few resort-organized activities, including a trip to Emerald Estate—the resort's organic farm.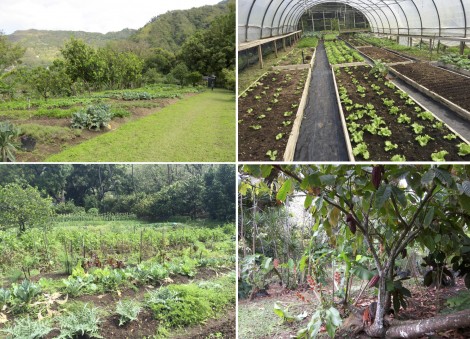 Talk about farm-to-table perfection, this farm produces an Eden's worth of fruits, vegetables, herbs and spices that are used at both at Jade Mountain and Anse Chastanet. I toured the tropical paradise with three men who totally captured my culinary heart.
Over 2000 cocoa trees on the resorts' property produces cocoa beans that are turned into chocolate in Jade Mountain's Chocolate Laboratory. The lab crafts single estate organic chocolate bars for sale in the resorts' boutiques, produces pralines to put in guest rooms and fashions chocolate into a variety of sumptuous dishes for the restaurants.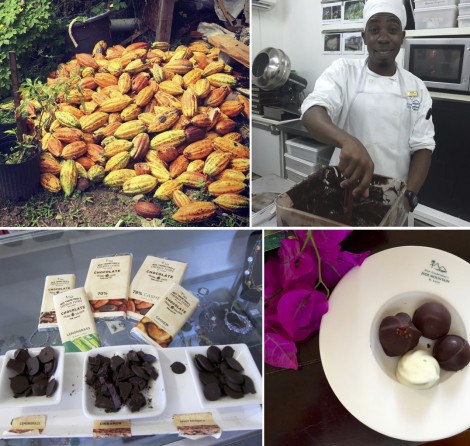 The Death by Chocolate recipe below comes from the Jade Mountain's chocolate menu used at one of Saint Lucia's chocolate festivals.
I don't know if the drink/sundae classifies as a cocktail or dessert. I do know that it is unusual and absolutely ambrosial—as is Jade Mountain itself.
DEATH BY CHOCOLATE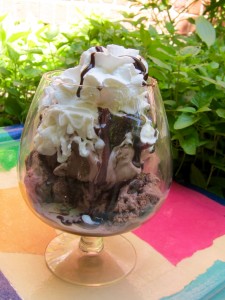 Yield: 1 serving.
2 large scoops dark, rich, chocolate ice cream
Chocolate syrup
1 ounce coffee liquor
1 ounce dark creme de cacao
1 ounce vodka
Whipped cream
Put ice cream in a large glass.
Drizzle with chocolate syrup.
Pour coffee liquor, creme de cacao and vodka over syrup.
Top with whipped cream.
Drizzle chocolate syrup over whipped cream.