Like gorgeous sisters, Anse Chastanet and Jade Mountain share similar traits. Both resorts are located on the same mountainous hill overlooking the Caribbean Sea in the Soufriere area of south Saint Lucia. Both resorts are owned and operated by the talented Troubetzkoy family. And both resorts offer guests wonderful accommodations with a variety of luxurious amenities, not the least being the world's most perfect views of the famous Pitons (the mountainous volcanic plugs that dramatically rise from the sea and stand as an icon of Saint Lucia).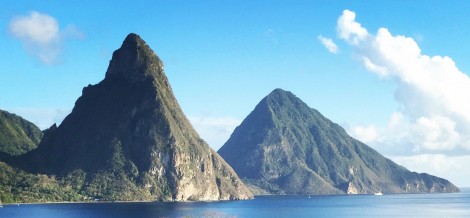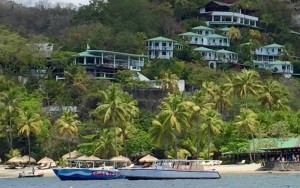 But like all sisters, the resorts differ in personality.
The first born Anse Chastanet rises up from the beach on the 600 acre estate and covers the lower portion of the mini mountain. Architect Nick Troubetzkoy designed his second brainchild, Jade Mountain, on the upper half. Anse Chastanet is the fun-loving, good-time sister; Jade Mountain, the elegant, reserved one. Jade Mountain guests can use Anse Chastanet's facilities, but not visa versa. Jade Mountain is both literally and figuratively a bit above it all.
In this case "it all" means the stunning attributes of Anse Chastanet which include:
Two soft sand beaches. The gentle Anse Chastanet beach with the best snorkeling and scuba diving in Saint Lucia just off shore and the secluded Anse Mamin beach (accessible by short coastal walk and/or water shuttle).
The Anse Chastanet beach is lined with some of Anse Chastanet's facilities, including the Spa Kai Belte, an art gallery, two boutiques, scuba, snorkeling and water sports centers as well as beachside restaurants and bars.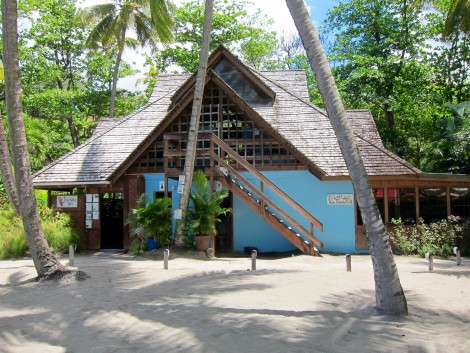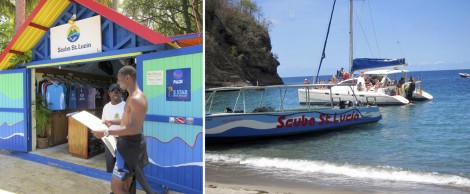 As to the restaurants, guests enjoy a cornucopia of choice when it comes to where and what to eat at Anse Chastanet. Restaurants sit on both beaches and dot the hillside. Intimate private dining can be arranged at the water's edge, in rooms and in the secluded spa cottage overlooking the sea.
Luscious culinary options included East Indian fare (at Apsara); vegetarian specialties (at all restaurants but particularly the vegetarian-only Emerald's);
Caribbean and international delights (at both the open-air Treehouse restaurant and the lovely Trou au Diable); and grilled favorites (at both the Beach Grill on Anse Castanet beach and the Jungle Grill at Anse Mamin beach).
Anse Chastanet's 49 guest rooms both line the beach in a tropical garden and occupy individual cottages climbing up the hill.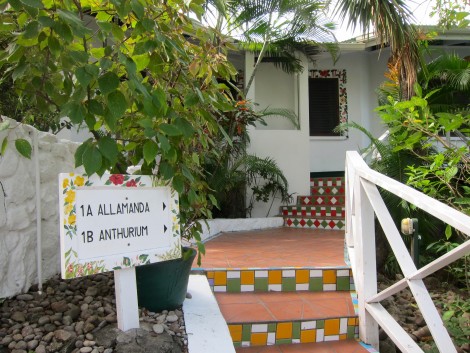 The resort lacks air conditioning, televisions and radios. If desired, guests can use the library, Wifi and a guest computer located in the Piti Piton Bar, a large, breezy, open-air room overlooking the sea.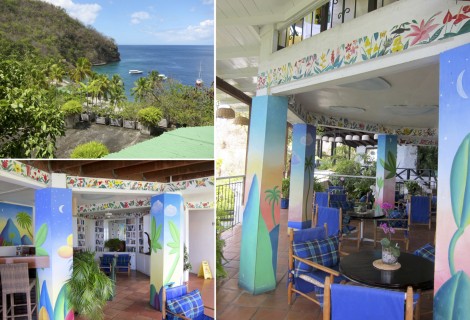 Resort programs abound. Some with charges attached (snorkeling lessons and marine biology classes, guided birdwatching, cooking classes, sailing, scuba excursions) and others are complimentary (creole history class, guided walks and hikes on the estate, yoga, tennis, and chocolate tasting). I particularly liked the nightly live music entertainments (from steel band to country western singer), but my personal favorite complimentary activity was a mixology class held on a Sunday afternoon in the Beach Bar.
The class included a tasting of not only Saint Lucian rums and a variety of canapés, but also five different rum cocktails.

Ironically, a bartender named Innocence led the class and his cocktails were so rum soaked that enough of any one of them could easily strip the drinker of all innocence. My favorite was The Bentley, which is served at Anse Chastanet and Jade Mountain as a welcome drink as well as a cocktail.
THE BENTLEY
Yield: 4 servings.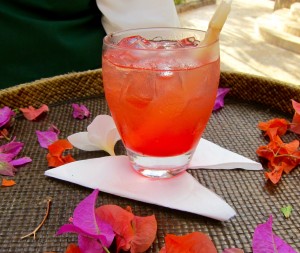 4 to 5 ounces Crystal rum (can substitute Bacardi)
3 ounces lime juice
About 3 ounces brown sugar syrup (recipe follows)
About 1 cup soda water
Grenadine
Ice
4 sugar cane swizzle sticks, optional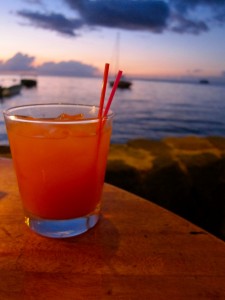 Put rum, lime juice, sugar syrup and club soda in a pitcher or cocktail shaker. Stir to combine ingredients. Pour mixture over ice into four glasses. Add 1 to 2 teaspoons Grenadine to each glass—just enough to turn drink a pleasing pink. Garnish each glass with a sugar cane swizzle stick, if desired.
BROWN SUGAR SYRUP
Yield: About 7 ounces.
1 cup brown sugar
1/2 cup water
Put sugar and water in a jar and stir until sugar dissolves. Set aside at least 15 minutes. Store in jar but always wipe edge of jar after using.