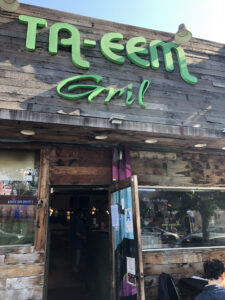 Let's see. Shawarma or falafel?  Kabobs or schnitzel? Humus or baba ganoush? Hard choice as Ta-eem Grill fills its menu with a seductive list of delicious Glatt Kosher Mediterranean fare.
Yoel and Sylvie Kraizberger, Israeli natives, opened Ta-eem in 2011, fashioning the restaurant after one they ran in Israel. Today, the Los Angeles restaurant has become a staple with the Jewish community and draws lovers of Israeli dishes from far beyond its Fairfax neighborhood.
The Kraizberger family (mom and dad, son and daughter) run the place, energetically greeting friends, filling orders and overseeing the grilling that take place at a station just inside the entrance.
Customers order and pay at a counter and then find a seat or just hover around if waiting for carryout.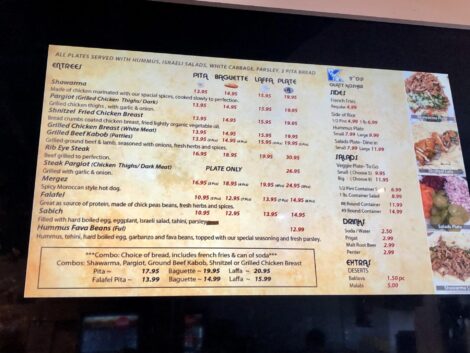 The restaurant sports a well-worn ambience. A smoky scent of grilled onions, garlic and seared meats greets one at the door. Personal photos line one wall. Scruffy wood tables with mismatched chairs provide seating for about 100. A few tables sit outdoors—on the Melrose sidewalk.
Carryout or dine-in, people come for the food and it shines. Food writer Sylvio Martins claims Ta-eem's falafel is one of the best in LA. (See "The Best Flafel In LA.")  Food reviewer Brian Cox likes the Shawarma (See 6 Excellent Shawarma Spots in LA."). I happen to crave the pargiot, a mound of marinated chicken thigh slivers grilled with onions and garlic.
Everyone loves picking and choosing favorites from the feast of side dishes that accompany most orders.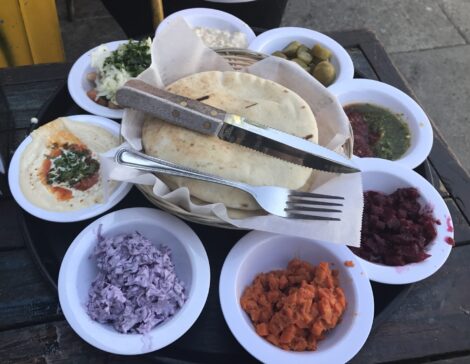 And Sylvie Kraizberger says that she favors the Hummus Fava Beans, a dish that she makes for the restaurant—like this:
TA-EEM HUMMUS FAVA BEANS (FUL)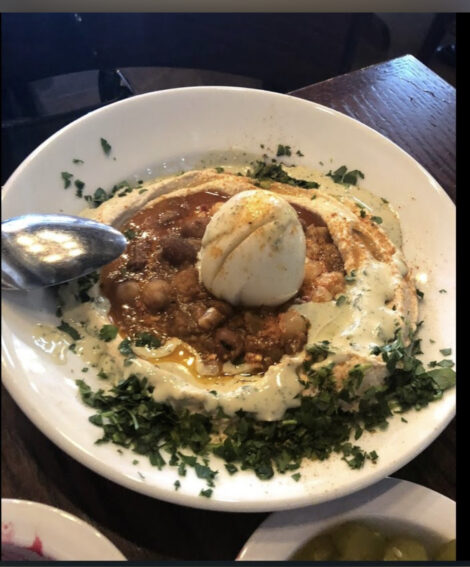 Yield: 2 to 4 servings.
1 can (15 ounces) garbanzo beans
4 to 5 garlic cloves, divided
2 tablespoon tahini
About 2 tablespoons lemon juice, divided
Salt
1 can (15 ounces) fava beans, rinsed
Olive oil
1/2 teaspoon cumin
1/2 teaspoon paprika
1 to 2 hard-boiled eggs, cut into wedges
Chopped parsley
Make hummus: Put garbanzo beans in a medium saucepan, cover with cold water and bring to a boil over medium heat, gently boil beans for about 20 minutes. Drain beans, rinse in cold water and set aside until completely cooled.
Put cooled garbanzo beans, 2 or 3 minced garlic cloves, tahini, 1 tablespoon lemon juice and about 1/2 teaspoon salt in a food processor, blender or grinder. Process mixture, adding cold water as necessary to make a smooth, creamy paste. Correct seasoning, adding more lemon juice and/or salt as desired. Set hummus aside.
Cook fava beans: Put a thin coat of olive oil in a medium-size skillet. Set over medium heat. Add 2 minced garlic cloves and cook, stirring often, until garlic is fragrant, but not browned, about 1 minute. Add fava beans, 3 tablespoons water, 1 tablespoon lemon juice, cumin and paprika. Cook, stirring occasionally, until the beans are cooked through and flavorful, about 20 minutes. Taste and correct seasoning.
When ready to serve: Spoon hummus into the center of a large bowl. Make an indentation in center of hummus, spreading mixture in a circle covering bottom of bowl and extending a little up the sides. Add fava beans to indentation in center of hummus. Drizzle olive oil over top of all and sprinkle generously with parsley. Garnish with a hard-boiled egg.
Ta-eem Grill, Inc./7422 Melrose Ave/Los Angeles
For more information click HERE.