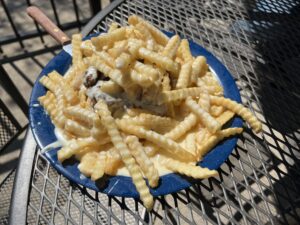 The horseshoe, an open-faced sandwich of thick toast topped with hamburger or ham heaped with French fries and drenched in cheese sauce, was born in Springfield, Illinois, in 1928. Through the years, the sandwich evolved—but not much. Although the enormous horseshoe produced a half-size offspring called a "pony," and cooks added variations to base ingredients, today the crave-worthy construction remains the same and the sandwich is still a stay-at-home specialty not sprinting far from city limits.
Many Springfield restaurants serves shoes, but judging by popularity, D'Arcy's Pint is the place to find the best of the best.
Hallie Pierceall opened D'Arcy's Pint in 1998 and moved to today's location at 661 Stanford Avenue in 2005. She runs the congenial Irish-style pub with the help of her brother T. J. Pierceall.
Their dad lives in nearby New Berlin and supplies the restaurant with fresh vegetables from his farm. Ninety percent of the extensive menu items are housemade and all are delicious. This winning combination of family, fresh and fabulous draws more that 1000 guests per day, with more than half of the crowd ordering a horse or pony shoe.
D'Arcy's menu lists not only ham and hamburger for the sandwich base, but also corned beef, pot roast, Italian sausage, vegetables, Buffalo chicken…well the list goes on.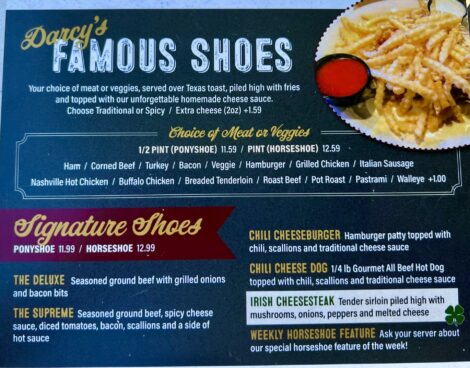 And although D'Arcy's shoes include thick portions of juicy succulent meat and crinkly crispy fries, it's the creamy, rich, smooth-as-silk cheese sauce that sends D'Arcy's sandwiches to unbridled heights.
Amy Beadle of the Springfield Convention & Visitors Bureau sent the recipe for the original Springfield Horseshoe Sandwich below.
Hallie says that D'Arcy's cheese sauce differs from the Welsh Rarebit-like sauce in the original recipe. Her secret is to replace the Cheddar or Colby cheese with white American cheese, to adjust the seasonings for a more mellow taste and to leave out the beer. D'Arcy's sells cheese sauce to go, but only in store.
Whether indulging in a horseshoe at D'Arcy's Pint, or springing to the kitchen to make your own, Amy offers two tips for enjoying this Springfield specialty: Save up your appetite and wear very stretchy/comfy pants.
THE ORIGINAL SPRINGFIELD HORSESHOE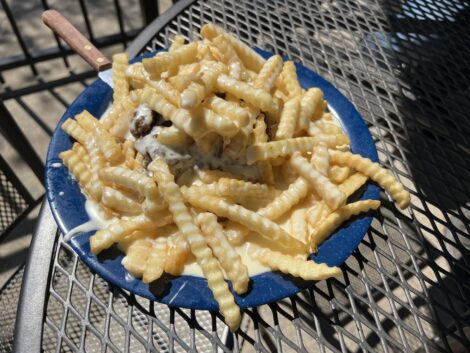 (Recipe supplied by the Springfield Convention & Visitors Bureau.)
Yield: One horseshoe; 4 servings.
2 egg yolks
½ cup beer
2 tablespoons butter
3 cups grated sharp Old English Cheddar or Colby Longhorn cheese
1 teaspoon Worcestershire sauce
¼ teaspoon dry mustard
½ teaspoon salt
1 dash cayenne pepper
2 thick slices Texas toast
Just grilled hamburger patties or ham steak
A heap of hot French fries
To make the cheese sauce: beat the egg yolks with beer and set aside. Put butter and cheese in the top of a double boiler over boiling water, and heat, stirring in one direction with a wooden spoon to melt cheese. Stir in the seasonings. Stirring constantly, add the yolks and beer a little at time. Keep the mixture piping hot as you stir, but don't let it bubble.
To make the sandwich. Put toast on a preheated platter. Top with meat and then the fries. Pour cheese sauce over everything. Serve while sandwich is hot.
For more information about D'Arcy's Pint, click HERE.
For more information about the Horseshoe, click HERE.
And for more information about Springfield, Illinois, click HERE.