KATERINA SHESHI
Cafe Nova
St. Louis, Missouri
Born and raised in communist Albania, Katerina Sheshi knows about oppression and hard work. She learned to cook from her mother and expanded her skills during her formative years by working in restaurants watching the "good cookers" who ran them. Katerina became such a proficient cook that the government put her in line to head a restaurant, but first required her to take the state's four-year study program in restaurant management.
Eventually Katerina married, had a daughter and won the prestigious position of overseeing three large factory restaurants. 
She worked hard. With only one helper, Katerina cooked breakfast, lunch and dinner for 200 factory workers. Although she earned a salary, under communism she had to turn it back to the government. "I didn't own the place," she said. "I didn't own nothing."  She wanted more for herself and her family which meant escaping from the regime. So after much secret planning, Katerina, her husband and daughter left in the dark of night and, with only belongings that they could carry, trekked across the Mali i Thatë mountains into Greece. 
Katerina continued to cook in restaurants in Athens with more freedom than in her homeland, but it still wasn't enough. Believing America was the land of opportunity, Katerina and her family immigrated to the United States in 1993, landing in St. Louis, Missouri.
She took classes to learn English and pass her American citizen exam while raising a family and working in various Greek restaurants. 
In 2010, she fulfilled her dream of owning a small coffee cafe.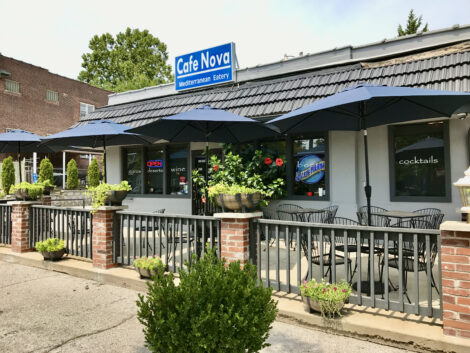 Today, Cafe Nova, Katerina's  mediterranean restaurant, is a popular meeting place for Albanian immigrants and locals who gather to enjoy good company and favorite dishes.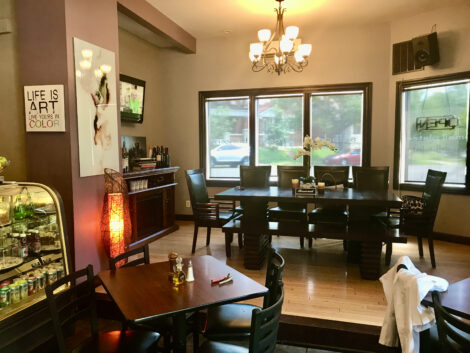 Katerina's menu includes a blend of casual Albanian and Greek dishes such as lamb shank and gyros, but it's her spinach pie that wins highest accolades and is the cafe's best seller.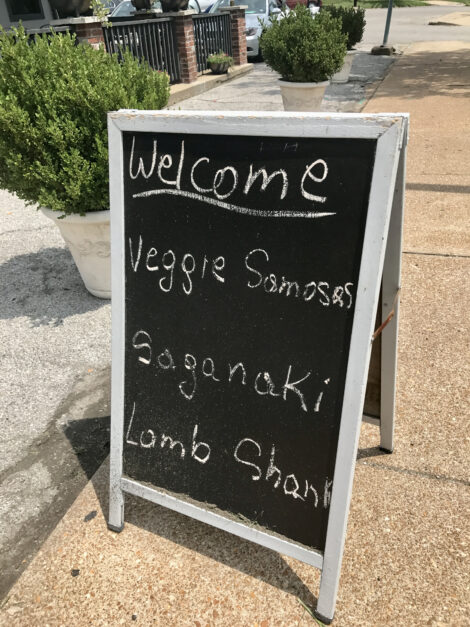 Called Byrek Mi Spinaq in Albania and Spanakopita in Greece, spinach pie is a popular mainstay in the cuisines of both countries. As expected, Katerina does a bit of her own thing in the Cafe Nova's version. Instead of buttering sheets of filo dough and laying them flat to make layers, Katerina scrunches the dough into airy puffs before adding them to the pan. The baked results are pies with flaky, crispy peaks that add a butter-rich crunch to the flavorful spinach and cheese filling.
SPANAKOPITA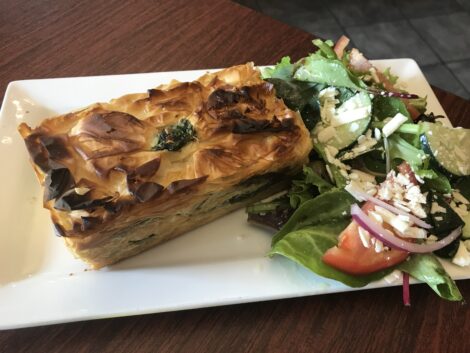 Albanian spinach pie
Yield: 4 servings.
3 tablespoons olive oil
1 red onion, peeled and diced
Salt to taste
2 cloves garlic, peeled and minced
3 cups finely chopped, blanched spinach (or frozen chopped spinach, thawed and well drained)
3 eggs, beaten
1 cup feta, crumbled
3/4 cup ricotta 
1/4 cup grated Parmesan cheese
Pepper to taste
About 12 tablespoons butter, clarified (See NOTE)
1 (16 ounces) package filo dough
Put oil in a large skillet set over medium heat. When oil is hot, add onion, sprinkle with salt and cook until onion is translucent, but not brown, about 8 minutes. Add garlic, and cook, stirring,1 minute. Gradually stir in spinach, and cook, stirring often, until liquid evaporates and spinach is "dry," about 5 minutes. Transfer mixture to a bowl and set aside to cool. When cool, stir in eggs, feta, ricotta and Parmesan. Sprinkle with salt and pepper and stir until ingredients are well combined. Refrigerate in a covered container until ready to use.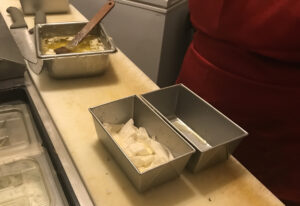 To construct the spanakopita (see NOTE): generously brush bottom and sides of four mini loaf pans (about 5-1/2 X 3 X 2-1/4) with clarified butter. Working quickly and using a half of a sheet of filo at a time, gather filo into a loose bundle and gently put in one side of bottom of one pan. Repeat with a second half sheet of filo, putting it next to the first in in pan. Using a pastry brush, dot ruffled filo with clarified butter. Repeat the process, building a layer of 8 to 10 half sheets of ruffled filo and dotting with butter after each two-half sheets addition.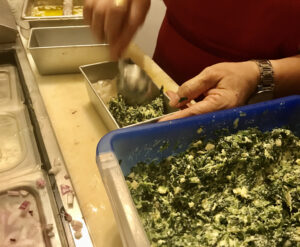 Divide spinach into 8 equal portions. Gently spread 1 portion over top of ruffled filo in pan.Top spinach with another layer of about 8 half-sheets of ruffled filo, each two-half sheets dotted with butter. Spread another portion of spinach over second layer of filo.
Top with last layer of filo (using about 4 to 6 half sheets filo), mounding filo above pan and drizzling with butter between the sheets. As you dot with butter, gently tap filo down into sides of pan, but do so lightly as you want air between the sheets.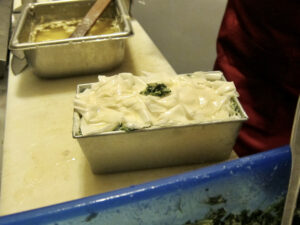 Repeat process, layering ingredients as described above, into remaining three loaf pans.
Cover pans with plastic wrap and refrigerate several hours or overnight.
When ready to bake, preheat oven to 350°F. 
Put chilled pans in oven and bake until top is deep golden brown, 30 to 40 minutes.
Turn cooked spanakopita out of pan onto a board or plate.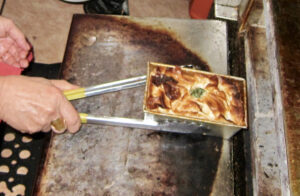 (if necessary, cut around edges of pan with a sharp knife to release the spanakopita).  With tongs, turn the spanakopita right side up and serve. 
NOTE: TO CLARIFY BUTTER
Put butter in a small saucepan and set over low heat. Without stirring, heat butter until it melts, foams and bubbles. Remove saucepan from heat and set aside for 5 minutes. The butter will separate into three layers—a top foamy layer, a middle clear layer and milky residue. With a spoon, carefully skim off top foam (set aside for another use). Pour the clear (clarified) butter into a small jar, discarding the milky residue.  Refrigerate excess clarified butter in a covered jar and use in a variety of dishes.
NOTE: FILLING PANS
Each pan of spanakopita has five layers of ingredients. First is a layer of ruffled filo sheets, each dotted with butter. The second layer is the spinach mixture. Third is another layer of ruffled filo sheets and butter. The fourth layer is another portion of spinach mix. The top layer is ruffled filo with butter.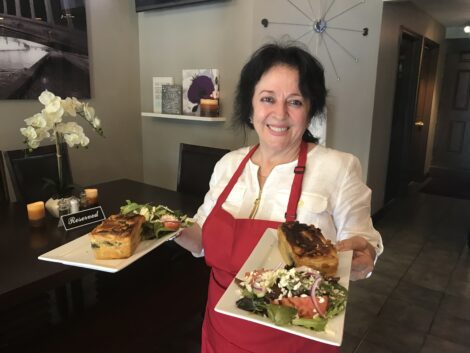 Sweet Leisure has other terrific immigrant chef restaurant recipes:

For Lona Lil Eats dumpling recipe, click HERE.

For Kobee-factory's kobee recipes, click HERE.

For Yucas Hut's cochinita pibil recipe, click HERE.