LONA LUO 
Lona's Lil Eats
St. Louis, Missouri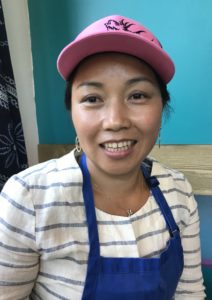 Lona Luo thought of herself as extremely poor, growing up in Manhen, an isolated village hidden in the mountainous area of China's Yunnan province.
The family, like all of the villagers, depended on what they could grow or forage to eat. They raised chickens and pigs and grew vegetables in home plots. They supplemented their diets by catching shellfish, snails and fresh eel from rivers and streams and gathering herbs from the mountain side.
When Lona was 10-years old, her mother handed her a live chicken to kill, clean and cook. No one taught her to cook. She taught herself and didn't alway succeed. Her dad, a member of the Luo Luo tribe, encouraged her saying, "try again," but her mother, a high-mountain Thai, would get mad as the family didn't have enough resources to cover failure. 
Eventually Lona was cooking for her family as well as making feast food such as dumplings for village celebrations.
Lona had five siblings, but grew up isolated from the world at large, without electricity or a telephone. Although she did go to the village school, finishing high school, she had never seen a foreigner nor dreamed of immigrating. Girls were expected to marry, but because the home situation was so poor, Lona moved to the nearest city, Kunming, to work—a move her family denounced.
She scored a job as a server, and eventually a front-of-house supervisor in a popular restaurant, where she learned Japanese and met her future husband, Pierce Powers, when he was hired to teach English to the restaurant staff.
Pierce and Lona married, had a daughter and in 2006 moved to St. Louis, Missouri, Pierce's hometown. In 2008 the couple opened a food stand in the Soulard Farmers Market. Lona cooked. Pierce managed the business. The couple quickly gained a following for their simple yet flavorful, Asian-based dishes, with Lona's hand-made dumplings a popular draw. In 2014, they opened the brick-and-mortar Lona's Lil Eats to immediate success.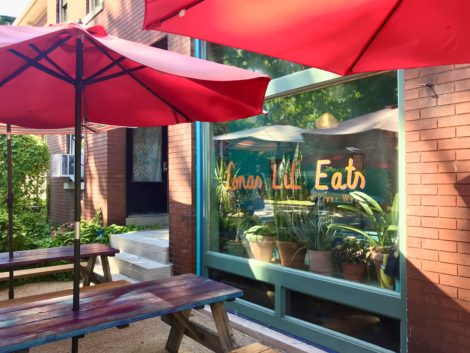 Today, Lona has a son, daughter and a casual restaurant that earned her a nomination for Best Chef: Midwest by the James Beard Foundation. 
Her food pleases vegans, vegetarians, meat lovers and those on special diets as her menus list ingredients that guests order in combinations of their own choosing.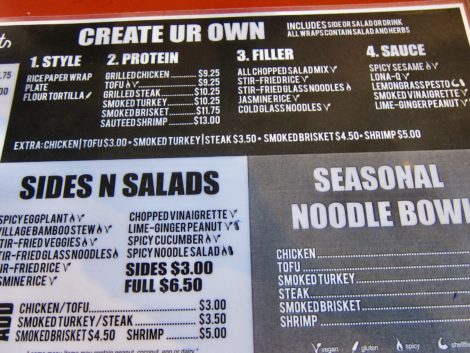 Although Lona continues to create fresh, wholesome dishes that she describes as a "wild montage of influences from China, Thailand, Burma, Tibet and the Middle East" her hand-made, cooked to order, pillow-plump dumplings remain on all of her menus. 
She makes two versions of dumplings; one with mushrooms, the other with steak. Chinese tradition states that mushroom filled dumplings bring wealth and good fortune to those who eat them. This is certainly true at Lona's Lil Eats as anyone eating Lona's dumplings is fortunate indeed.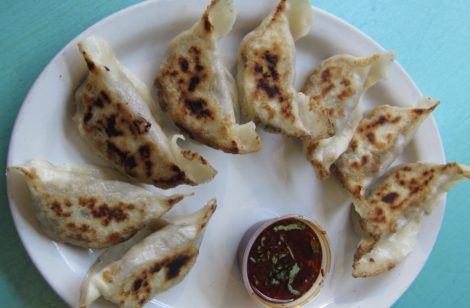 LONA'S LIL EATS MUSHROOM DUMPLINGS
Yield: About 30 dumplings.
FILLING
Vegetable oil
1 clove garlic, very finely chopped
24 ounces cremini or other mushroom, very finely chopped in a food processor or by hand
3 green onions, trimmed and finely chopped
About 2 teaspoons chopped green cabbage and/or cilantro
1 teaspoon soy sauce 
1/2 teaspoons sugar
Star anise, ground to a powder to taste, optional
Salt to taste
Coat a saucepan with a little oil, add garlic and set over medium-high heat. Stir and add mushrooms. Sauté mixture, stirring often, until mushrooms are cooked, but not brown, and have render their juice, about 4 minutes. Drain mushrooms and put in a bowl. Stir in onion, cabbage and/or cilantro, soy sauce and sugar. Sprinkle with star anise, if desired. Taste and add salt. Drizzle just enough vegetable oil over mushrooms so that mixture holds together. Cool to room temperature or chill before filling.
DOUGH
2 cups Chinese dumpling flour (See NOTE) for the basic dough plus additional flour for kneading, rolling and shaping dough
1/4 teaspoon salt
1/2 to 1 cup hot water
Put 2 cups flour and salt in a medium size mixing bowl. With your a spoon (Lona uses her hand) slowly stir in enough hot water to make a sticky dough.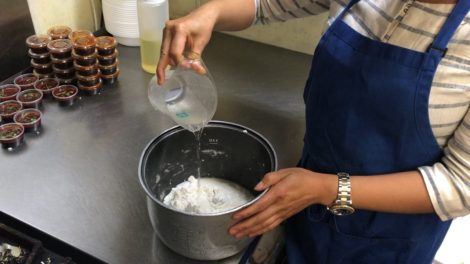 Set bowl aside for 2 minutes, then empty dough onto a heavily floured flat surface. With your hands, knead the dough, incorporating flour as needed, until dough is smooth and pliable. Form dough into a ball. Break off a tennis-ball size piece of dough and roll into a cigar shape, about 1 inch in diameter.
Break off 1-inch pieces of the cigar dough and roll in flour to coat. With a rolling pin, roll each piece of dough paper thin to a circle about 4-inches in diameter.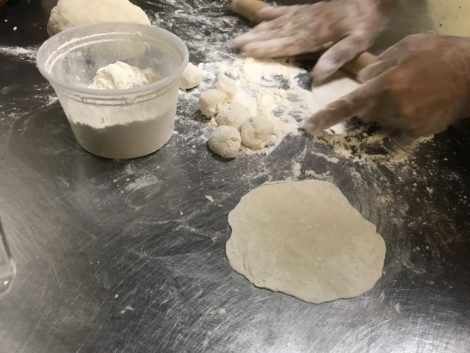 ASSEMBLING AND COOKING
Vegetable oil
Water
To fill dumplings: hold one dough circle in the palm of one hand. Add 1 tablespoon mushroom filling to center. Bring up sides to form a crescent with a flat bottom. With your fingers, pleat one side of top dough, pressing both top edges together tightly.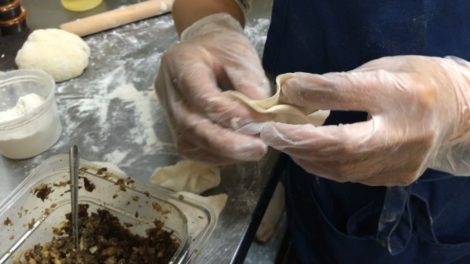 Set filled dumpling pleated top up, flat bottom down, on a plate or tray. Repeat until all dumplings have been filled. Don't let the dumplings touch.
To cook dumplings: Drizzle oil over bottom of large non-stick skillet. Add 1 cup water. Set skillet over moderate-high heat. Place dumplings in skillet so that they do not touch. Drizzle a little oil over top of dumplings. Cover skillet and boil dumplings until you hear a sizzle and dumplings are tender, about 4 minutes. Remove lid and cook until water evaporates and dumpling bottoms become brown and crispy, about 2 minutes.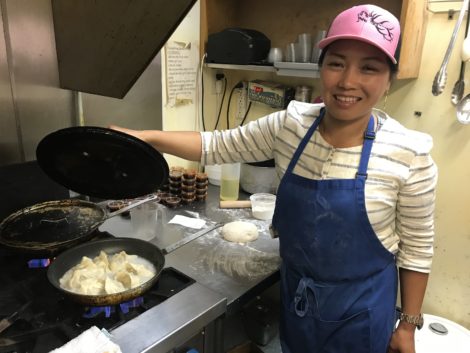 Serve immediately with dipping sauce.
DIPPING SAUCE
Chinkiang vinegar (See NOTE)
Soy sauce
Chili oil to taste
Combine equal amounts of vinegar and soy sauce. Add a dash of chili oil. Stir well.
NOTE: Chinese ingredients
Chinese dumpling flour is a high-gluten flour made from 100% wheat available in most Asian markets. Chinese dumpling flour is generally whiter and more elastic than all-purpose flour. One can substitute all-purpose flour, but resulting dumplings will be darker color and harder to manage. 
Chinkiang vinegar is a Chinese black vinegar usually made from rice and/or sorghum and long aged. It comes from the the city of Chinkiang (or Zheniang) and is popular in southern China.
For more information  on Lona's Lil Eats click HERE.
For more recipes featuring women Immigrant Chefs, click HERE
and HERE.