Laura Sorkin is a farmer, a writer, a recipe developer, a cookbook author, a wife, a mother of  two teenagers and the co-founder/owner (with husband Eric) of Runamok Maple, a company producing a variety of artisan syrups that are setting the standard not only for pure maple syrup, but also those creatively enlivened with flavor.
The charming do-it all woman was born NYC and raised in Connecticut. She studied Chinese language at McGill University, then earned a degree from French Culinary Institute in New York (now called the International Culinary Center). After working in a few famous upscale restaurants, Laura decided that she wanted to do something more solid, so she enrolled in the Environmental Management program at Duke University where she earned a master's degree and met her soon to be husband, Eric, who was in the same program and also working towards his law degree.
Although Eric and Laura moved to Washington, where degrees in environmental management brought jobs, they didn't stay. Both had longed to own a farm and finally made dreams come true in 2000 when they bought a 1,000-acre property in Vermont.
Laura says that the "farm" had originally been used for sheep grazing and was overgrown to the point where the land had to be reclaimed before it could be cultivated. The farm was mostly my endeavor," said Laura, "with Eric adding support. When we switched from farming to producing maple syrup in 2016, we also switched roles. The syrup is Eric's baby, I add support." 
Today, the Sorkins tap about 76,000 of their own trees with taps from other trees bringing the count to about 100,000 taps bottled with the Runamok label.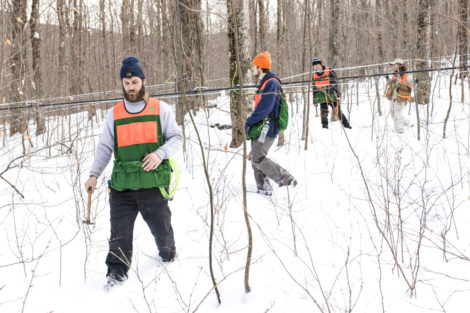 Although the creative and talented Sorkins produce pure maple syrup, choosing the best of the best to bottle under the label "Sugarmaker's Cut,"they also experiment, producing not only barrel-aged and

smoked syrups but also those infused with flavors. Options of flavored syrup run the gamut with enhancers as familiar as cinnamon and vanilla, cocoa and coffee to the more exotic Makrut lime leaf and smoked chili pepper.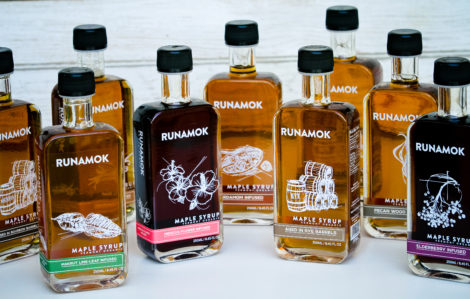 The couple also has a new line of intriguing cocktail syrups and bitters in a variety of flavors. And, Laura says that her "evil genius" husband, in order to brighten the grimness of these Covid and otherwise harsh times, has invented a way to infuse their syrups with glitter.
And if that wasn't enough activity for this superwoman, Laura just published a wonderful cookbook, Vegetables The Ultimate Cookbook.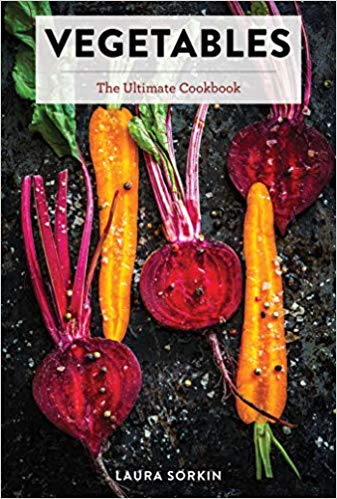 Of all of the recipes on the Runamok Maple website (and there are a cornucopia of fabulous ones) and in the cookbook (another collection of terrific), Laura says that her favorite recipe is MAPLE TIRAMISU.
She graciously gave me her recipe to share with you.
RUNAMOK MAPLE TIRAMISU
Yield: 4 to 6 servings.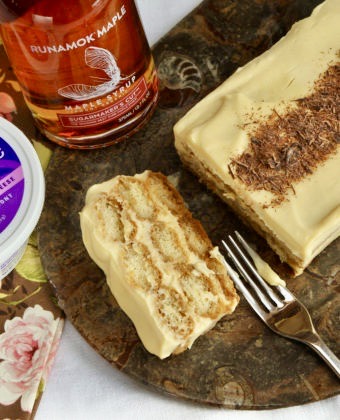 3 egg yolks
1/3 cup Sugarmaker's Cut Pure Maple Syrup
1/3 cup heavy cream
1 teaspoon cornstarch
8 ounces Mascarpone, room temperature
1/2 cup strong coffee
1/4 cup rum
7 ounce package of Italian ladyfingers
Cocoa for dusting
Shaved chocolate 
Put egg yolks, maple syrup, heavy cream and cornstarch in a pot or over a double boiler.  If using a pot, turn the heat on low, if using a double boiler, bring the water to a simmer.  Whisk the mixture constantly for about 8 – 10 minutes or until it starts to thicken (temperature should be around 160).  Remove from the heat immediately and let cool.  Blend in the mascarpone and set aside.
Take a 9" bread pan and line it with plastic wrap, using two sheets if necessary to cover all surfaces and allowing about 4" to come over the sides.  Combine the coffee and rum in a shallow dish.  Take the lady fingers and dunk them, one at a time in the coffee-rum liquid.  Coat both sides but don't let them sit in the liquid or they will become too saturated fall apart.  Line the bottom of the pan with the soaked biscuits, breaking them into smaller sizes to fill in empty spaces.  Pour a third of the maple cream over the lady fingers.  Repeat with another layer of rum-coffee soaked biscuits and then another layer of cream.  Make a third layer of each, ending with maple cream.
Cover the pastry with plastic wrap and chill in the refrigerator for at least three hours or overnight.  When ready to serve, take the pan out of the fridge.  Have a plate ready and gently lift the pastry out of the pan using the plastic lining.  Place the Tiramisu on the plate and peel the plastic back from the edges so the cake is standing on its own.  Dust with a little cocoa powder and garnish with some dark chocolate shavings.
The Sorkins sell Runamok Maple products on their website (https://runamokmaple.com)  and in speciality shops throughout the United States. I urge you to hurry with your order, because the brand tends to sell out quickly.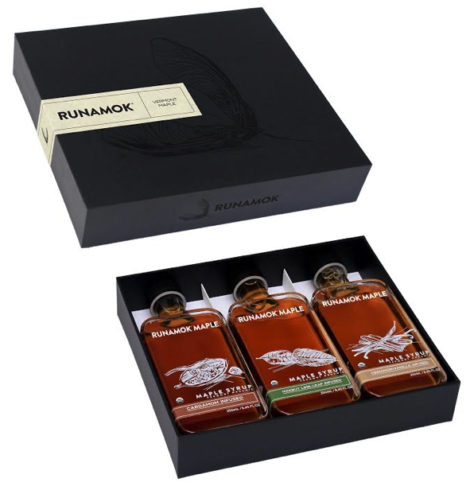 For more information or to buy Runamok Maple products, click HERE
or 
To buy Laura's book, VEGETABLES The Ultimate Cookbook on Amazon, click HERE
(I am not sure exactly how this works but am told that I receive a commission if you buy through the Amazon links above.)