Just imagine. When you can't travel the world—the world travels to you. I'm talking specifically about Porto's Bakery & Cafe, a well-loved Los Angeles fixture. 
Porto's  was founded by Rosa Porto who is a native of Cuba.
When communism took over Cuba, Rosa's husband Raul Porto Sr. was arrested and taken to a labor camp. To help the family survive, Rosa started baking and selling cakes out of her home. In 1971 the family immigrated to L.A. where Rosa continued to bake cakes and pastries to sell from home.
Michelle Rodriguez, founder of 360viewPR, the public relations firm that now represents the bakery, tells a personal story that illustrates Rosa's popularity:
"Porto's is a very special client for us," says Michelle, "as my family are also Cuban political refugees who came to Los Angeles from Cuba. My grandparents learned of Rosa Porto through the Cuban community before she opened her bakeries. She made my Mom's birthday cakes growing up, my parent's wedding cake and all my birthday cakes as a kid. Our story is not unique as there are many Cuban and non-Cuban families in L.A. that have grown up generation after generation with Porto's as a family tradition."
In 1976 Rosa opened her first brick-and-mortar bakery/cafe in Echo Park, California. With the family's help, the bakery flourished, offering breads, cakes, pastries and a variety of Cuban-accented baked specialities. Today, the bakery/cafe has five locations in southern California (Glendale, Burbank, Downey, Buena Park, and West Covina) with more on the way. 
And Ta-Da! Drum roll please! Perfect for those who can't travel and visit in person, Porto's has added a BAKE AT HOME category to its menu, making frozen signature items available nationwide. 
So what are those signature item? Two tops are the Refugiado (refugee), a guava & cheese strudel that and has been on Porto's menu since first opening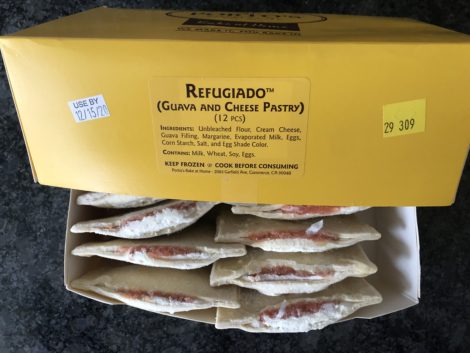 and Papa Rellena, potato balls which are the bakery's number one best seller.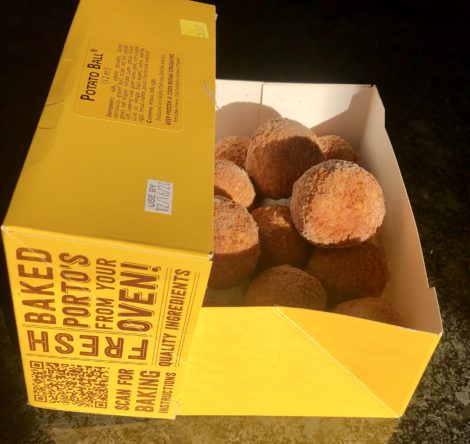 The products come with baking instructions.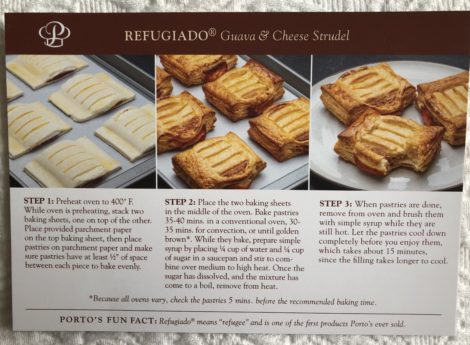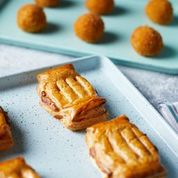 I've baked both at home. Divine!
I agree with Michelle Rodriguez, who said, "I often take out from the bakery, which is great, but I love the new Bake at Home, which one can eat fresh from the oven with all the flavor intact—just like eating hot from the oven in the bakery."
Although some of Porto's most popular items are available through Bake at Home, the popular Ropa Vieja is only served in Porto's cafe. But not to worry. Porto's shared its recipe. A national dish of Cuba, Ropa Vieja is made with shredded beef and vegetables that come out looking like a pile of old clothes (thus its name). Serve this dish with black beans and rice and sweet sautéed plantains. 
For super-happy eating throughout the day, breakfast on Refugiados, have Papa Rellena for lunch and make Ropa Vieja for dinner. Buen apetito!
ROPA VIEJA PORTO'S

 
Yield: About 6 large servings.
FOR BEEF:
2-1/2 pounds flank steak
1 green bell pepper, stem removed, seeded and quartered
1 large yellow onion, peeled and halved
3 green onions, roots trimmed 
4 large garlic cloves
1 teaspoon black peppercorns
1 teaspoon ground cumin
3 bay leaves
Salt to taste 
2 gallons water
Put all ingredients into a large stock pot.
Set pot over medium heat and gently simmer until beef is fork tender and falls apart easily, 3 to 4 hours.
Remove beef from broth and set aside to cool slightly. Strain cooking liquid. Reserve liquid; discard solids. When beef is cool enough to handle, shred it into small pieces with your hands. 
TO MAKE THE ROPA VIEJA
About 1/4 cup vegetable oil
1 large onions, peeled and julienned
2 large cloves garlic, finely chopped
1 large green bell pepper, trimmed and julienned
1 large red pepper, trimmed and julienned
About 1/4 cup tomato puree
1/2 cup white wine
1 large tomato, trimmed and coarsely chopped
1 ounce beef base
1 to 2 teaspoons paprika
1/2 teaspoon black pepper
1/2 teaspoon ground cumin
3 cups reserved cooking liquid (above)
Shredded beef (above)
About 1/4 cup sliced green olives
Heat oil in a large Dutch oven or similar large pot. Add onions and cook, stirring occasionally, until onions are translucent. Add garlic and cook 3 minutes, stirring often. Add peppers and cook 10 minutes, stirring often. Add tomato puree; cook 2 minutes stirring often. Deglaze pan with wine and allow wine to evaporate. Add tomatoes, beef base, paprika, pepper, cumin, and reserved cooking liquid. Bring mixture to a boil. Stir in shredded beef and green olives. Cover with a lid and simmer for 35 minutes.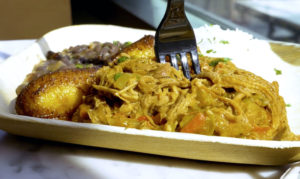 For more information about Porto's Bakery & Cafe, click HERE.
To order Porto's BAKE AT HOME click HERE.
For more wonderful immigrant chef recipes, click  HERE for Lona's Lil Eats dumplings
and  HERE  for Kobee Factory's kobee and HERE for Yuca's Hut cochinita pibil.