IMMIGRANT CHEF: SOCORRO HERRERA
Yuca's Hut
Los Angeles, California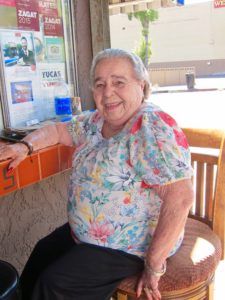 Socorro Herrera was born in Mérida, the capital of Mexico's Yucatán State. Both ancient Mayas and Spanish conquistadors settled in Mérida leaving behind rich cultural characteristics that influenced Socorro as she grew up, married and started a family. 
Seeking a "better education for her son and two daughters," Socorro, with her late husband Jaime, moved the family to Los Angeles in the mid-1960s. 
Socorro settled into American life initially working as a dressmaker, but encouraged by family and friends who praised her cooking, she eventually opened a food "hut".
"God send me here," said Socorro, speaking of the 8- by 10-square-foot restaurant hut sitting on the edge of a parking lot in the Los Feliz neighborhood of L.A. "I saw. I fell in love."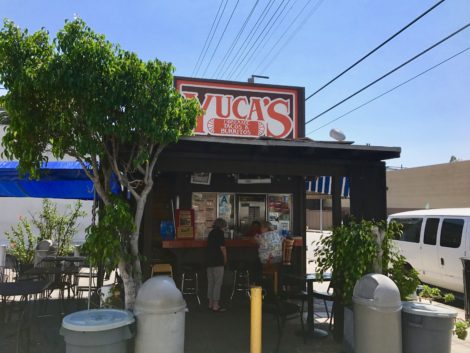 Not having a business plan, not even speaking English, but sure of success, Socorro opened Yuca's Hut in 1976. She cooked Yucatán specialties that she learned to make from her mother and grandmother, altering recipes, when necessary, to accommodate local ingredients and cooking techniques. The restaurant thrived. Food critics showered Yuca's with praise. Oprah invited Socorro to guest star on her show. Yuca's won a James Beard award in the America's Classics category. 
Today, tourists in rental cars, stars in Rolls-Royces and gardeners in Ford trucks line up for Socorro's food which they take home or devour on the spot at one of the seven wrought iron tables set on the parking lot. "For me, success is a big surprise," exclaims the humble Socorro, "I say God thank you. I have a very very nice life." 
Cochinita Pibil ranks as a centerpiece on Yuca's menu. "Whenever people come and they say they never been here," explained Dora Herrera, Socorro's daughter who works with her,  "we always suggest that they try Cochinita Pibil. Everything else is good, but we like people to try something from our state."
Cochinita translates to small pig and Pibil in the Mayan language refers to the technique of cooking underground in stone lined pits.
In the Yucatan, the pork is seasoned, wrapped in banana leaves and slow roasted in an earth pit with a fire at its top. Given Los Angeles' health-department regulations, Yuca's slow roasts their Cochinita Pibil in the hut's small oven and serves it in their super popular tacos, burritos and tortas.
YUCA'S COCHINITA PIBIL

 
Yucatán-style slow roasted pork
Yield: 8 servings as a main dish. Serves more when placed in burritos, tacos and/or tortas.
About 1 pound banana leaves (enough to completely cover the bottom and sides of a 4- to 6-inch deep roasting pan with extra to fold over the top of ingredients, encasing the pork in leaves.)  (See NOTE)
About 8 pounds bone-in pork butt or pork shoulder
1 package, (100 g or the size of a deck of cards), good-quality achiote paste (See NOTE)
1-1/2 cups bitter orange juice or 1 cup orange juice mixed with 1/2 cup white vinegar. (See NOTE)
Preheat oven to 300°F.
If necessary to make banana leaves pliable, briefly hold leaves over the direct flame of a stove top or grill. (If flame is not available, steam leaves or place them in the preheated oven and heat until they are warm and pliable, 5 to 7 minutes).  Using your hands or a scissors, cut away the banana leaves' hard middle rib.
Line the bottom and sides of a 4- to 6-inch deep roasting pan completely with banana leaves. (Overlap leaves, placing them in alternate directions until you no longer see bottom of pan. Place some leaf pieces in each corner to prevent leaks. Make sure leaves overhang the sides of pan so they can be folded over the pork after it is sauced to create a tidy bundle.)
Cut pork into 3- to 4-inch chunks.  
Place pork chunks in banana leaf-lined pan so that chunks butt up to each other, but do not crowd. Put achiote paste in a small bowl and stir in bitter orange juice or juice and vinegar to make a thin sauce. Pour sauce over pork chunks in pan, letting liquid seep between chunks of pork.
Line top of pork with banana leaves, completely encasing pork with leaves. Cover roasting pan tightly with foil. 
Place in 300°F oven and bake until pork is tender and almost falling apart, 3-1/2 hours or more.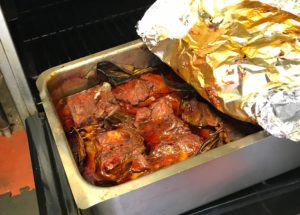 When pork tests done, remove pan from oven and set aside for 15 minutes. Then, with a fork, pull the pork into large shreds and let shreds absorb juice in pan. 
Serve as a main dish along with rice and black beans and tortillas, or serve in burritos, tacos or tortas.
NOTE: Yucatán ingredients
Achiote paste: a seasoning made from the ground, red-orange colored seeds of the tropical annatto tree mixed with a variety of other herbs and spices that could include garlic, oregano, cumin, salt and black pepper. Used to add flavor and color to a variety of dishes.
Available in Latin American and specialty food shops. Brands from the Yucatán are best to use in this dish.
Banana leaves: the large fragrant leaves of the banana plant. Available in Latin American and specialty food shops—sometimes frozen.
Bitter orange (Seville orange): a tart orange that grows abundantly in the Yucatán. Can substitute a mixture of fresh orange juice mixed with vinegar.