I have traveled with Mindy Bianca on some wonderful trips. We went to Scotland together;
to Sunset at the Palms, a special treehouse resort in Negril, Jamaica;
and to Gulf Shores and Orange Beach, Alabama.
I went as press. Mindy ran the show, first working for Gillies & Zaiser Public Relations and then designing trips for her own PR firm, Mindy Bianca Public Relations (MBPR).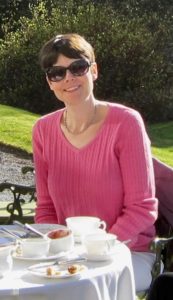 Highly organized, detail oriented and totally fun, Mindy arranged perfect trips that showed off the multiple attributes of her lucky clients and totally charmed her guests.
I, of course, relished all, but I especially loved the meals that Mindy fed into the schedule. They were always beautifully prepared by talented chefs, appealingly served and throughly delicious. 
Mindy knows food, so I was eager to see what she would pick as a favorite recipe as many dishes that I've had in her presence would qualify. 
Lo and behold she reaches back to high school and a neighbor's recipe for her contribution. Here's what Mindy says about the favorite cookie: 
"This has been a go-to recipe for me since I bit into one of these cookies at a neighborhood cookout when I was in high school. (And who am I kidding? Once I bit into one cookie, I had at least four more.) I got the recipe from the neighbor and for more than three decades it's been the one that got me through every office potluck. It's quick and simple to make and always a crowd-pleaser because you think it's just a weird-shaped chocolate chip cookie until you bite into it and realize – ta-da! – there's a Hershey's Kiss in there!
"For me, though, the very best part of the recipe for this yummy shortbread is the fact that there are no eggs in it … so you can snitch dough with reckless abandon the entire time you're baking and never worry about health issues." 
Chocolate Chip Kiss Cookie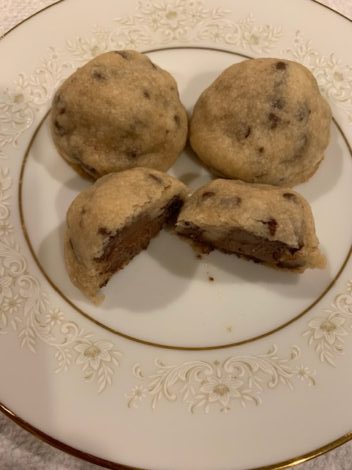 INGREDIENTS
1 (9-ounce) bag Hershey's Kisses
1 cup (2 sticks) butter, softened
1/3 cup granulated sugar
1/3 cup packed light brown sugar
1 teaspoon vanilla extract
2 cups all-purpose flour
1 cup mini chips
PREPARATION
Preheat oven to 375.
DIRECTIONS
Remove wrappers from Kisses.
In a large mixing bowl, beat together butter, sugar, brown sugar and vanilla until well blended.
Add flour. Blend until smooth.
Stir in the chocolate chips.
Mold a scant tablespoon of dough around each Kiss, covering it completely.
Bake for 10 to 12 minutes or until set.
Cool slightly and remove to a wire rack to cool completely.
MAKES About 3 dozen. 
To read more about:

Mindy Bianca and MBPR, click HERE.
Sunset at the Palms, Negril, Jamaica, click HERE.
Orange Beach and Gulf Shores Alabama, click HERE  and  HERE  and HERE. 
Various places in Scotland, click HERE and HERE and HERE.
By the way, I should mention that Mindy spent seven years as public relations director at Hershey Entertainment & Resorts—but this was before I knew her. When I asked Mindy if the cookies inspired the job or what was the cookie/Hershey liaison, she replied: "I actually baked these and brought them to work with me on my first week at Hershey…and took them to every office party we had during my tenure."