IMMIGRANT CHEF: WAFA GHREIR 
Kobee Factory & Syrian Kitchen
Los Angeles, California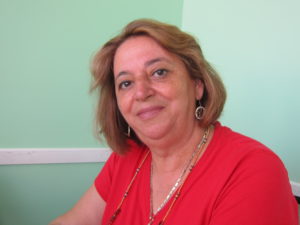 "I never thought I would leave my country," said Wafa Ghreir of Syria, "but God knows. God wants me to be here (in America)." 
Wafa grew up in a small village three miles east of Homs, a historic city in western Syria about 101 miles north of Damascus. She came from a family of farmers who taught her to have great respect for family, country and tradition. 
Instead of fulfiling her dream of  becoming a pharmacist, Wafa met and married her cousin when she was 19.
Her husband had been in America and wanted to live there, so the couple immigrated to the United States in 1977, settling into a Syrian community in Los Angeles. 
Although raised in the rich food culture of Syria, Wafa did not even know how to boil an egg. Wanting to prepare dishes that her husband loved, she asked her mom and ladies of the Syrian community to teach her how to cook.
 "I loved the day when I started cooking," said Wafa. "You show your love through food." 
Life progressed. Wafa had two children and continued cooking as a hobby until her husband died in 2003. She spent several despondent years alone at home before deciding, over her children's objection, to open Kobee Factory and Syrian Kitchen in 2014.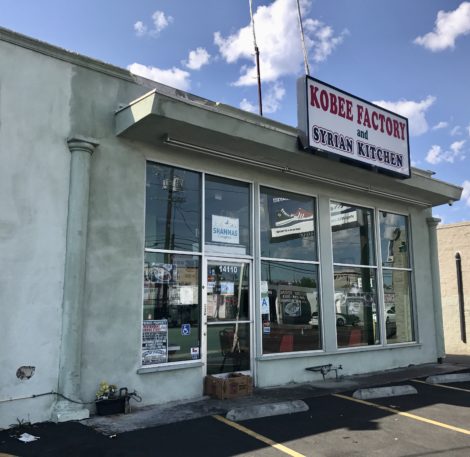 Within a year of opening, Kobee Factory earned rave reviews and the restaurant flourished. Despite an active catering business and attracting locals and diners who will drive four hours for an authentic Syrian meal, Wafa sees no need to expand her cozy, simple storefront space holding only six tables and a counter for ordering.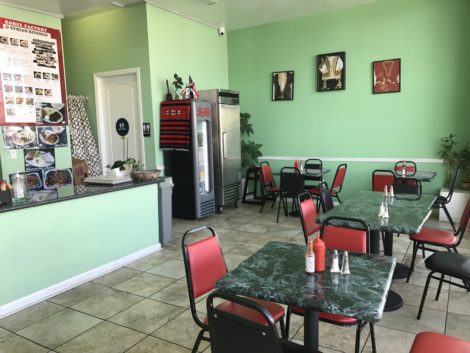 "I don't think of it as cooking for customers, but cooking for family." claims Wafa. I want to pass on my country's food culture to my children and the children of family and friends."
Kobee Factory serves a variety of Middle Eastern dishes such as shawarma, falafel, hummus and kababs, but it is the kobee that gets the most attention. 
Countries throughout the Middle East make some version of meat pockets made of bulgur wheat, seasoned ground beef and/or lamb and minced onions known as kobee, kibbee, kibbeh, kubbah. The Kobee Factory offers beef filled kobee shaped and cooked in three different ways: disks which are barbecued, foot-ball shaped oblongs that are fried and a layered pie which is baked.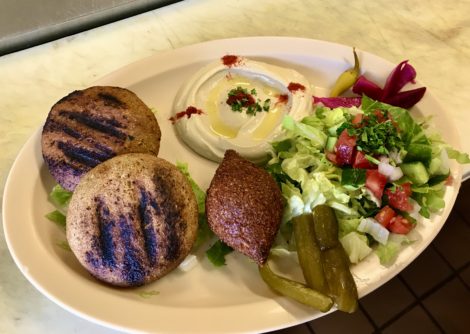 KOBEE

 
Middle Eastern meat pockets or pie
Yield: 12 large pieces or one 10-1/2-inch pie.
DOUGH
2-1/4 cups fine grain bulgur wheat
1/2 pound ground beef
Salt
Pepper
Paprika 
Put bulgur in a large strainer and rinse under cold running water until water is clear. Transfer bulger to a large mixing bowl. Cover with cold water and set aside to soak for 30 minutes. Drain bulger. If necessary, put bulgur in a layer of cheesecloth or a tea towel and squeeze to get rid of as much moisture as possible. 
Sprinkle beef with salt, pepper and paprika. Using the dough hook or paddle of a heavy mix master or your hands, knead seasoned beef and bulgur together until they form a paste the consistency of dough. Cover and chill dough until you are ready to work with it. 
FILLING
1 tablespoon olive oil
1 tablespoon pine nuts
1 large yellow onions, peeled and minced
1/4 pound ground beef
Ground allspice
Salt
Pepper
Put oil in a large skillet. Set skillet over medium heat. Add pine nuts and sauté until light golden brown, about 1 minute. Remove pine nuts from skillet with a slotted spoon and drain on paper towels. 
Add onions to oil in skillet. Cook, stirring occasionally, until onions are soft and translucent but not brown, about 8 minutes. Add beef and stir to break up chunks of meat. Sprinkle with allspice, salt and pepper. Stirring occasionally to break up meat chunks, cook mixture until beef browns lightly, 5 to 18 minutes. Stir in pine nuts. Transfer beef to a bowl, cover and refrigerate until chilled.
ASSEMBLING AND COOKING
(See NOTE)
To grill over charcoal: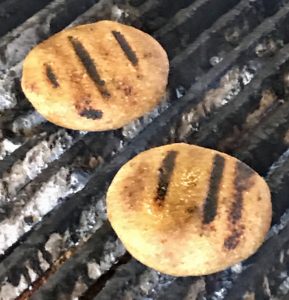 Take about a pingpong size piece of dough and, by hand, form it into a flat round patty. Make a slight indentation in center of patty and put in a tablespoon of filling. Top with another pingpong- size flat round patty of dough. Press the edges of two dough patties together to make tight and smooth. Repeat. Put packets on a parchment paper lined baking sheet, cover and chill until ready to cook. Place packets on a the rack of a medium heat charcoal grill and grill, turning once, until brown and crispy on both sides, about 20 minutes.
To deep fry: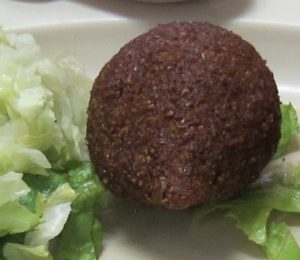 Take a pingpong-size portion of dough and form it into a ball. Make an indentation in top of ball so that dough resembles half of an empty egg shell. Add about a tablespoon filling to indentation. Working with your hands, add another pingpong-size piece of dough (or slightly smaller) and smooth  doughs together around filling, elongating ends to a make football shape.
Put packets on a parchment-paper lined baking sheet, cover  and chill until ready to cook.
Fill a deep fryer or deep saucepan with oil. Heat to 350°F. Fry packets until they are brown and crispy about 10 minutes.
To bake in a pie: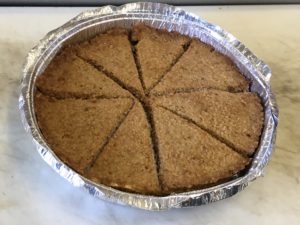 1-1/2 tablespoons softened butter
1-1/2 tablespoons olive oil
Combine butter and olive oil.
Rub half of butter mixture over the bottom and sides of a 10-1/2 inch pie plate. Put 1/2 of dough in the bottom of pie plate and with fingers smooth to a nice even layer covering bottom and some of sides. Top dough layer with filling, spreading filling to form an even layer. Top filling with another layer of dough, using remaining dough and smoothing with hands to a nice even layer. 
Cut pie into wedge shaped pieces and rub with remaining butter oil mixture.
Bake in a preheated 400°F  until top is light golden brown, about 45 minutes.
NOTE:  Keep kobee dough and filling chilled until ready to shape. Dampen hands with water to shape and stuff the kobee. Put shaped kobee on parchment lined baking sheets and chill before cooking.
For more information, click HERE.