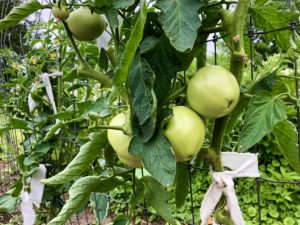 Almost time. Am so eager. My garden is on the verge of overflowing with earthy delights. Although I am especially hungry for plump, bright red, sweet and juicy home-grown tomatoes to be ready for plucking, I can wait. Red is my end stop, but green is the go-to pick until the main event gets here. Of course, I'm talking about green tomatoes and that wickedly delicious country treat of fried green tomatoes.
If looking for a recipe, you can't do better than the buttermilk-crusted fried green tomatoes served at Kitty's Kafe in Gulf Shores, Alabama.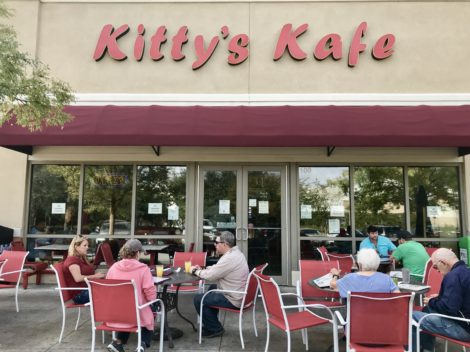 Kitty's is a a kasual, congenial, diner-like place featuring all-day breakfast and a variety of down-home, Alabama-style "kountry cookin" specialities.  Owner Kitty Simpson fills her menu with Southern-accented delights such as kountry fried steak, kreamy grits, kasseroles and kobblers. (As you will notice, Kitty kharacteisticly replaces "c" with "k" wherever she kan. It's a little khaotic for spell-check, but kinda katchy on the menu.)
Kitty gave me her recipe for fried green tomatoes and while she was at it, jotted down the recipe for her Creole Potato Salad—another goodie. 
Both are kaloric, but komfort food at its best. Thank you, Kitty
Here are Kitty's kool recipes:
FRIED GREEN TOMATOES FROM KITTY'S KAFE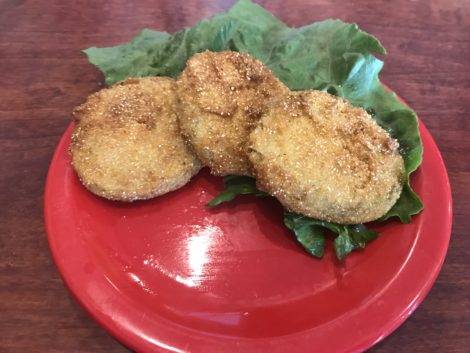 Yield: 4 to 6 servings.   
4 large green tomatoes 
1-1/2 cups self rising cornmeal
1/2 cup self rising flour
1 tablespoon salt
1 tablespoon black pepper
About 1-12 cups buttermilk
Vegetable oil 
Cut tomatoes into 1/3-inch thick slices, discarding ends.
Combine cornmeal, flour, salt and pepper and place on a plate.
Pour buttermilk into a shallow dish. 
Dip each tomato slice in buttermilk then dredge in cornmeal mixture.
Pour 1/4 to 1/2-inch oil into a large heavy skillet. Set skillet over medium heat. When oil is hot, fry tomatoes, in a single layer, until nicely browned on underside. Flip tomatoes over to brown second side. Remove browned tomatoes from skillet and drain on paper towels. (Depending on skillet size, you may have to fry the tomatoes in batches.) 
CREOLE POTATO SALAD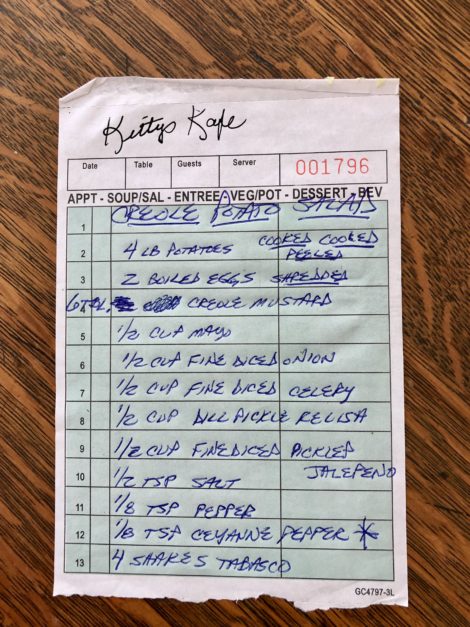 For other great recipes from Alabama

Click HERE 

and  HERE

and  HERE