Tim Brennan knew what he was doing when he named his bakery/cafe "Cravings." Anyone who samples his offerings is apt to develop cravings. I crave his lemon bars and chocolate raspberry-filled cake. (Oh my, craving is such a humble word for this heart's desire.) A fellow cooking colleague says nothing compares to Cravings' carrot cake with caramel pecan filling, and another colleague raves about Tim's  rustic apple pie. The James Beard Foundation declared two of Cravings' desserts "Best Dessert in the Midwest." Tim's Hazelnut Zuccotto took honors in 1993 and his Lime-Blueberry Bombe won the award in 1995. Pies, tarts, cheesecakes, cookies, roulades and towering layer cakes. Everyone has a favorite.
And we haven't even mentioned the savory delights served in Cravings Restaurant or through Tim's catering company which have their own claim to fame. I've been a fan of Tim's for many years and have interviewed him in the past. He told me that he is one of eight kids and that his mother made desserts every night of his growing up. He mentioned that he started baking when he was a graduate student in Ireland during a postal and phone strike; baking helped him feel close to home when home couldn't be reached by traditional methods. He said that returned to St. Louis and went from teaching to wholesale baking in a Croatian church kitchen before opening Cravings at 8149 Big Bend in Webster Groves, Missouri, in 1993. The small and charming Cravings bakery/cafe delights happily ever after.
We asked Tim for a 2021 update—and let him answer in his own words. We also asked him to share a favorite recipe. Here are his replies?
Q: Has your philosophy of baking changed through the years? Seems you started out with such popularity that you didn't need to change much to succeed? 
A: My philosophy has always been to narrow the gap between the visual expectation and the actual taste. More simply put, food needs to taste good! What our culture offers is much more superficial and concerns itself with the appearance: think of strawberries heavily glazed in something artificial. It attracts the eye but then lets you down when you taste it. I never want my food to disappoint.
Q: Cravings has so many fans devoted to special items, How do you decide what keep on the menu and what to add to keep the creative juices flowing?
A: Initially it was difficult to make any changes. Some customers eat exactly the same dish every time they come to Cravings; others are in constant pursuit of what's new and different. It took time to strike the right balance. In the restaurant I devoted weekend specials to new and different ideas without really changing the staples. Oddly enough, the pandemic has provided greater opportunity to experiment with a wider range of cuisines and at the same time forced my hand to prepare dishes that reheat well and still taste great.
Q: Have you found peoples craving for sweets has changed during the Covid lock-down. Are they more after comfort or the exotic?
A: In the initial panic stage people craved comfort food: chili, potpie, brownies and such. As lockdown ebbed and flowed, people wanted GOOD FOOD for a consistent and dependable source.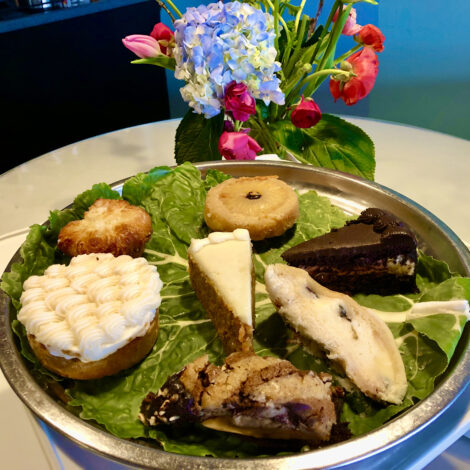 Q: How have you and Cravings adapted to Covid?  What do you see for the near future?
A: I've had to re-create myself. The newest version is Zoom cooking & wine pairing  classes. With advance registration, each participant receives the prepared food with heating instructions, the recipes and a live 1-1/2 to 2-hour instruction by me.  I love it. Yet with that brief class about 25- 35 hours of behind the scenes work.  I'm working harder than I did as a start up. Wine pairings include the prepared food, samples of all wines and a discussion with both me and the wine rep talking about our respective fields. Fun and educational!!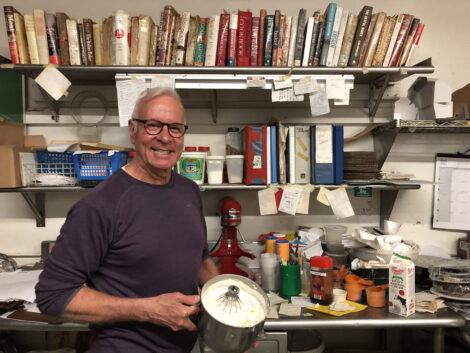 Catering was non existent.  Weddings have been postponed or shrunk to 10-20 guests vs. 200-300.  People weren't entertaining. But now some small wedding cake orders are trickling in and so are a few tiny catering events. We don't know the pattern, so we have to keep our fingers on the pulse of our customer. I personally take 90% of all takeout orders to cars so I have at least some interaction with those who really care about my business. This sustains and revitalizes me.
Q: What do you think about the baking shows on TV? Style without substance—or setting trends?
A: I'm usually annoyed by them because they create a false environment with unrealistic time deadlines or odd/bizarre ingredients. They also raise unrealistic expetations of the consumer which we, in the industy then have to respond to. "Reality" should be changed to "phoney" TV. Not a fan!
As for trends, I have been looking to both the east and west coasts for decades. I love to travel and take lots of notes especially about the food and then try to research and recreate my own versions of it. I purposely avoided following trends because I viewed myself as  more traditional.  Now I watch those trends with one eye ( e.g. Christina Tosi's "naked cake" which I really think is a result of a lack of the skills to professionally frost one! Haha)  Essentially, I've embraced this business as a extension of me. I let my personal tastes guide me.
Q: Of all of your recipes, what stands out as your favorite?
A: I'm frequently asked about my favorite dessert.  My answer remains the same:  I don't have to decide. If there's something I'm craving, I simply make it. My ideal dessert would include all of these: crunchy, chewy, creamy, melt in your mouth….sweet, a bit of salt.
Q: Will you give us a recipe that fits your description of the ideal dessert?
A: Walnut Marjolaine with Cappuccino & Strawberry Mousse, Chocolate Ganache & Walnut Brittle fills the bill, but it takes from 18 to 25 hours to make and would be too complicated and frustrate many bakers.
I think it best to send you something simple and failproof. My banana oatmeal bread.
CRAVINGS' BANANA OATMEAL BREAD
(Recipe supplied by Tim Brennan)
Yield: Two 8" X 4" loaves.
Butter and flour to prepare pans
6 ounces unsalted butter for batter
2-1/4 cups granulated sugar        
3 large eggs      
About 2-1/4 cups mashed ripe bananas   
1/4 cup buttermilk
1 tsp pure vanilla extract        
1-3/4 cups cake flour        
1-3/4 cups rolled oats  
1 tsp baking powder
1 1/2 tsp baking soda        
1/2 tsp kosher salt
Butter and lightly flour two 8" X 4" X 2" bread pans. Heat oven to 325°F.
In a large mixing bowl, with electric mixer, cream butter and sugar together until soft and well blended. Beat in eggs one at a time, scraping the bowl thoroughly after each addition. 
In a seperate bowl, mix the bananas, buttermilk and vanilla until well blended and set aside. Put flour, oats, baking powder, baking soda and salt in a third bowl and mix until well blended.
Add 1/3 of dry ingredients to butter mixture and stir until blended. Stir in 1/3 of banana mixture. Scrap the bowl after each addition. Continue alternating and scraping until all ingredients have been added.
Divide between the two prepared pans. Place pans in the preheated 325°F oven and bake until center of bread springs back when lightly touched, 35 to 50 minutes. Cool for 10 minutes and then invert on a rack to cool completely. 
Serve with additional butter.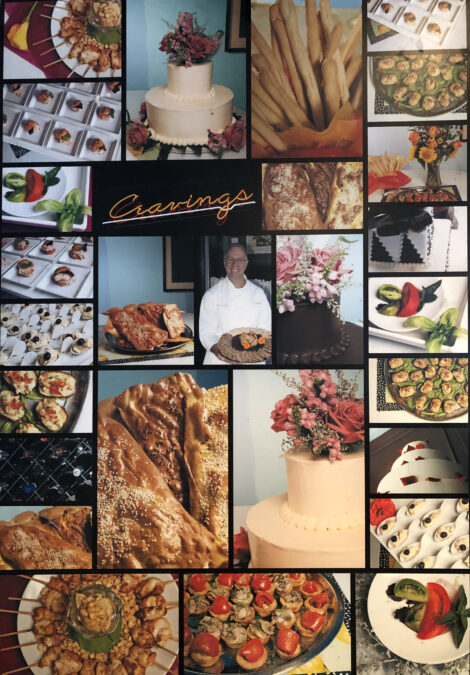 For more information about
Cravings click HERE.
To sign up for Cravings' online cooking classes click HERE. 
To follow Tim on Facebook click HERE.
To sign up for Cravings' daily menus click HERE.