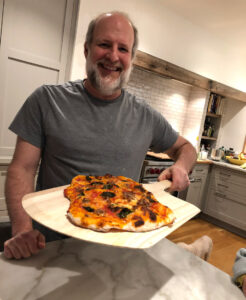 Lo and Behold—my photographer son, Mark Katzman, has started cooking. He's not been interested before—and why should he have been, being married to a fabulous cook, Hilary Skirboll, who puts glorious meals on the table that would eclipse any effort on his part.
Nevertheless he is cooking, but not just cooking ordinary stuff—he's going for the biggies.
I learned about this new interest about three weeks ago when he copied me on an email to Italian cooking maven, and cousin, Elizebeth Minchilli. He said that he was researching a recipe for a pizza bianca that they had enjoyed together at Rome's famous Forno Campo de'Fiori. 
Then he called to ask if he could borrow my KitchenAid mixer. 
Then he called to ask my husband and me to dinner.
Then he presented us with two of the best pizzaz I've ever encountered. 
One was a pizza rossa–a "red" pizza with sauce.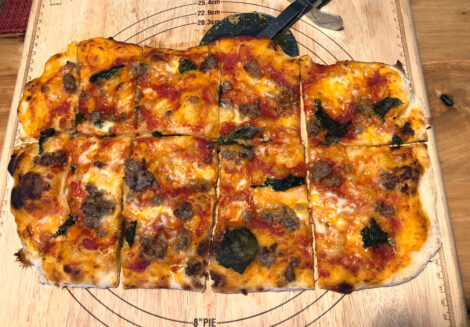 One was a pizza bianca–a "white" pizza without sauce.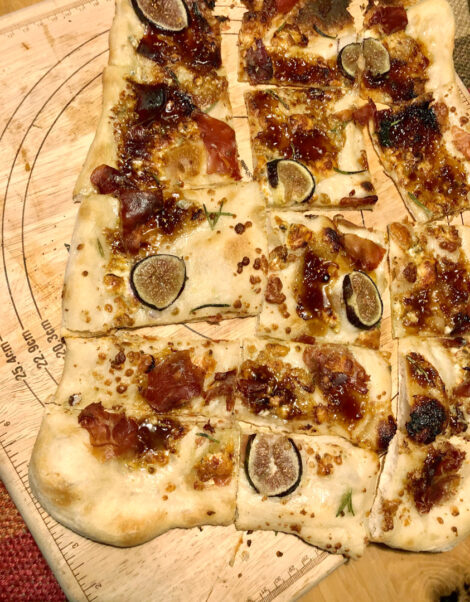 Both had a crispy, crunchy crust that was richly flavored, tender and tasty. Both were divine!
I had no idea how complicated Mark's recipe was until he sent it to me.
He weighs all ingredients. He uses Italian products that he buys from an Italian speciality market. He has authentic equipment. Too much for me, but if you want to make the recipe, and if we are in the same town at the same time, I will drop anything I am doing and run over to your house for a taste test. It's that good!
MARK'S PIZZA FORNO CAMPO DE' FIORI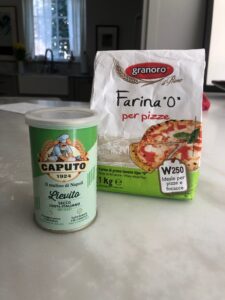 Yield: 2 pizzas.
500g Italian milled flour for pizza for the dough plus additional flour for shaping and baking dough (Mark uses Granoro "O" pizza flour.)
425g ice water
11g (a smidgen less than 2 teaspoons) salt
¼ tsp dry instant yeast (Mark uses Caputo brand.) 
Oil for oiling 4-quart container
Combine: flour, 375 g of the water, salt and yeast in the bowl of an electric mixer fitted with a dough hook. Stir with a rubber spatula just until a rough dough forms. With the dough hook, mix on low (2 on a KitchenAid mixer) for 4 minutes. Turn the mixer to medium-high (8 on a KitchenAid mixer) and continue to mix, very slowly drizzling in the remaining 50 g water over the course of another 12 minutes. The dough will be very loose, almost liquid. Continue mixing for 3 to 4 minutes, until the dough comes together. Turn the mixer to the highest speed and mix until the dough pulls away from the sides of the bowl, another 2 to 4 minutes.
Transfer the dough to a lightly oiled, clear 4-quart container with a lid. Cover and let stand at room temperature for 2 hours.

 

Refrigerate the dough for 18 to 24 hours.
Remove the dough from the refrigerator and let sit on the counter to warm up, about 1 hour.
About 1 hour before baking, place a baking stone on the middle rack of your oven. Preheat the oven to as high as it will go. Pour the dough onto a lightly floured countertop and very gently press into a rectangle measuring 6 by 20 inches. Use a bench scraper or sharp chef's knife to cut the dough into two rectangles measuring 6 by 10 inches. Evenly and moderately dust each with flour and lightly drape with plastic wrap. Let rest 30 minutes.
Line a pizza peel with parchment paper. Evenly dust with a good coat of flour using a sifter to make it even. Re-dust the top of one of the rectangles and gently transfer it to the peel turning it over so the floured side is down (this is a very sticky and wet dough. By keeping the bottom floured you will prevent it from sticking to the parchment and your fingers as you gently stretch it – add more flour as needed; try to only use what you need to stretch it without it sticking). Dimple the dough all over with your fingertips. Lift two corners of the rectangle from the peel, stretching it as you lift, and place it back down on the peel several times to stretch the dough to 12 by 18 inches (this is tricky and takes patience and practice. Move slowly. Do not stretch the dough larger than the peel. Try to make dough all the same thickness (paper thin areas will burn).

 

If you tear holes you can pinch them shut or patch them with excess dough.
Gently dimple the dough again.

 

Top the pizza as desired (see NOTE)
Slide the topped pizza, still on the parchment, onto the baking stone. After 7 minutes use the peel to lift the pizza and remove the parchment. Bake until the pizza is bubbled and golden brown, about 15 minutes. Slide the pizza onto a cutting board.

 

Repeat with the remaining pizza. Slice and serve immediately.

 
NOTE:
Mark topped his red pizza with a smear of rossa sauce (recipe follows), dots of sausage, mozzarella di bufala and broken leaves of basil.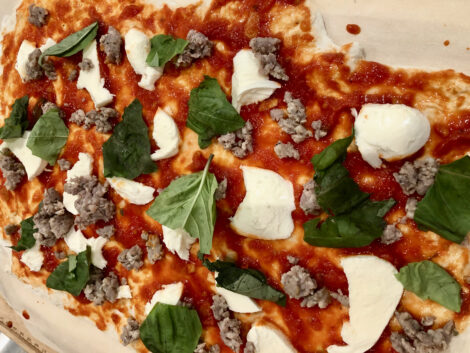 He topped his white pizza with a drizzle of olive oil, strips of prosciutto, dabs of fig jam, cut fresh figs, a sprinkling of gorgonzola and rosemary.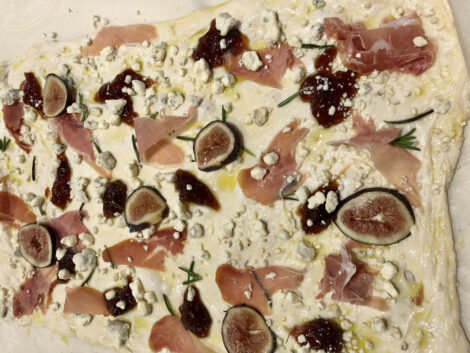 Toppings on both pizza were added with a light touch. Toppings should not overwhelm the crust. 
ROSSA SAUCE
Yield: About 6 cups. 
2 (28-ounce) cans whole San Marzano tomatoes
¼ cup extra-virgin olive oil
4 garlic cloves, thinly sliced
2 sprigs basil
1 bay leaf
Salt to taste
¼ teaspoon black pepper
With an inversion blender, crush the tomatoes (not too much just to make an even, chunky sauce).
Set a large, straight-sided skillet over medium heat. Add oil. When oil is warm, add garlic and cook until just lightly golden, then cook 30 seconds more. Stir in tomatoes and juices, basil, bay leaf, salt and pepper.
Bring sauce to a simmer and simmers steadily until sauce is thick and tomatoes have mostly fallen apart, about 30 to 40 minutes. Remove sauce from heat and discard basil or bay leaf before using. 
To buy an authentic pizza peel, click HERE.
For a cocktail recipe from Mark, click HERE.
For another wonderful Italian recipe–this one from Elizabeth Minchilli, click HERE.