I don't know Terri Havens, but I am astounded by her creations.
Everything that Terri touches seems imbedded in splendor. 
I love the georgous Cal-a-Vie Health Spa that she and her husband own in the lavender-scented hills of Southern California. I adore the spa's majestic setting, the flowers, the French antiques, the bedrooms, the public rooms—all perfection.
But what totally blows me away, is Terri's new book, Beautiful Living: Cooking the Cal-A-Vie Health Spa Way. To call this piece of food art a cookbook underestimates the magic. Page after page of wonderful recipes, seductively photographed by Debora Smail, showcase beautiful food surrounded by table-top design elements that sets my heart aflutter. I rave. Who could not.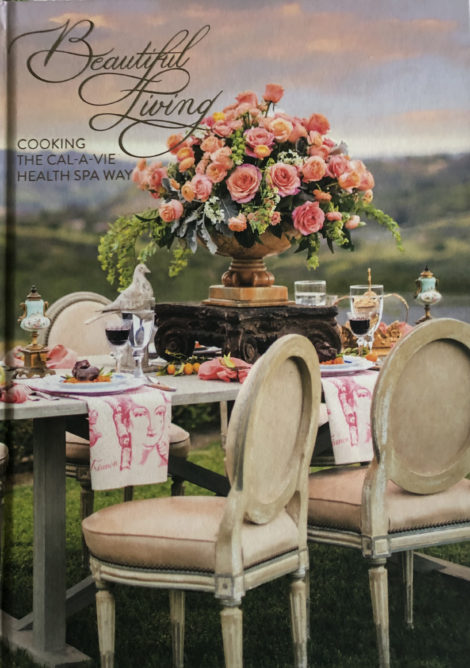 As I said, I don't know Terri, but would sure love to know more about her, so I asked her some questions and she answered:
Q: How did you grow up that gave you a such a refined sense of style and beauty?
Terri A: I grew up in New Orleans which I feel had a profound influence on me. New Orleans has that old world charm with a huge French influence. The streets are labeled Rue, the streets are all French names and the buildings are all 150 years old! I was exposed to fabulous high ceilings, crown moldings cast from original designs in France, wrought iron, gas lantern medallions, all hand made by artisans that are groomed from generation to generation. I appreciate the craftsmanship that goes into every piece of furniture that is hand made. I pay particular interest in the details of curtains, trims, and fabrics all from my exposure of fabulous architecture and design growing up in New Orleans.
Q: Cal-a-Vie is the essence of elegance and luxury, yet it's not pretentious or forbidding. How did you strike that perfect balance? 
Terri A: I love to blend historic design for grounding reasons and a sense of place with modern luxury features and amenities. My kids taught me that. They were tired of not being able to sit in an 18thc chair. They begged to just have a comfortable chair to sit it. I started combining the two so that all could be happy. It works out much better like that. You need both form and function to get by these days.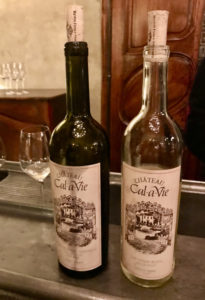 Q: You even have a vineyard, Can you tell us a bit about it? How does wine fit in with a spa diet?
Terri A:  When the fires were constantly threatening Cal-a-Vie Health Spa we wondered if we could protect the property by getting rid of all of the brush on the mountainsides. It took lots of environmentalist working together, but we finally came to the conclusion grapes would be the best agriculture to work on our soil. They don't use as much water as avocados or other fruits.  So, we planted 15 acres of grapes. Our original plan was to sell the juice as it wouldn't fit in with the spa life.    Then, we started noticing lots of research on resveratrol's benefits to the heart and other positive aspects of one drink in moderation. Not to mention we were constantly being asked for one glass of wine! So, we built a 200 year old Parish house in the middle of the vineyard to use for small wine tastings for guests who want them. 
Q: The 300-page Beautiful Living has more than 100 recipes, all beautifully photographed with style ideas. Can you tell me what inspired the book? How long did it take you to produce the book from conception to completion?
Terri A: The book started as a coffee table book about the beauty of the property. We spared no expense in the decorating of each room, exercise rooms, and kitchen. We had hand-tooled leather imported for the boxing bags. Our weight equipment is in a buttery leather and 18thc chandeliers hang in the workout rooms, etc. Everything we do at Cal-a-Vie Health Spa we do over the top luxurious. Our guests were constantly asking for a book to take home. So, we started with an award winning photographer to make sure the pictures were beyond amazing. Once we started shooting the property the chef said while you are at it we need a new cookbook. Guests are asking for that as well. I came up with the idea to combine the two. Since guests always want something to remember their amazing time at CAV, I thought the gorgeous pictures of CAV combined with delicious recipes would be a winning combination. The book took over a year to produce, but it was worth the wait. We won the Academy Awards of cookbooks with the Gourmand Best Cookbook Award. We continued to win every award in all of the biggies.
•2020 Gourmand World Cookbook Award
•2020 "IPPY" Medalist, Independent Publisher Book Awards
•2020 Benjamin Franklin Award Gold, Independent Book Publishers Association
•2020 Silver Addy, American Advertising Awards
Q: Would you choose one favorite recipe from the book to share with readers?     
Terri A:  I will give you a dessert since most people feel like they can't have a dessert when eating healthy. That couldn't be farther from the truth. It is all in moderation and using the right ingredients. This one will totally surprise you. Don't tell your family or guest what they ate until after they give you compliments on how delicious it was! The secret ingredient is avocado, which is used as a base to give a creamy texture with a rich chocolate flavor for the ultimate decadent dessert. We love piping this into a beautiful mini-martini glass so you can have the proper amount without feeling deprived.
CHOCOLATE MOUSSE WITH SALTED ALMONDS
Yield: 4 servings.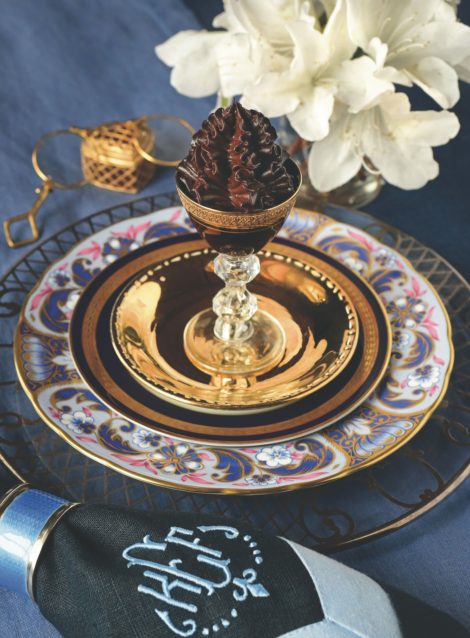 1 to 2 medium avocados
1 cup dark cocoa powder
1/2 cup honey
1/2 cup maple syrup
1 tablespoon vanilla extract
1 tablespoon grapeseed oil
1/4 teaspoon cinnamon 
Pinch of kosher salt
Salted almonds, optional garnish (recipe follows)
Put 1 and 1/2 avocados in the bowl of a food processor. Add cocoa powder, honey, syrup, vanilla, oil, cinnamon and salt. Turn processor on and blend for two minutes. Scrape down the sides and blend for another minute. If mousse is too thin, add the remaining half of avocado and blend well. Chill for at least 4 hours before serving. Sprinkle with chopped salted almonds if desired. 
SALTED ALMONDS
1/2 cup whole raw almonds
1/4 teaspoon kosher salt
1 teaspoon water
Preheat oven to 350°F. 
Combine the almonds, salt and water in a small bowl. Toss the almonds around until the salt and water have completely coated them. 
Place the almonds on a small baking sheet and bake for about 7 minutes. Remove from oven and let almonds cool. Chop almonds and sprinkle on top of mousse, if desired.
To find out more about Cal-a-Vie, click HERE.
For a few reasons that Sweet Leisure thinks Cal-a-Vie is the world's best destination spa, click HERE.  
To order Cal-a-Vie products including antiques and Beautiful Living, click HERE.
To order Beautiful Living from Amazon (where I may—usually not—receive a commission) click HERE.