The second I win the lottery, I'm calling Cal-a-Vie and booking an extended stay.
Why do I love the spa? Here are just a few of the many reasons:
LOCATION
Nestled in a valley surrounded by lavender scented hills, Cal-a-Vie sits 40 miles north of San Diego and seven miles inland from the Pacific coast in Vista, California. Cooling sea breezes and luscious Southern California sunshine combine to grace the spa with a marvelous Mediterranean climate that is warm enough for swimming during the day, cool enough for cashmere at night, and chilly enough for vigorous morning hikes.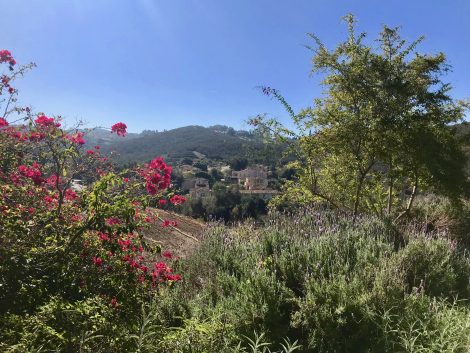 SETTING
With its collection of buff-colored buildings and sun-burnished roofs graced by shade trees, gardens and greenery Cal-a-Vie could double as a village in Tuscany or tiny town in the heart of Provence.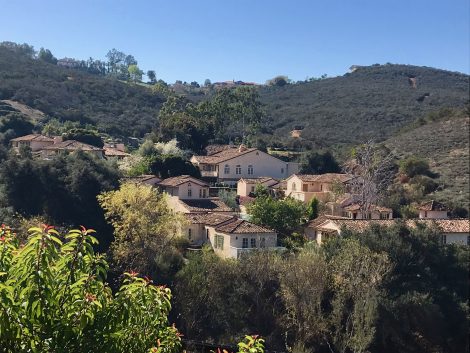 A French-style fountain sits in the courtyard surrounded by villas. Vineyards roll over the hills. A windmill overlooks the property.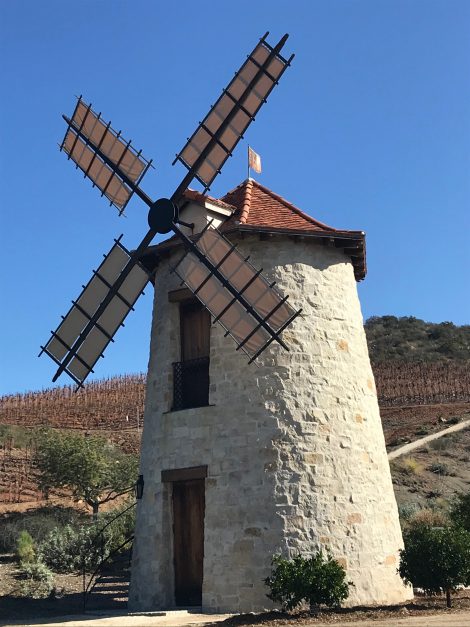 Two extraordinary buildings, imported from Dijon and reconstructed on property, shine like jewels crowning the top of the hill. Guests head to the lovely 400-year old chapel for yoga and meditation and to the L'Orangerie for classes, wine tastings, receptions and dinners.
DECOR
How does one describe it? Casual elegance is wanting. Upscale chic doesn't do it. Homey is more like it, that is if the home is an entire village owned by super wealthy Francophiles with great taste and a dramatically wonderful collection of 17th- and 18th-century French antiques.
Antiques and historical pieces fill most public rooms. Some are French Provincial treasures, others belong in palaces.
The lounge in Cal-a-Vie's fitness center wears a rare tapestry that was woven for Louis XIV. French chandeliers from the 18th century glow overhead.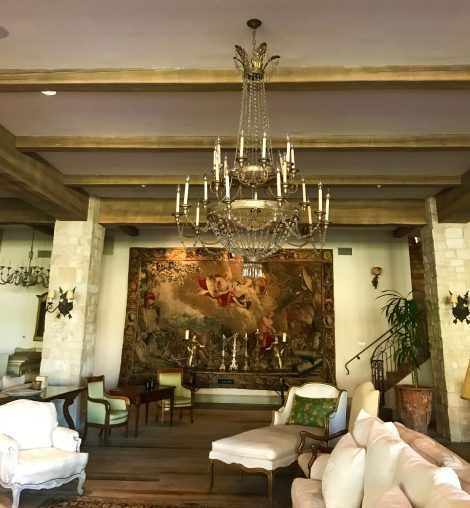 Portuguese tiles form murals. European antique mirrors, candlesticks and wall art add sumptuous decorative touches here, there and everywhere.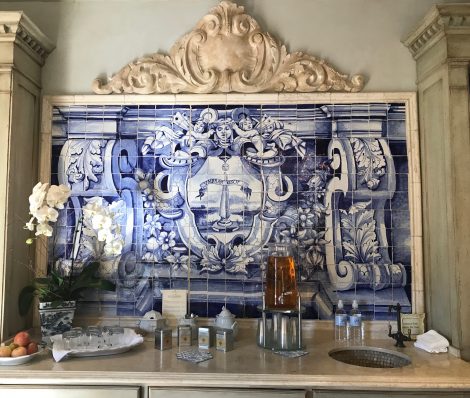 Despite museum-quality art and antiques, Cal-a-vie feels more comfortable than formal and forbidding. Floors and ceiling made from reclaimed barn wood and charming French Provencal antiques lend a casual element.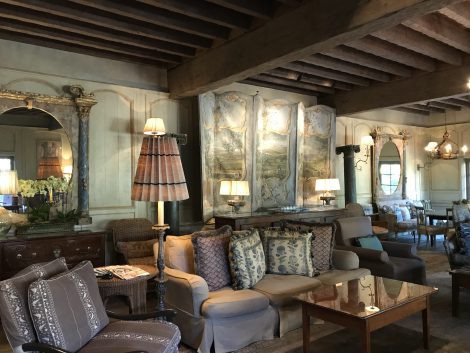 The spacious villas (26 guest rooms and six suites) contain hand-crafted and imported antique furniture, with King-size beds topped by memory foam mattresses that are dressed in Frette linens. Bathrooms come with Travertine tile, built-in dressing tables, huge tubs, and a generous supply of fragrant and appealing bath amenities.
Colors are soft and restful and fabrics luxurious. Each and every decor element contributes to making Cal-a-vie a heavenly haven.
FITNESS PROGRAMS
A typical day begins with 6:30 a.m. guided hike on 10-miles of picturesque trails (or walk on the 18-hole golf course), followed by a full day of fitness classes and activities. All is available: Spin, Tread and Shed, Cardio Resistance, Rowbics, Aqua Zumba, Club Boxing, TRX Circuit plus many types of yoga, different forms of Pilates, lots of water activities, a variety of dance classes, and…well..the list goes on with more than 125 classes geared to tone, build, strengthen and otherwise satisfy guests' workout wants.
PAMPERING
Workout classes of the morning give way to afternoons that most guests devote to pampering treatments. Skilled and caring therapists offer outstanding massages, facials, reflexology, body wraps, Reiki and scrubs. Skilled beauticians provide a full menu of salon care in the beauty salon.
In addition, the spa offers a collection of body enhancing and/or medically restoring treatments and therapies, such as Alpha-hydroxy fruit peels, genetic testing, teeth whitening, acupuncture, "Wellness injections," and medical testing.
FOOD
When registering, guests say how many calories they wish to consume a day and staff designs individual food programs to meet their specific goals.
Breakfast offers a choice of dishes, including nutrition heavy and delicious Cal-a-Vie Benedict, granola and fresh berries and assorted omelets.
Lunches and dinners are plated and served, with lunches featuring protein topped salads and dinners more course complete.
No need to worry about going hungry, even if you choose the 1200 per day calorie options. Bowls of apples sit within easy reach in most public rooms, mid-morning and mid-afternoon snacks (nuts, veggies and smoothies) show up in various public rooms and the kitchen staff will bring a healthy snack to your room, if asked.
And yes the spa serves coffee—even expresso drinks if desired.
Any yes, you can drink in your room and sometimes wine is available for purchase at dinner.
And yes, room service is available.
STAFF
The ratio of 5 staff for every one guest spoils one for ordinary life.
Starting with the three staff members that meet your car on arrival (one to show you to the front desk—the others to whisk away the car and carry the luggage to your room)
to the waiter who brings you early morning coffee (within 10 minutes of your call) to the maids doing nightly turn down service, the care is complete, competent, cordial, and comforting.
GARDENS AND GROUNDS
Gardenias, lavender, jasmine and bee-loving flowers line garden paths scenting the air with natural poetry.
Graceful white orchids decorate every room. Boxwood hedges encase roses and orange trees at L'Orangerie.
The vineyards grow Cabernet Sauvignon, Cabernet Franc and Merlot grapes.
Parsley, sage, rosemary and thyme, African blue basil and a variety of beets, Brussels sprouts, carrots, cabbage and micro greens flourish in the culinary gardens.
Lush greenery surrounds ponds and streams where frogs hide and sing evening lullabies in mating season.
Gardens gift wrap Cal-a-Vie, enabling guests to walk in lovely wonder wherever they wander.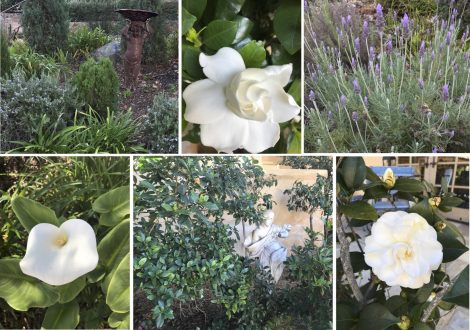 ATTITUDE
Nothing is mandatory.
Schedules are adjustable.
Wake up early and hike—or sleep in and order breakfast in bed from room service. All is okay.
Not into vigorous exercise? Doesn't matter. Do what you like.
Find that your yoga class and hot-stone massage are in the same time slot? Not to worry, staff is eager to work with you to arrange a schedule that fits your wants and wishes.
Don't like group activities? No problem. With Cal-a-Vie's personal trainers, in-room treatments and room service one can enjoy fitness programs, beauty services and meals in total privacy.
Want to go treatment to treatment, stroll about the meditation garden or head to dinner in your comfy Frette robe? Easy. You'll fit right in.
ALL THE EXTRAS
A well stocked boutique selling fashion (good looking casual clothes for working out and lounging around), gifts (jewelry, beauty products) cook books, wine and Vinothérapie products made from grapes grown in Cal-a-Vie's vineyard.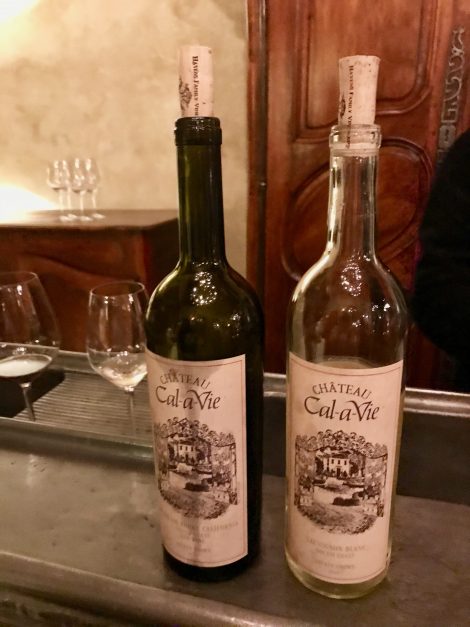 The Antique Boutique offering original artwork, glassware, furniture, decorative pieces many leftovers from the owner's collection that was not used in the spa.
Golf on Ted Robinson-designed championship 18-hole golf course.
Tennis on a red clay court.
Heated pool near the villas.
Olympic-size pool on the hill.
And a variety of arts and crafts mind and body, and cooking and nutrition-classes that supplement spa activity.
CAL-A-VIE GARDEN SALAD
Yield: 6 to 8 servings.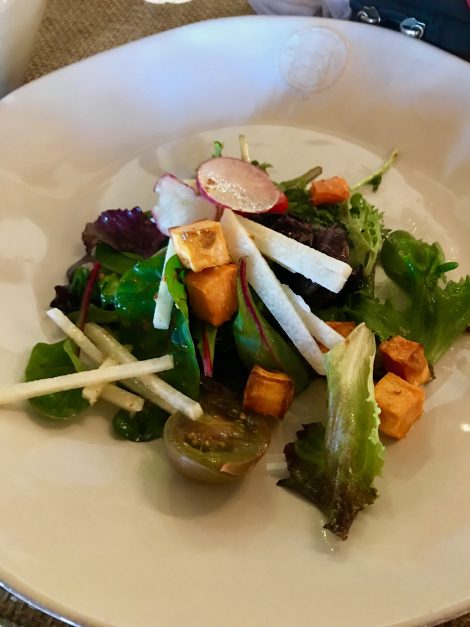 8 cups mixed lettuces
1 cup thinly sliced radish
1 cup peeled and thinly sliced jicama
1 cup halved cherry tomatoes
1 cup blanched green beans
1 cup roasted sweet potato cubes
About 3/4 cup lemon-mustard vinaigrette (recipe follows)
Put greens in a large mixing bowl. Drizzle top of greens with enough of the lemon-mustard vinaigrette to very lightly coat leaves, but not drench them. Gently toss mixture until greens are coated with dressing.
Put a mound of greens in the center of 6 to 8 serving plates, dividing greens evenly among the plates. Put radish, jicama, tomatoes, green beans and potato cubes in mixing bowl. Drizzle with vinaigrette. Toss mixture to coat vegetables with vinaigrette. Top lettuce with vegetables, dividing the vegetables evenly among the serving plates.
(Dressing and plating the greens and vegetables separately, allows more even distribution of both.)
LEMON-MUSTARD VINAIGRETTE
Yield: About 1-3/4 cup.
1/2 cup fresh-squeezed lemon juice
2 tablespoons honey
2 tablespoons whole grain mustard
2 teaspoons Dijon mustard
1 teaspoon sea salt
1 cup extra virgin olive oil
Put lemon juice, honey, mustards and salt in a mixing bowl. With a wire whip, whisk in oil. Continue whisking until ingredients are well blended. Set aside.
For more information click HERE.