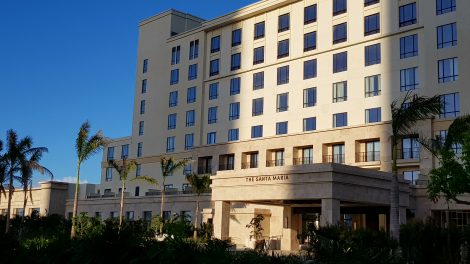 It's brand new and utterly wonderful. The Santa Maria Hotel & Golf Resort opened in February, 2018, and is already Panama City's first-choice stay for golfers, business persons and luxury travelers.
Located in the exclusive Santa Maria Panama community—eight miles from Panama City and seven miles from the Tocumen International Airport—the resort perfectly suits contemporary travelers seeking sleek and sophisticated accommodations with an overload of amenities.
In addition to 182 well-appointed guest rooms and suites, and over 18,000 square feet of meeting space, the resort includes a great spa, good restaurants, lush bars and—the showstopper—an 18 hole, 72 par Nicklaus design private golf course.
The Santa Maria infuses the resort experience with not only every up-to-the-minute convenience, but also the best of Panama's rich cultural heritage.
Designers installed lobby pillars fashioned from the unusual cottonwood trees that grow with square trunks in El Valle de Anton, and accented public areas with wood rescued from from the depths of Gatun Lake.
Decorators dressed beds in Mola bed runners inspired by the Guna people of Guna Yala, and filled lobby shelves with baskets and masks woven by Embera Indigenous community.
Chefs add a variety of Panamanian food specialties to menu offerings. And the coffee shop/deli showcases the rare Panama-grown Geisha coffee, said to be the most expensive coffee in the world.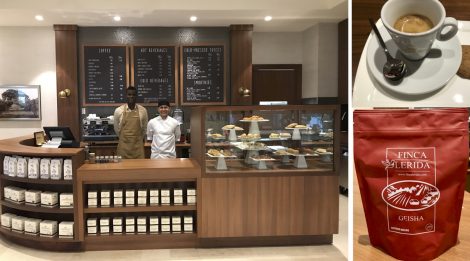 GOLF
Gotta confess, I've never played golf. At one time I thought "above par" was something good. That's why I might be forgiven for initially thinking the view from my third floor room overlooked the pool and golf course. Got the pool right, but what I thought was the course was only a practice area.
The 100 acres of golf course winds around the property creating an "urban oasis" complete with rolling fairways, well-placed bunkers and man-made lakes (providing water hazards, irrigation for the course and hangouts for lazy crocodiles). What makes the course unusually attractive, in addition to the impeccable condition of the greens, is the backdrop of narrow skyscrapers that jut to the clouds like brilliant stalagmites.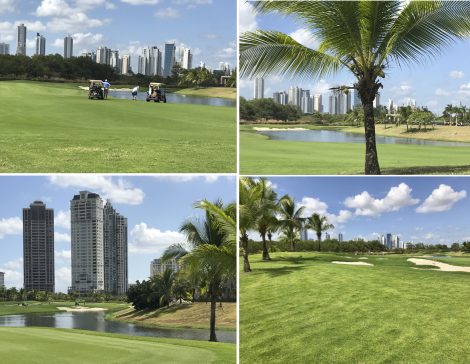 Being a private country club, the golf course is available only to homeowners and golfing members in the luxurious Santa Maria golf community AND to hotel guests. (Word of advice: book tee times when you make reservations. The course is justly popular.)
SPA
The Santa Maria's cosy spa offers a sweet choice of treatments. I found the Espiritu Santo Signature Massage, (described as massage hands moving like a flower unfolding erasing all stress) as soothing as a lullaby, but it was the Cacao & Coffee Santa Maria that completely captured my heart.
What a WOW! First the therapist slathered me with pure coconut oil. Then exfoliated my skin with a ground coffee rub. Next she wrapped me in a chocolate mask and let me bake in warm sheeting for a few heavenly minutes. After a warm shower to rinse away the chocolate (I would have licked it off if allowed), the therapist topped the massage with a confection of creamy moisturizer. I have never felt so succulent! YUM!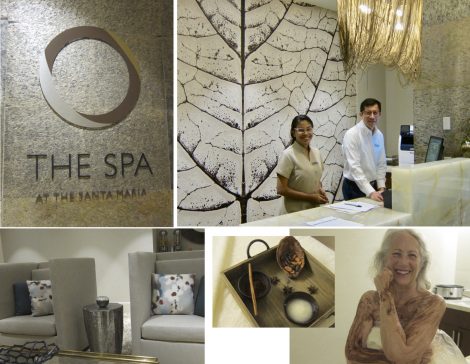 FOOD and DRINK
Menus at the resort's various bars and restaurants weave Panamanian specialties with international favorite dishes.
The breakfast buffet offers all the usual breakfast fare, plus some special Panamanian dishes that no tourist should miss. Here's where I became addicted to not only the Panamanian breakfast speciality Tasajo, a stew-like mixture of sausage with tomato, onion and peppers, but also the deeply delicious thick, crunchy corn tortillas.
In addition to serving familiar dishes, celebrated Panamanian chef, Carlos Chombolin Alba adds personal Panamanian-fusion fare to the resort's gourmet Mestizo Restaurant.
And although mixologist, Anny Arroyave, can produce whatever is requested, she likes to create a spirited array of speciality drinks to charm guests at the Lobby Bar and AQVA Pool Bar (see recipe below).
EXCURSIONS
Guests who want to explore Panama City and beyond can call on Santa Maria concierges to arrange for custom sightseeing.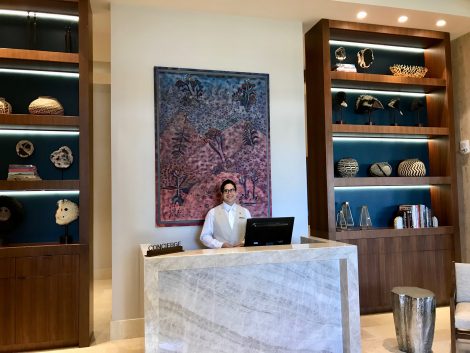 Hotel excursions to nearby sites include a tour of REPROSA (a factory reproducing Panama's golden antiquities) and Panama Viejo (an archaeological site holding the remains of the oldest European settlement on the Pacific Coast of the Americas plus a museum with historical exhibits).
THE VIBE
Despite being a big city hotel, packed with glossy marble, polished wood and super stylish furnishings, The Santa Maria feels casual and intimate. Although the setting surrounded by greenery contributes to the easy-going vibe, I think it's the ever-smiling, always-accomodating staff that creates an atmosphere of genial hospitality and makes the resort stay so special.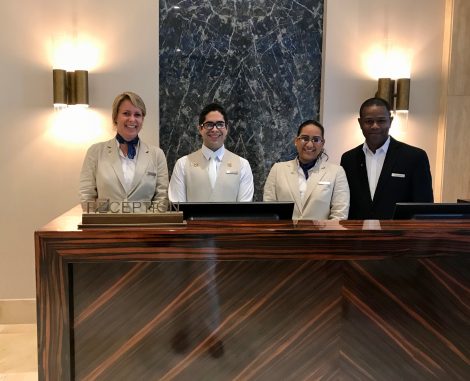 Then, again, it could be Anny's intoxicatingly pleasurable drinks.
ANNY'S SANTA MARIA SIGNATURE COCKTAIL
Yield: 1 cocktail.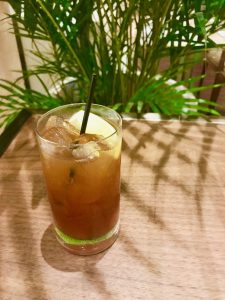 1-1/2 ounces raspadura syrup (see NOTE below)
1-1/2 ounces fresh lime juice
3 ounces Ron Abuelo Añejo (rum)
3 dashes Angostura bitters
Club soda (optional)
Put all ingredients except club soda in a shaker with ice. Shake well and pour into a collins glass filled with ice. Top with a splash of club soda.
NOTE: Raspadura is unrefined whole cane sugar generally sold in blocks in Mexican or specialty markets. To make raspadura syrup, mix equal amounts of raspadura with water and heat, stirring constantly, until the sugar is completely dissolved. Instead of a raspadura syrup you can substitute a simple syrup made from raw or brown sugar (See recipe for the Bentley at www.SweetLeisure.com or click HERE.)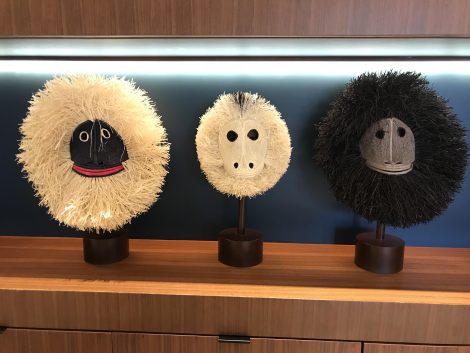 For more information about THE SANTA MARIA HOTEL AND GOLF RESORT click HERE.