Cross my heart, Atlantis Paradise Island Bahamas is the tip-top, absolute best resort in the Caribbean for kids of all ages.
Why?
Many reasons. Here are ten:
1. Atlantis sports what is probably the greatest waterpark on earth. Covering 141 acres, the wet and wonderful playground includes 18 different thrilling, chilling water slides, two splashy "river" rides, 20 swimming areas, 11 distinctly different pools—several designed especially for kids. And then there is the beach.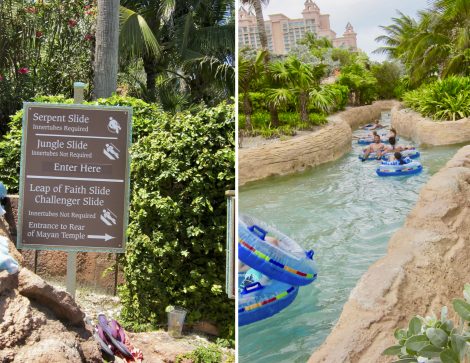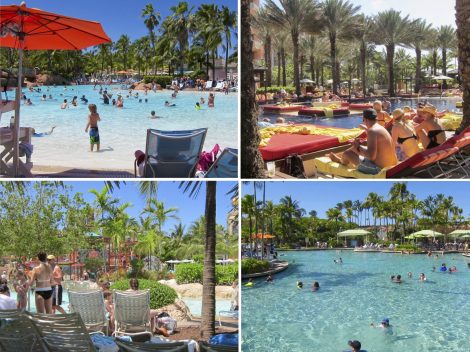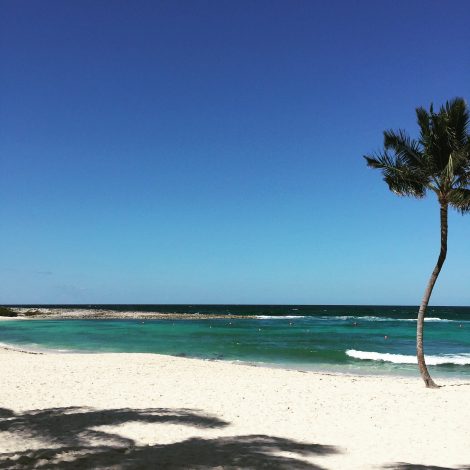 2. Walk-through aquariums, swim-through lagoons and an astounding number of age-specific feeding and petting programs bring kids up close and personal with a variety of marine life including dolphins, sea lions, stingrays, sharks and turtles.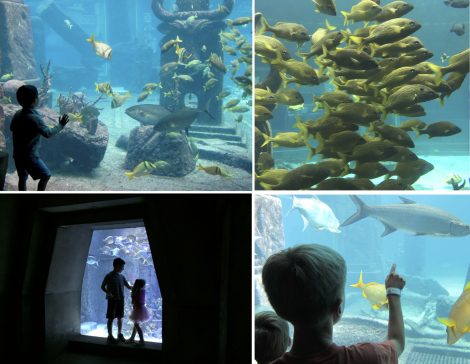 3. Atlantis provides a profuse number of organized, supervised activities and classes to educate and entertain kids. Toddlers love the mock grocery store, the giant doll house, the fish nursery. Preteens go for the cooking lessons, the game rooms and the performance studio. Teens like the scuba and snuba lessons and thrive at the underwater video arcade and teen-only nightclub.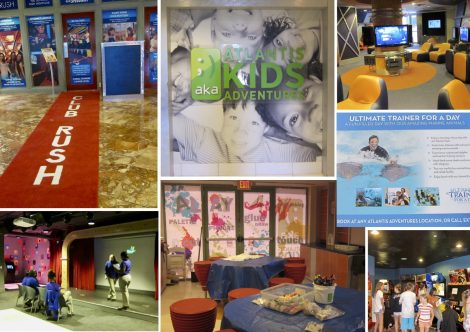 4. Kids can be independent, as parents can drop the kids at a supervised program and comfortably do their own thing, which might include
5. the spa (kids also welcome);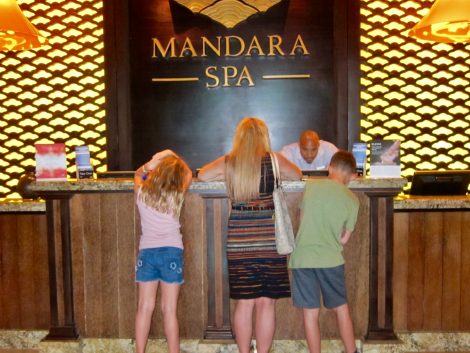 6. the casino (kids have their own game rooms and do not play in the casino);
7. two shopping areas loaded with boutiques and restaurants (fun for the whole family).

8. Travel is easy on families. Paradise Island sits about 180 miles off the southern coast of Florida (and a 600-foot bridge across from Nassau, capital of the Commonwealth of the Bahamas).
Many airlines offer quick, non-stop flights from major U.S. cities directly to The Lynden Pindling International Airport (formerly called the Nassau International Airport). The airport is a short ride from the resort.
Return to the States is also easy as U.S. citizens go though customs at the Nassau airport, not in Miami, making re-entry a breeze and catching connecting flights hassle free.
9. Paradise Island covers about 685 acres. Within the complex are a number of accommodation choices—all suitable for families and all within easy reach of activities.
10. From poolside hot dog and pizza stands to pizzazzy upscale restaurants, Atlantis Paradise Island offers a broad menu of food options guaranteed to please picky eaters as well as junior gourmets.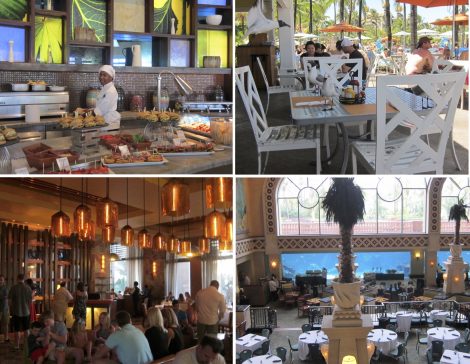 Families particularly like the buffets where choices include not only a tempting array of favorite American foods, but also some local Bahamian dishes. The local fare at the self-serve buffets gives kids opportunity to expand their horizons and engage in the culture of another country—without making a full meal commitment.
A Bahamian staple, Chicken Souse, shows up from time to time on Atlantis' buffet menus.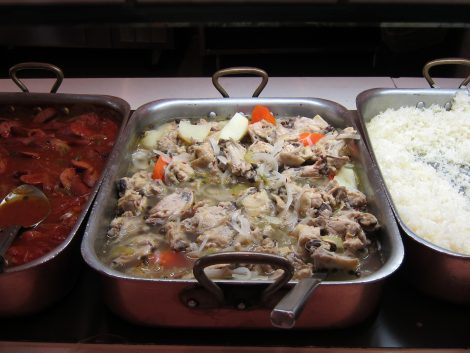 Locals make Chicken Souse (pronounced sow-se) with inexpensive ingredients and serve it for family and/or company meals, especially for breakfast on weekends as the dish is believed to cure hangovers. The dish is traditionally served with johnnycakes, sweet coconut bread rolls and/or grits used to sop up flavorful juice.
BAHAMIAN CHICKEN SOUSE
Yield: 4 to 6 servings.
2 pounds chicken wings divided into drumettes and wingettes (save tips for another use)
1 large baking potato
1 medium yellow onion, peeled and thinly sliced
1/2 carrot, peeled and sliced on the diagonal about 1/8-inch thick thick (optional)
1 tablespoon whole allspice berries
Salt to taste
Red pepper flakes
1 celery stalk, diced
Two limes, one for broth and one for garnish
Put chicken in a large pot and cover with water. Set pot over medium heat and bring water to a boil. Boil gently for 10 minutes. Strain chicken and rinse under cold running water.
Return chicken to pot. Peel and cube potato and add to pot along with sliced onion, carrot and allspice. Add water to come 1-inch above ingredients. Sprinkle lightly with salt and red pepper flakes. Set pot over medium heat and bring to a boil. Reduce heat to simmer. Simmer 10 minutes. Stir in celery and continue cooking until potatoes are tender, about 5 minutes more. Turn off heat. Squeeze juice of one lime into the pan and stir gently.
Garnish with lime wedges and serve warm with johnny cake, grits or sweet bread rolls. DO NOT EAT THE ALLSPICE BERRIES.
For more information about Atlantis Paradise Island, click HERE.