Spoiled as it sounds, I would try to plan a trip to Paris every year on my birthday, so that I would look forward to aging. Now that I have ripened with multiple years of Paris pleasure I still crave the city. It just gets better and better.
The same could apply to Hotel Lutetia, an iconic Paris hotel built in 1910.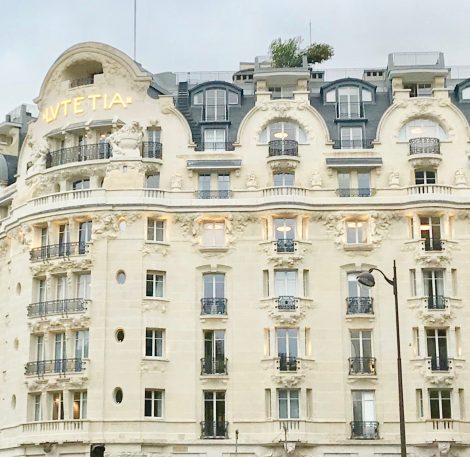 I was fortunate enough to be invited to stay at the Lutetia in its last incarnation, just before it closed for a four-year, 240-million-dollar renovation. I loved the hotel then and couldn't imagine changing one inch of the Art Nouveau/Art Deco charisma. But the grande dame emerged from her revamp with much of her original glory intact plus a score of added enhancements to enchant.
Built in 1910 by the owners of Le Bon Marché department store to service shoppers, the Lutetia wraps around a corner in hyper-fashionable Saint-Germain-des-Prés. Always an icon of Parisian high-style, boho pizzazz, the hotel attracted the likes of Josephine Baker, Picasso, Matisse, James Joyce, Hemingway and countless other artists, writers, celebrities and statesmen (Charles de Gaulle honeymooned at the Lutetia).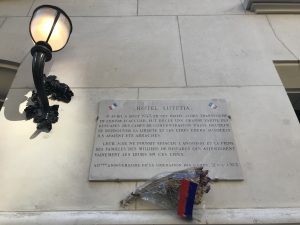 The Lutetia also attracted the Germans, who in World War II requisitioned the hotel for their counter-espionage headquarters. Immediately after liberation, the Lutetia won a forever first-place in the hearts of Parisians by housing survivors of concentration camps and filling it's lovely halls with posters of missing persons, thus becoming the city's focal point for reunions and rejoicing.
Today's Lutetia guests see the hotel in a new light—one that positively glimmers and glows. Skylights were installed, windows enlarged, a newly built interior courtyard captures and spreads sunshine. Great expanses of polished white marble add shimmering shine to public areas, enhancing the rich and plentiful cornucopia of natural light.
Whereas the lobby-floor corridor ceiling wears bright-white paint and twinkles with recessed spotlights reinforcing the daylight mode, upper-floor corridors are clad in dark eucalyptus wood and cocoon guests in a sedate evening glow as they walk to their rooms.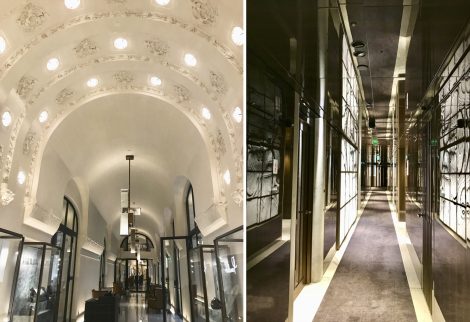 The "new" Lutetia sports 184 rooms, 47 of which are designated suites. My sweet suite on the fourth floor offered hotel heaven. Most startling, and what sets the Lutetia's suites apart from other luxury hotels, is the view. Balcony windows overlook the flower-decked Square Boucicaut, the Bon Marche department store and the Eiffel Tower. I could watch the tower sparkle all through the night from my pillow on the super comfortable bed—or I could press a bed-side button and close the shades and sleep in the deep dark.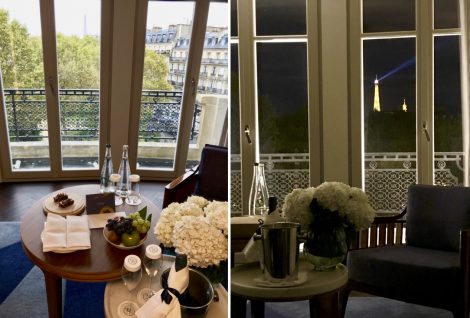 The room, decorated in shades of white, dark blue, and grey, held a large bed, a marble topped desk and chair, plus two chairs placed around a coffee table filled with welcome gifts (white hydrangeas, Champagne, chocolate pastries, a bowl of fruit).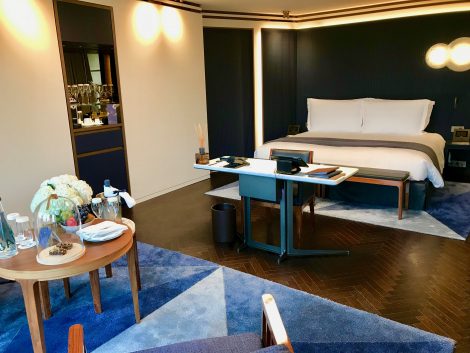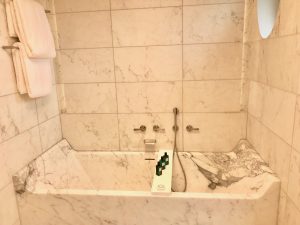 Of course there was a coffee/tea/mini-bar station stocked to capacity, a separate closet/ luggage area and a large marble bathroom with separate toilet, shower and  a tub big enough for two. The bathroom held white roses  and an array of fragrant Hermès toiletries. Perfection!
Should one ever get the gumption to leave their room, the Lutetia offers choice places to enjoy.
The library stocked with coffee-table books.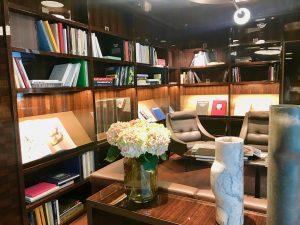 A 7,500-square-food spa and wellness center.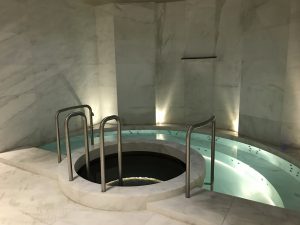 A 55-foot-long indoor swimming pool.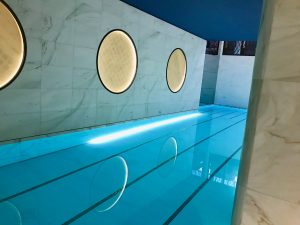 A gym.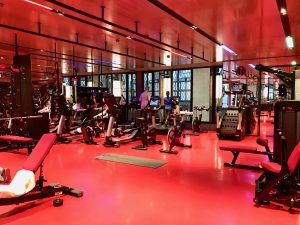 Although the Brasserie, for which the Lutetia has long been famed, has not yet reopened (think end of this year), people can enjoy an extravagant breakfast buffet in the peaceful, light-filled L'Orangerie.
Breakfast, lunch and dinner is offered in the the Saint Germain, a living room-like dining room under a glass roof ceiling colorfully decorated by artist Fabrice Hyber.
Bar Joséphine (named for Josephine Baker) serves lunches, canapés, light dinners, coffee, tea pastries, and a choice of cocktails including the luscious house signature Rive Gauche (see recipe below).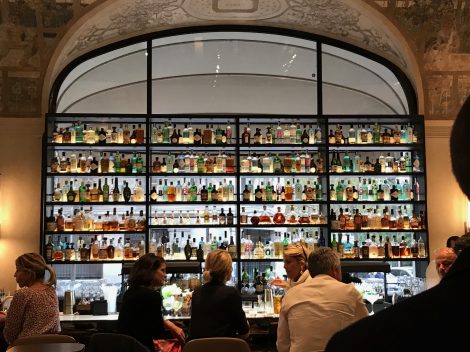 Pleasure greets the eye wherever one looks at Hotel Lutetia. I loved the violin table made by sculptor Arman that sits in the reception area.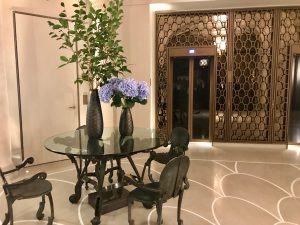 And all of the art and decorative details that fill both inside and outside of the hotel.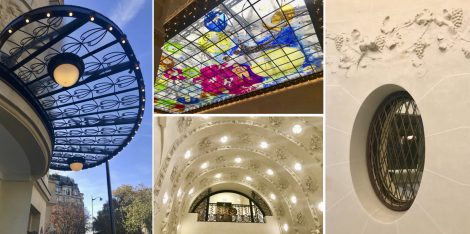 The Lutetia has it all—history, elegance and state-of-the-art comfort.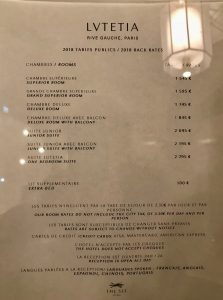 Yet despite the grand hotel designation, despite the importance to the city of Paris, despite the countless dignitaries and celebrities that have called it home and despite the upper-echelon pricing, Hotel Lutetia radiates non-pretentious, easy-going joie de vivre. I think it was Shakespeare who once wrote about the Lutetia: Age cannot wither her, Nor custom stale her infinite variety; Other hotels cloy the appetites they feed, but the Lutetia makes hungry where most she satisfies.
True for me. I stayed as an invited guest of the hotel, but if I only had money, I would let the Lutetia satisfy me the rest of my days.
THE RIVE GAUCHE
Yield: 1 serving.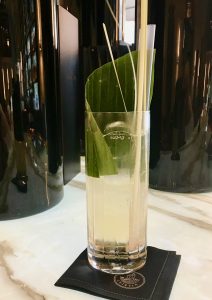 40 ml St-Germain liquor
30 ml Guillotine vodka
20 ml homemade shrub flavored with citrus and celery (see NOTE below)
50 ml Perrier
70 ml Champagne
Combine all ingredients and pour into a tall glass over ice. Decorate glass with banana leaves, add sprigs of lemon grass and serve with a straw.
NOTE: You can buy ready made shrubs or make your own by macerating fresh fruit with sugar, straining the resulting syrup to remove solids and mixing the juice with Champagne vinegar (find recipes online).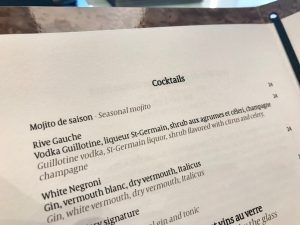 Hotel Lutetia is part of The Set, a hotel brand with three distinctive properties. For more information about Hotel Lutetia click HERE.  For information about The Set hotels, click HERE.
And for other Paris perks, see: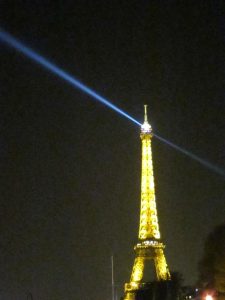 Les Cocottes de Christian Constant, HERE.
D'Chez Eux for perfect roast chicken, HERE.
Paris wine bars suggested by Noël Balen HERE.
Sightseeing suggestions by David Downie, HERE.
and all about a special little flea market at la Porte de Vanves, HERE.