"Plus ça change, plus c'est la même chose,"  an epigram coined in 1849 by French journalist Jean-Baptiste Alphonse Karr, has traveled through time, been translated into different languages (English: the more things change, the more they stay the same) and morphed into a proverb. Used by a variety of people around the world, including statesmen, writers, moms and rockers (Bon Jovi), the statement fits many situations, but it especially rings true in it's native tongue when applied to the Paris restaurant D'Chez Eux.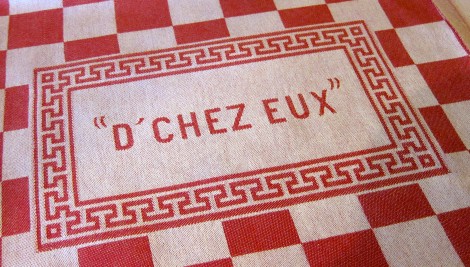 Restaurant D'Chez Eux started life in the 18th century as a coaching inn where travelers on the way to Paris would spend the night and enjoy a worthy meal.
Today the restaurant still serves worthy meals to travelers (among them Bill Clinton, Richard Nixon and Vladimir Putin), to statesmen (François Mitterrand, Jacques Chirac and Nicolas Sarkozy), and to a variety of food-loving locals, writers, moms and songbirds. 
The more D'Chez Eux changes (owners, staff and a plunge into social media via Website and Facebook), the more it stays the same. 
For much of its history, D'Chez Eux has enjoyed:
The same location at 2 Avenue Lowendal (Paris 7ème).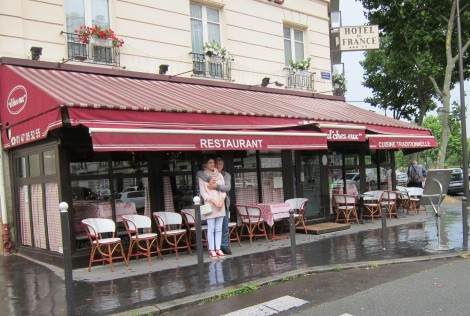 The same cozy country ambiance. 
The same traditional menu with the same popular entrées (starters).
The same type excellent staff. 
The same good wine list; the same huge portions; and the same high prices (read on).
Last but not least, the restaurant boasts the same, famed, acclaimed speciality of the house: Poulet rôti "La coucou de Rennes" race ancienne, aux girolles (Roast free-range chicken with fresh chanterelle mushrooms.) Cost for two listed at 98.00€ or about $131.
 Chef Bertrand Gautreau freely shares the restaurant's original recipe, even inviting those interested to the kitchen to watch him cook. That said, the Coucou de Rennes, is an ancient breed of chicken raised today by about a dozen farmers producing about 30,000 chickens a year. The quality and taste of the meat of this chicken is considered unparalleled, which means that even with detailed instructions, D'Chez Eux's roast chicken will be impossible to duplicate unless you start with the same breed bird.
On the other hand, find the best quality, free-range, farm-raised chicken, follow this recipe and you can produce a tasty facsimile.
ROAST CHICKEN a la RESTAURANT D'CHEZ EUX
Yield: 2 to 4 servings.
One 2- to 3-pound top quality, farm-raised chicken
Kosher salt
Freshly ground pepper
About 2 tablespoons butter
About 3 cups chanterelle mushrooms, cleaned, trimmed and if necessary, sliced.
About 3/4 cup rich, flavorful broth
About 1 tablespoon chopped flat-leaf parsley
Preheat the oven to 450°F. Rinse chicken, then dry very well with paper towels, inside and out. 
Salt and pepper the chicken's cavity. Twist wing tips behind back and tie legs together. Place chicken, breasts side up, in a roasting pan. Sprinkle salt and pepper over chicken. 
Place chicken in preheated oven, and roast until evenly browned and cooked through, 40 to 50 minutes. (While roasting, turn the chicken, back side up, so that it browns evenly, then turn, again, breast side up to finish roasting.  Baste with pan juices, if the chicken seems dry.) 
Shortly before chicken is cooked, melt about 1 tablespoon butter in a sauté pan, add chanterelles and sauté
over high heat a few minutes to release any water. Cover mushrooms with a little broth, bring to a boil, and reduce broth by half.
Remove chicken from pan (put on a cutting board). 
Deglaze roasting pan with broth and add to mushrooms. Boil mushrooms at high heat to reduce liquid to about  1/3 cup. Swirl in a little butter and sprinkle with chopped parsley. 
Place chicken on top of mushrooms and serve immediately.