Seemed like a great idea. Justify an overload of indulgent frozen custard gorging, by calling it a scientific experiment. We had four days, five researchers of varying ages and were in St. Louis—America's ultimate frozen custard city, so we conducted a study following the classic six-step scientific method.
1. INITIAL OBSERVATIONS
St. Louis has a lot of frozen custard outlets.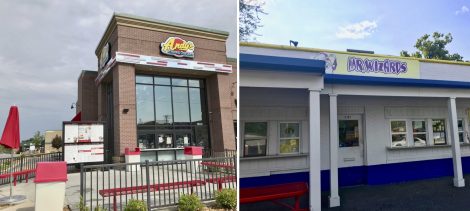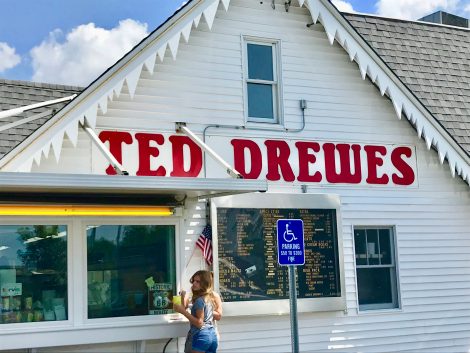 2. QUESTION BASED ON THE OBSERVATION
Which outlet serves the best frozen custard in St. Louis?
3. HYPOTHESIS:
After taste testing all of the frozen custard outlets in St. Louis, we would discover the best and all gain weight.
4. THE EXPERIMENT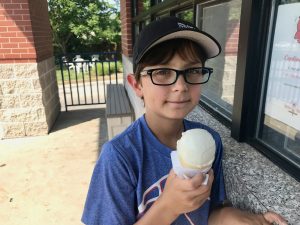 We traveled  to as many outlets as possible in four days, bought vanilla ice cream cones (and other concoctions) and rated the custard on a scale of 1 to 5 in four different categories: texture, taste, density and meltability (could we consume the cone before losing the custard to drips on shirts).
5. COMPILING THE DATA AND DRAWING CONCLUSIONS
We traveled, bought, devoured, discussed and drew conclusions.
6. SHARING RESULTS
First, some disclaimers:
We only visited five places before running out of time and energy.
To validate our comparisons we all agreed to test plain vanilla custard, which we did at the first stop. At  the second stop, a few researchers went off track: Someone ordered a butterfinger concrete with cookie dough (Maggie, how could you!) and another topped the plain vanilla with graham cracker crumbs, chocolate chunks and marshmallow sauce (I confess.).
The 10-year old decided to conduct a tangential experiment of his own, comparing not only vanilla custards, but also chocolate. Of course this necessitated ordering both chocolate and vanilla cones. (He's a smart cookie headed for big things.)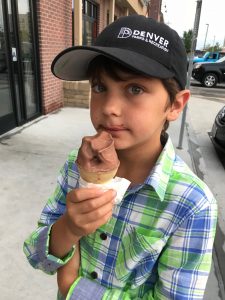 By the third stop, we all tasted the vanilla custard plain—and then ordered toppings and mixtures we liked—call it double dipping—call it extravagant—call it divine.
So onto conclusions:
The kid said hands down that Ted Drewes had the best vanilla frozen custard in St. Louis. His mom (and probably 30,000 St. Louisans agreed). Ted Drewes produced a smooth, dense custard with a rich taste of egg and vanilla; the downside, said one researcher, was that  the flavor dissipated slightly as one ate.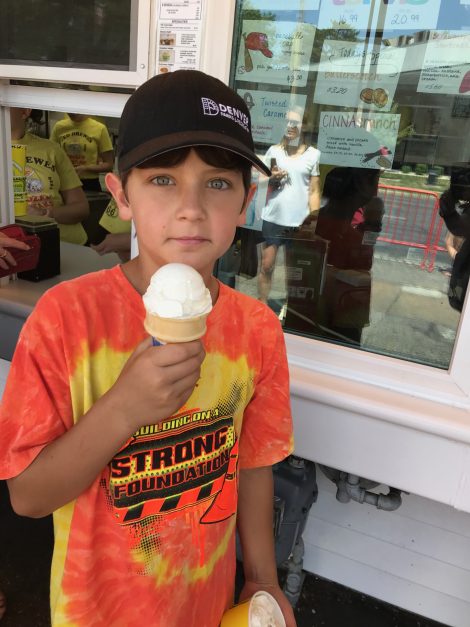 Maggie, the recent college graduate, declared the butterfinger concrete with cookie dough at Silky's was better than any of the plain vanilla cones, but we disqualified Maggie as her research lacked validity—she only had the one concrete and no cones.
The Weight Watcher liked Mr. Wizard because he could have super huge cone due to the low calorie option. 
My heart belonged to St. Louis Frozen Custard Factory's dense, smooth, rich custard with a taste that remained to the last lick.  And I liked the plain vanilla even without the incredible turtle-sundae topping of caramel, hot fudge and pecans. 
Mojo, the poodle, liked everything.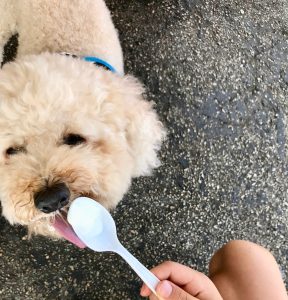 Andy's came in second or third choice for the majority of researchers, and all agreed that the custard melted too quickly and flavor was lighter than the other outlets, but still enjoyable.
In conclusion:
We could not agree on the very best—proving the proverbs: Different strokes for different folks. To each to his own. Everyone to their own tastes.
No one bothered testing the weight gain hypothesis.
All agreed that like any scientific study, the results must be repeatable, so we decided to repeat the research as often as possible.
Now for a recipe that can help you top any frozen-custard/ice cream tasting:
HOT FUDGE SAUCE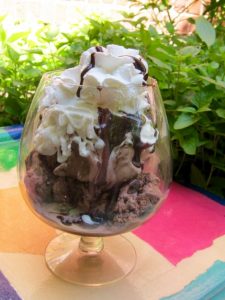 Yield: about 1-1/3 cups.
 2 ounces unsweetened chocolate
1/4 cup unsalted butter
3/4 cup sugar
1/2 cup heavy cream
Pinch salt
1 teaspoon vanilla 
Melt chocolate and butter in a saucepan set over very low heat. When completely melted, stir in sugar, cream and salt. Raise heat to medium. Cook, stirring often, until sauce is smooth and all of the sugar has dissolved, 5 to 7 minutes. Remove sauce from heat and stir in vanilla. Cool slightly before serving.
IN THE STUDY:
Andy's Frozen Custard (1600 S Hanley Rd)
Ted Drewes Frozen Custard (6726 Chippewa)
Mr. Wizard's Frozen Custard and Yogurt (2101 S. Big Bend Blvd)
St. Louis Frozen Custard Factory  (9420 Manchester Road) 
Silky's Frozen Custard (12810 Olive Blvd)