The food of Cáceres rocks! The restaurants are rad! The take-home edible souvenirs are wicked and wow! No wonder a jury composed of top representatives from Spain's hotel, restaurant and publishing industries, declared the city "The Culinary Capital of Spain, 2015."


The city, in the province of the same name, sits in the sparsely populated Extremadura region of western central Spain, about 186 miles from Madrid and 137 miles from Portugal. Despite having a UNESCO World Heritage Site walled city center that is so little changed from medieval times that the town serves as movie set, Cáceres was off the tourist radar.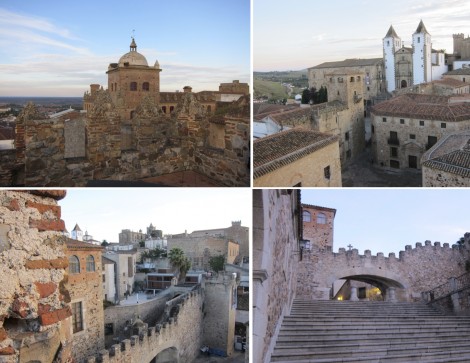 But now declared the the epicenter of Spanish food, the city lures foodies from around the world and no one leaves disappointed.
Cáceres won the title of Culinary Capital based on a rigid set of criteria including:
1. The luscious local products—eight wearing Denomination of Origin (D.O.) and Protected Designations of Origin (P.D.O.) certifications.
2. The fine chefs. (According to one tourism official, Cáceres, population 95,855, contains about 250 restaurants serving dishes ranging from Spanish classics to the uniquely avant-garde.)
3. The plethora of traditional dishes—some classically Spanish and others representing a fusion influenced by Portuguese neighbors as well as historic Roman, Arab, and Jewish cultures that flourished in the city.)
4. The abundance of natural agricultural products, and
5. The general high-quality of…well…of everything.
The city supports its year of culinary splendor by offering food-focused festivals and events as well as maps outlining the many culinary trails that crisscross the city and region.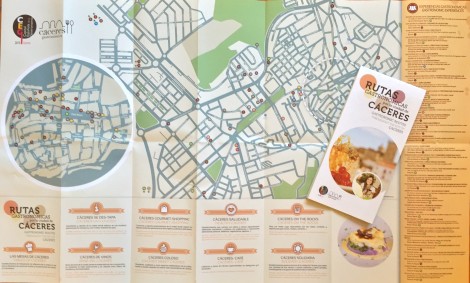 So what are the top flavors uniquely Cáceres?
Jamón Ibérico, an exquisite cured ham from black Iberian pigs. Although there are different types of Ibérico ham, also called pata negra, the finest, Jamón Ibérico Bellota D.O. Deshesa Extrmadura comes from pigs allowed to roam, free range, in oak groves and feed on acorns. Incidentally one can distinguish a black Iberian pig by the black color of the pigs' nails.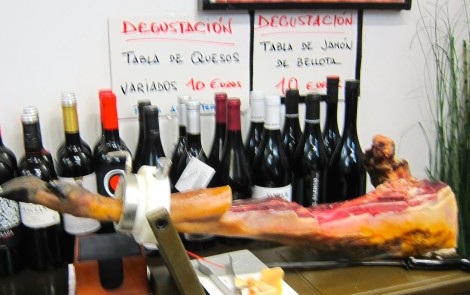 Cheese, especially the slightly salty and gently tangy Ibores P.D.O., made from unpasteurized goat's milk, and the creamy, pungent, complex Torta del Casar P.D.O., made with unpasteurized sheep's milk and a thistle (vegetable) rennet.

Flavorful smoked paprika from La Vera. This oak-smoked Spanish seasoning, officially called D.O. Pimentón de la Vera, was first introduced by monks in the 16th century. The three varieties sold today—sweet, bittersweet (medium hot) and hot, lend an earthy woodsy taste to everything from soup to nuts and is considered essential to authentic Spanish cooking. (Makes a great take-home souvenir and culinary gift.)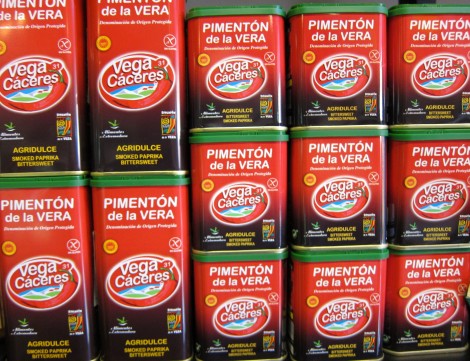 Extra Virgin Olive Oils known for their fruity nuances, low bitterness and gorgeous complexity.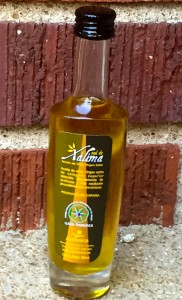 Wine from the Ribera del Guadiana growing area.
Tempranillos are favored and Cavas delight.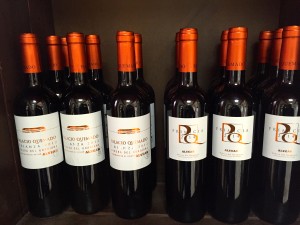 Agricultural products including figs, acorns, chestnuts, cherries that make their way into vinegars, marmalades, liquors and beer.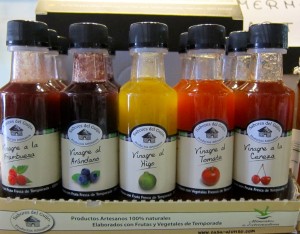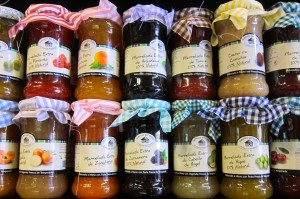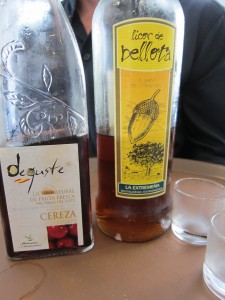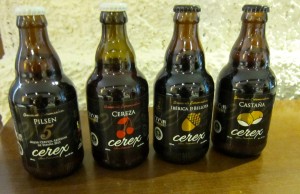 Pastries and confections made from ancient recipes by cloistered nuns and charmingly sold from behind closed doors in convents.
(To order: Enter the convent's open door leading to a small room—a menu and price list are posted on the wall. Use a microphone to order, then put your money on the tray of a revolving window. The window turns and your sweets and change come back to you at the next turn. You never see the nuns.)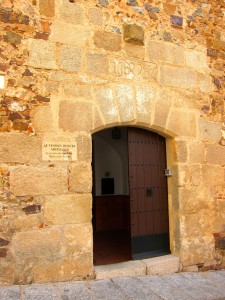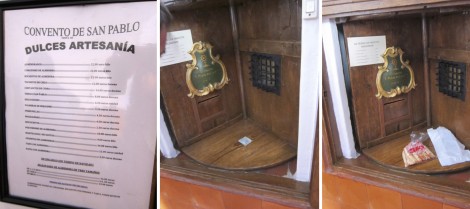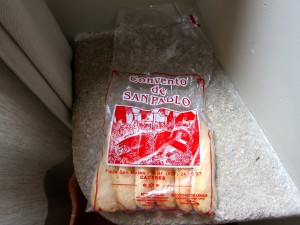 Lamb and beef from Extremadura's pastures,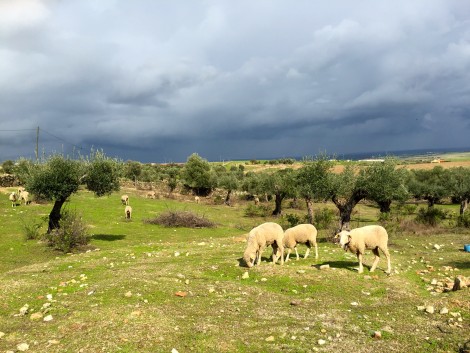 wild game, tench and other freshwater fish caught in the River Tagus, and migas.
Migas (translated "crumbs") is enjoyed in several regions of Spain. Each region—well actually each cook in each region, produces a personal version. Think of migas as a rustic shepherd's dish that is easy to make from leftover bread that is crumbled and fried in a single pan with ingredients on hand. Migas is ever present in Cáceres. It's served as a main course, tapa or side dish in tapas bars, coffee houses, hotels and fine restaurants.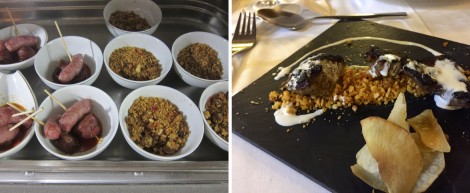 Locals have a curious custom of taking a spoonful of migas and dipping it in their morning coffee or hot chocolate for a snack.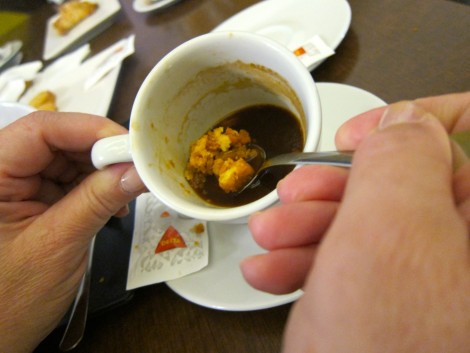 MIGAS (Crumbs)
Yield: 4 servings as main course (topped with a fried egg) or 6 servings as a side dish or tapa.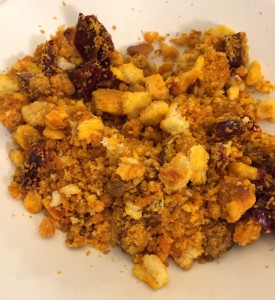 4 cups coarse dried bread crumbs cut from leftover crusty French or Italian bread
Water
Extra virgin olive oil
1 garlic clove, peeled and halved
About 1/3 cup diced Spanish chorizo
About 1/3 cup diced Serrano ham
Spanish smoked paprika
Salt
About 3 tablespoons cut strips of roasted, peeled red pepper, optional
Put bread crumbs in a bowl and sprinkle with just enough water to moisten the crumbs. Toss crumbs well and cover bowl with damp paper towels. Set bowl aside until bread is evenly moistened, a couple of hours to overnight.
Cover the bottom of a large skillet with a generous layer of olive oil. Set skillet over medium-high heat. Add garlic and stir until garlic browns lightly and oil becomes fragrant, about 2 minutes. Remove garlic from pan. Add chorizo and ham and cook, stirring often, until meat browns lightly, 2 to 3 minutes. Add bread crumbs to skillet. Sprinkle generously with paprika and lightly with salt (remember the meat could be salty). Stir to mix thoroughly. Sauté, stirring often, until crumbs are golden brown, about 5 minutes. Stir in roasted red pepper strips if desired.
Serve warm, or cool and serve at room temperature.
Stay tuned for more about Cáceres and the city's extraordinary restaurants, great places to stay and incredible food—coming soon.