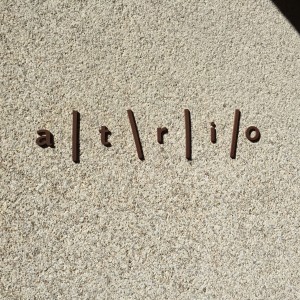 Atrio is one of the main reasons to visit Cáceres. Actually, Atrio is one of the main reasons to visit Spain. The two-Michelin-starred restaurant and Relais & Châteaux hotel is worth not only a detour (in Michelin speak), but also a bucket-list trip—at least for lovers of food, wine and architecture.
Atrio sits in the sparsely populated Extremadura region of western central Spain, within the ancient walled-center of Cáceres, a UNESCO World Heritage Site.
The property manages to perfectly fit into its surroundings of medieval monasteries, churches, palaces and towers, while being thoroughly, beautifully, divinely contemporary in both architecture and food.
Owners, chef Juan Antonio (Toño) Pérez and his partner, maître d' and sommelier José Polo, teamed with architects Luis Moreno Mansilla and Emilio Tuñón Álvarez to create a unique space within ancient buildings once used as a palace's servants' quarters.
While respecting the integrity of the historic exterior, the architects filled the interior with minimalist modern excitement.
Atrio in Spanish means atrium and the interior utilizes a garden area to create a metaphorical atrium. A dramatic collection of white, dark and natural wood columns provides not only a unifying flow between different spaces, but also a filter for natural daylight which artistically and unevenly streams onto highly polished, shining surfaces of floors and walls, bathing the property in an ever-changing shimmering glow.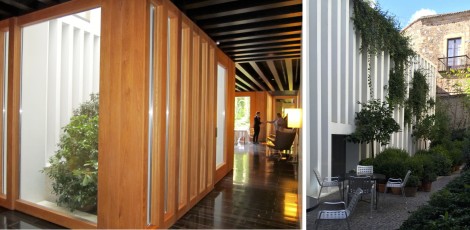 As spiraled as a nautilus shell, Atiro's wine cellar and tasting room occupies the lower level. Named one of the restaurant world's best by Wine Spectator, the cellar holds a star-studded, decades-spanning collection of superstars, including vintages of Chateau d'Yquem dating from 1806. Atrio's wine list comes in the form of a thick, 400-page, hardbound book.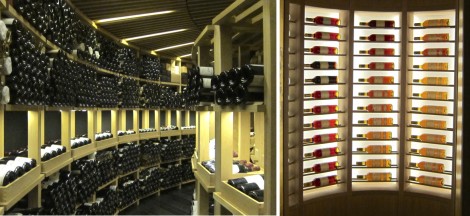 A terrace with two pools and 14 guest rooms, each different and each sleekly comfortable, fill the upper level of the property.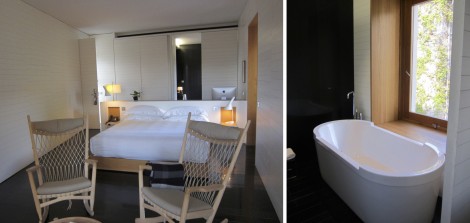 Atiro's architecture, wine and guest rooms attract tourists, but it is the food that draws gourmets from around the world and the food that greatly contributed to Cáceres winning title of Spain's Culinary Capital for 2015.
Food magic happens on the main floor which holds the reception entrance, a patio garden (perfect for a perfect breakfast on a lovely day), the large open kitchen and the dining tables, which can seat up to 50.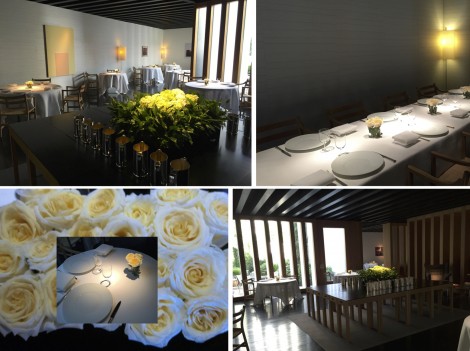 Ferran Adrià, a great Spanish chef who created the experimental restaurant El Bulli, once wrote about the evolution of creative cooking. He places reproducing recipes previously created at the bottom of the creative pyramid and technical-conceptual creativity at the top.
Chef Toño's food sits at the pinnacle, uniquely intermingling (like the building itself) the classic with the contemporary, the worldly with the local, and the extravagant with the affordable (109€ to 115€ for a tasting menu).
Whereas other modern experimental efforts might try too hard and put construction over taste, Toño's creations are innovative and beautiful as well as delicious. That doesn't mean the dishes can be described in ordinary terms—not even by the restaurant. The English menu descriptions waiver between dramatically simplified, tongue-in-cheek and just plain plain. For example, following are dishes on a tasting menu with restaurant descriptions:
Other food treats associated with the menu include: Beet macarons served before the meal began and and a variety of sweets including fabulous lemon macaroons and fight-over chocolate truffles served to finish the feast.
Guests leaving Atrio, are encouraged to take a handful of house-made miniature caramels sitting on a tray at the door. (First time in my life I was sorry I didn't have huge, super-size, gigantic man's hands.)
For more information about Cáceres, click HERE.
For more information about Atrio, click HERE.