When I was teaching cooking classes a million years ago, I made a chocolate buttermilk cake in class that I loved above all other chocolate cakes. It was not too pretty being in one layer and served from the pan, but so good and easy to make that I adapted the recipe for my kids' cookbook.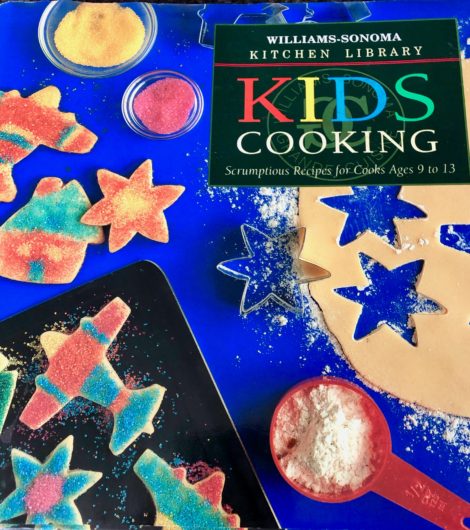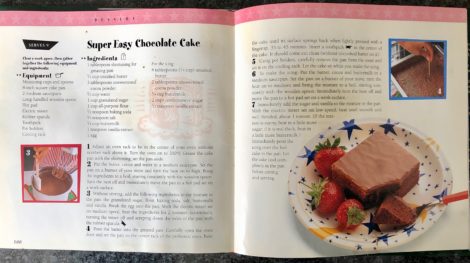 Trouble is, when serving the cake, I always ate too much (weight ballooned), so I put the recipe aside and moved on to desserts that were not so addictive.
Lo and behold, several years ago a good friend told me that the cake is her go to cake for every birthday gathering. Also, I ran into a former student who said that she bakes the cake for all of her dinner parties. 
Inspired by their comments, I dusted off the recipe and made several versions (baking the cake in different size pans) for various casual Sunday-night supper parties. 
Surprisingly, each version— the cake baked in a bread-loaf pan, an 8-inch square pan and doubled from kids' recipe to bake in a  9 X 13 -inch pan—produced slight differences in texture and even flavor. I liked them all (never will I admit to how much I ate). 
Here's the recipe for the cake baked in a 9 X 13-inch pan.
Just FYI, depending on how it is cut, the cake will serve 20—or 3 others and me.
CHOCOLATE BUTTERMILK CAKE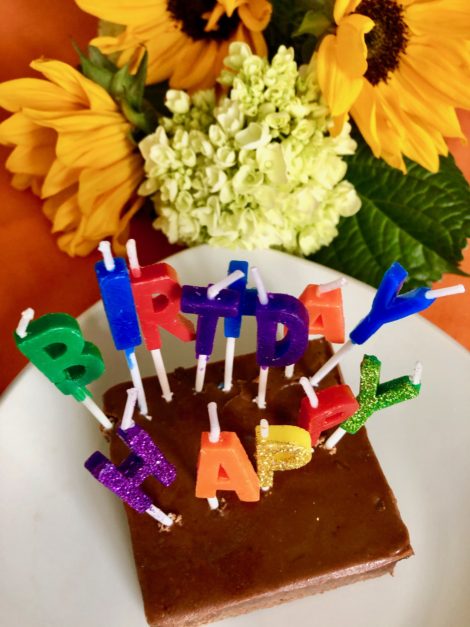 Yield: About 20 servings.
For cake:
2 tablespoons shortening to grease pan  
1 cup butter 
5 tablespoons unsweetened cocoa powder
1 cup water
2 cups granulated sugar
2 cups all-purpose flour
1 teaspoon baking soda
1/2 teaspoon salt
1/2 cup buttermilk
2 teaspoons vanilla
2 eggs
Grease a 13 x 9 x 2-inch pan and set aside. Preheat oven to 350°F.
Put butter, cocoa and water in a large saucepan. Set pan over high heat and bring mixture to a rapid boil, stirring constantly. 
Remove pan from heat. Without stirring add the following ingredients to mixture in pan: sugar, flour, baking soda, salt, buttermilk, vanilla and eggs. With an electric mixer, beat mixture for 2 minutes, occasional scraping sides of pan with a rubber spatula. 
Pour batter into greased pan. 
Set pan in center of preheated 350°F oven and bake until cake test done, 30 to 40 minutes. (see NOTE below).
Remove cake from oven and set aside while making icing.
For icing: 
1/2 cup butter
1/4 cup unsweetened cocoa powder
About 1/2 cup buttermilk
About 4 cups confectioner's sugar, sifted
1 teaspoon vanilla
Put butter, cocoa and 1/2 cup buttermilk in a medium saucepan. Set pan over medium heat and bring mixture just to a boil, stirring constantly.  Remove pan from heat, add 4 cups sugar and vanilla and beat with electric mixer until icing is smooth and well blended. The icing should be a bit loose and slightly runny.  If the icing is too thick, add a little more buttermilk; if too runny, add more sugar. 
Immediately pour the icing over the hot cake in the pan and spread to cover cake top. Let cake cool and icing set before cutting. 
NOTE: To test if cake is done, gently touch the surface of the center of the cake with your fingertip. If done, the cake will spring back with out leaving an indentation. OR insert a skewer or toothpick in center and, if done, the pick will come out of the cake clean, without streaks of batter.  
For other favorite chocolate recipes, click on name below:


Peter Merriman's Chocolate Lover's Torte

Patty Padawer Best Ever Brownies