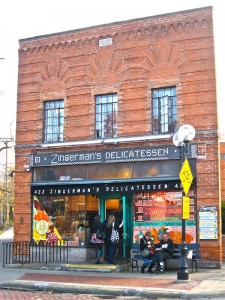 Of course you've heard of Zingerman's. Who in the food world hasn't? It's been a food-lovers destination ever since Paul Saginaw and Ari Weinzweig opened the deli in Ann Arbor, Michigan, in 1982.
Today's food outlets operating in Ann Arbor under the Zingerman's banner include a Creamery, a Bakehouse, a Coffee Company and The Roadhouse, a popular restaurant/bar. Zingerman's partners also make candy, publish books, cater and run food tours
With mottos that include "praise the lard," and a company policy that celebrates bacon, Zingerman's defies diet trends. Instead, Zingerman's hunts the world for the best of the best, and doesn't care a wit about calorie content—it's not what is good for you at Zingerman's, but what is good, flavorful and top quality that counts.
Guess you have to be there (Ann Arbor) to indulge in the full monty, but you can sample some goodies by mail order. For example, Zingerman's fabulous Hot Cocoa Cake is available in the Ann Arbor deli and Bakehouse, by mail order, and, now, even in your own home kitchen as Zingerman's shared the recipe below. Praise the lard!
Zingerman's
HOT COCOA CAKE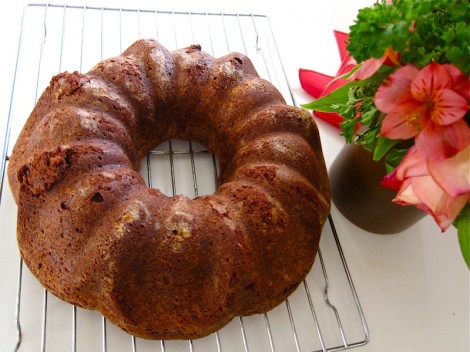 Yield: 10 to 12 servings.
Shortening and flour to prepare cake pan
1-1/3 cups all-purpose flour
1/2 cup unsweetened cocoa powder
1/4 teaspoon baking powder
1/4 teaspoon baking soda
1/4 teaspoons salt
2 tablespoons instant espresso or instant coffee crystals
2 tablespoons hot water
1-1/2 teaspoons vanilla
1/2 cup butter, at room temperature
2 cups granulated sugar
1/2 cup sour cream
2 eggs, at room temperature
3 egg whites, at room temperature
5-1/2 ounces bittersweet chocolate, chopped
Sifted confectioner's sugar, optional
Grease and lightly flour two 6-cup fluted tube pans or one 10-inch Bundt pan and set aside.
Heat oven to 350°F.
Put flour, cocoa powder, baking powder, baking soda and salt in a medium bowl. Stir to combine.
Put espresso in a small bowl. Add hot water and stir to dissolve espresso. Stir in vanilla and set aside.
Put butter in a large mixing bowl. Beat with an electric mixer on medium to high speed for 30 seconds. Gradually add sugar, beating constantly. Add sour cream and beat until well combined. Add eggs and egg whites, one at a time, beating well after each addition.
Alternately add flour mixture and espresso mixture to butter mixture, beating on low speed after each addition until ingredients are just combined. Stir in chopped chocolate. Pour batter into prepared pan or pans.
Place in the preheated oven and bake until a wooden toothpick inserted near the center of the cake comes out clean, 30 to 40 minutes for the small cakes or 50 to 55 minutes for the larger cake.
Cool for 15 minutes on a wire rack. Remove from pan and set on a rack to cook completely.
If desired, sprinkle with powdered sugar before serving.