Wow! Attended a press event previewing the food and wine to be served at the 17th annual Screen Actors Guild (SAG) awards.
Spent an afternoon sipping and sampling as well as watching and photographing the food paparazzi who were sipping and sampling and watching and photographing chef Suzanne Goin and actress JoBeth Williams in Suzanne's Los Angeles restaurant Lucques. Suzanne is caterer of choice for the awards and JoBeth represents the show committee that helped choose the menu.
Both women agreed that cooking for the 1250 super-stars and their entourages attending the event presented some challenges, not the least of which was choosing the five menu items that were to be arranged on one plate and placed on the table before the ceremony begins. Nominees for menu items had to meet rigid criteria. According to JoBeth, the food had to be:
1. Beautiful;
2. Able to sit at room temperature for a long period of time without diminishing in flavor or appearance;
3. Easy to eat (nothing to drip on satin gowns, nothing to leave small particles in the perfectly capped, whitened teeth of presenters and acceptors);
4. Accommodating to different diets (vegetarian, low calorie, no sugar, etc. etc. etc.);  and
5. Truly tasty.
And the menu winners were: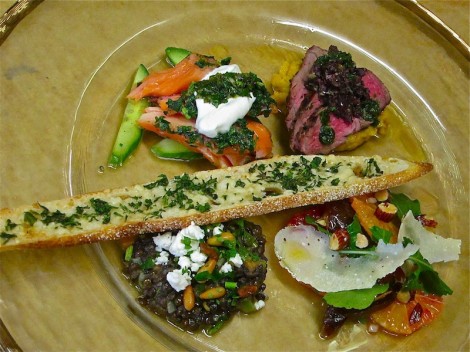 Blood Oranges with Dates, Arugula and Parmesan
Beluga Lentils with Carrots, Pinenuts and Feta
Slow-Roasted King Salmon with Cucumbers, Yogurt and Ginger-Mint Chutney
Slow-Roasted Lamb with Chickpeas, Black Olives and Feta Salsa Verde
Fresh Baked Herbed Crostini with Parmesan, Chopped Thyme and Parsley
ARUGULA WITH BLOOD ORANGES, DATES AND PARMIGIANO REGGIANO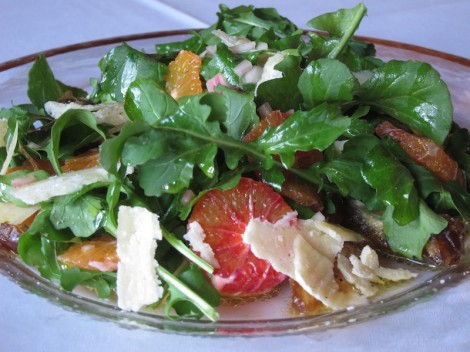 (Adapted from a recipe supplied by Suzanne Goin. Suzanne's recipe calls for olive oil to dress the dish. The Blood Orange Vinaigrette recipe comes from one of Suzanne's chefs at her Los Angeles restaurant AOC and makes a flavorful substitute for the oil alone.)
Yield: 6 servings.
4 large blood oranges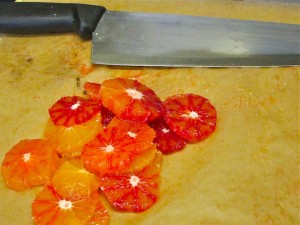 1/4 pound chunk Parmigiano Reggiano
2 ounces arugula
15 Deglet Noor dates, pitted and halved, lengthwise
6 tablespoons extra virgin olive oil (or Blood Orange Vinaigrette, recipe follows)
Kosher salt
Freshly ground black pepper
Cut away all peel and white pith from oranges. Cut oranges, crosswise, into thin circles; set aside.
Place the cheese, flat side down, on a cutting board. Using a chef's knife, shave cheese into 18 large, thin slices.
Scatter 1/3 of the arugula on a large platter.
Arrange 1/3 of the oranges, dates and cheese over the arugula. Repeat layering, letting the ingredients weave together, but not pile up on one another.
Drizzle oil (or vinaigrette) over the top of ingredients and season lightly with salt and pepper.
BLOOD ORANGE VINAIGRETTE
Yield: 1 cup.
2 tablespoons finely chopped shallot
About 1 tablespoon fresh lemon juice (or enough to cover shallot)
6 tablespoons blood orange juice
2 tablespoons sherry vinegar
1/2 cup extra virgin olive oil
Put shallots in a small bowl. Add lemon juice to cover. Let sit 10 minutes. Stir in blood orange juice and vinegar. Slowly whisk in oil.
HERBED CROSTINI

Yield: 6 crostini.
6 slices of baguette, each 9-inches long and 1/4-inches thick
3 tablespoons extra virgin olive oil
6 tablespoons grated Parmesan
2 tablespoons chopped fresh parsley
2 teaspoons chopped fresh thyme
1 teaspoon chopped fresh rosemary
Preheat oven to 400°F.
Brush both sides of bread with oil.
Place bread, in one layer, on a baking sheet. Sprinkle 1 tablespoon Parmesan over top of each piece of bread. Combine herbs and sprinkle top of Parmesan coated bread, dividing herb mixture evenly among the 6 slices of bread.
Set baking sheet in oven and bake until bread is golden and crispy, 7 to 10 minutes.