Strange. Delightful. Bizarre. Wonderful. Wacky. Weird. All adjectives apply. Prepare for the unusual. Prepare for a road trip through the Southern California Desert to a world of majestic nature and eccentric communities with off-the grid living and post-apocalyptic-style art.  
Located about equal distance from San Diego and L.A.—sandwiched between Joshua Tree National Park and the Anza-Borrego Desert State Park—the destinations will raise your consciousness and spark your imagination. Prepare to be amazed when you visit any of the following:
The Salton Sea
Located directly on the San Andreas Fault, the 350-something square-mile Salton Sea, the largest lake in California, was formed by accident in 1905 when flood waters escaped a nearby canal and sent the Colorado River into what was then a dry lake bed called the Salton Sink. Seeing opportunity to create a vacation playground, developers enhanced the lake with all sorts of amenities including restaurants, marinas and yacht clubs. At its peak in the 1950s, the Salton Sea attracted more visitors than Yosemite. Then two freakish tropical storms in late 70s flooded the area and the lake began its steep decline.
Today the Salton Sea is a mess with water that is so saline and toxic as to kill the fish and birds who eat them. Beaches reek with pulverized fish bones. Dry-bed dust pollutes the air.
The State of California is trying to address problems, without much luck, yet the lake remains a fascinating place for a drive-by visit as well as a reminder of once-upon-a-time glory and tragic decay. 
Bombay Beach
I was told that that the name Bombay Beach came from the bombs that were tested in the area by the U.S. military. Can't verify the truth, but the tiny town that sits on the eastern shore of the Salton Sea seems to be all that remains from some destructive war. 
Despite its appearances, not all is desolate.
Artists, trying to draw attention to the disaster of the Salton Sea, are buying the ramshackle houses and turning them into installations and venues for exhibitions, performances and other cultural gatherings. Each spring the town hosts an ultra-hip, tongue-in-cheek Bombay Beach Biennale open to locals, friends and insiders in the art community.

At other times of the year, one can wander though town viewing the installations (some interesting, some provocative, some totally creepy) and stop for drinks and a hamburger at the Ski Inn, the town's last remaining bar/restaurant.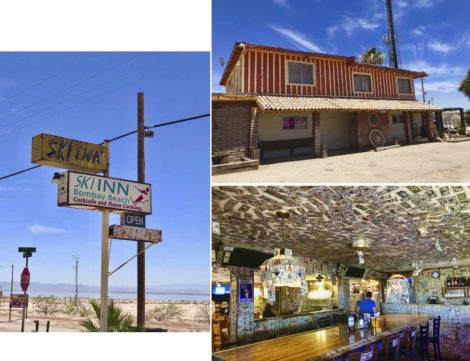 Salvation Mountain
Salvation Mountain rises from the dry desert like some sort of hallucinatory mirage in the middle of nowhere—or rather in Imperial County, just seven miles east of the Salton Sea at the entrance of Slab City.
Leonard Knight (who died in 2014), constructed the mountain and adjoining nooks and crannies with dirt, cement, sand, and adobe mixed with straw and then extravagantly painted the structures with biblical scripture. Knight called the complex, "The Museum."  The Folk Art Society of America deems it a "folk art site." But to me, Salvation Mountain is a visual pulpit drawing visitors from around the world, especially those venerating outsider art, folk art, the Bible and/or wildly eccentric man-made creations.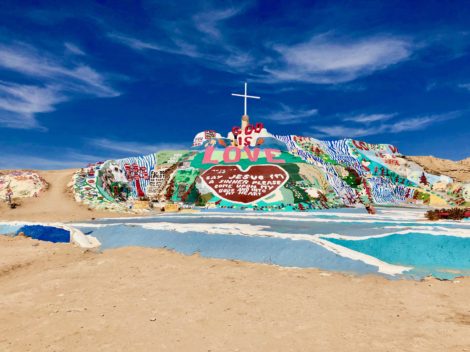 Slab City
Located near Salvation Mountain, and built on the concrete slabs remaining from the abandoned Fort Dunlap World War II Marine Corps training base, Slab City is an off-the-grid community (without official running water, sewers, electricity, etc.), populated by squatters, artists, survivalists and retirees who decorate their space with assorted reused, recycled and repurposed materials. The city thrives in winter when snowbirds join the squatters, but heat diminishes the population in summer. I visited in 112°F, full sun when the city was at low population. What lingered in the heat took on the ambiance of a surreal homeless camp. Oh, yes, did I mention no air-conditioning. 
East Jesus
Located a short walk from Slab City, East Jesus has nothing to do with religion, but refers to being in "the middle of nowhere." A rather rough and tumble place, East Jesus has been described in a number of ways including the charitable: "a sustainable, habitable, ever-changing art installation" and "a working model of an improbable improvised community at the edge of the world" and "a habitable cooperative compound" that is "a refuge for artists, musicians, survivalists, writers, scientists, laymen and other wandering geniuses."  
Although East Jesus is a member of the California Museum Association, don't expect anything like a traditional museum. The community—installations—ever changing work of art—or whatever you want to call it, is built with rough and rusty discarded junk-yard objects proving the saying that one person's trash is another person's treasure.
East Jesus welcomes visitors to not only view the art, but also add their own. And the community allows campers for a small fee—if they abide by the rules described in colorful language on their website.
Galleta Meadows Estates
As far as I can tell, Galleta Meadows Estates is privately owned land located about a two-hour drive east of San Diego within and around the village of Borrego Springs—itself located, like a donut hole, in the center of the Anza-Borrego Desert State Park. The unfenced and open-to-the public land, surrounded by the State Park,  was bought by the now-deceased Dennis Avery (of Avery labels fortune) for conservation and to showcase a growing menagerie of massive metal sculptures that he commissioned from artist/welder Ricardo Breceda. Today, visitors can find about 138 sculptures that include wicked-looking dinosaurs, giant birds, sheep, wild mustangs, a sea dragon, some sloths with hair and a few humans. The pieces spread over a 10-square mile desert area like gigantic prehistoric beasts roaming at will. Some sculptures are easy to find, being close to the highway. Others seem hidden in desert pockets accessed by dusty, dirt roads. One can purchase a map (from various outlets in Borrego Springs) that pinpoints location of individual sculptures, but I like to drive around and be surprised when a creature pops up in the barren landscape.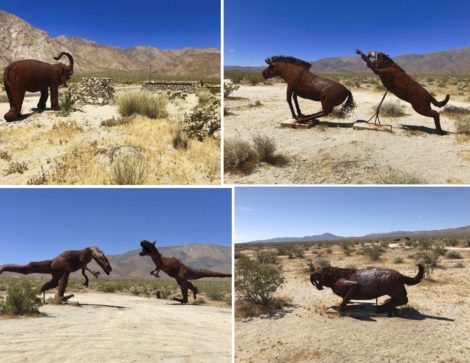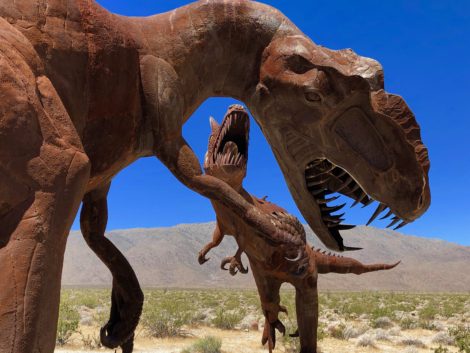 FOR MORE INFORMATION ABOUT
The Salton Sea click HERE.
Salvation Mountain click HERE.
East Jesus click HERE.
Galleta Meadows Estate click HERE.
Southern California Desert Attractions click HERE.
Another weird and wonderful work of California art click HERE.