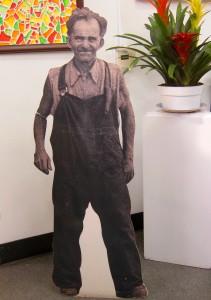 Once upon a time, a tiny slip of a man decided to build a tower in the backyard of his modest house in the Watts neighborhood of Los Angeles. The man was an Italian immigrant and dreamed that his tower would resemble a tower he remembered from his homeland. So he searched far and wide for bits and pieces of iron and steel and decorations such as broken pieces of colored glass, mirrors, pottery and tile and when he had enough stockpiled, he started to work on his tower.
He bent his steel pipes on railroad tracks, tied them together with wire mesh and covered all with layers of concrete. He placed tidbits from his collection of broken pretties and shells and rocks and other found objects in pleasing patterns in the wet concrete. Over and over he followed the routine. His tower grew and grew and grew to amazing heights. The decorations shimmered and shined in sunlight.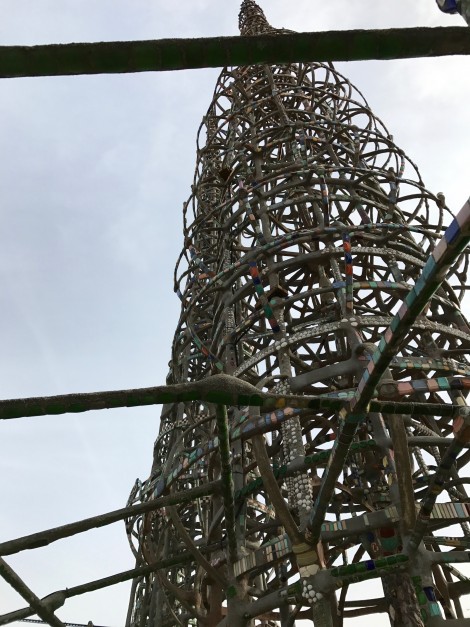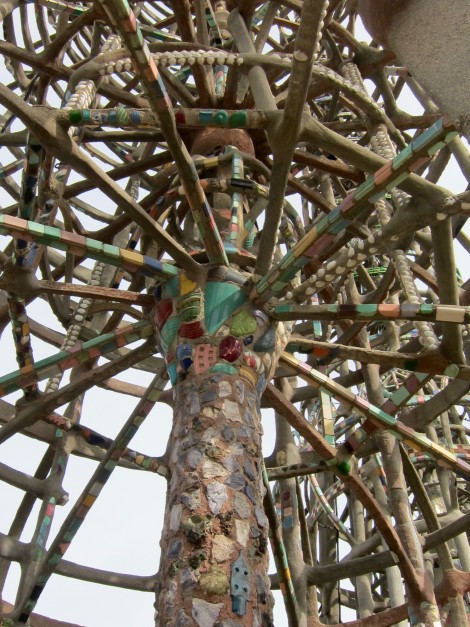 When his tower reached the sky, he started on another and then another and then another.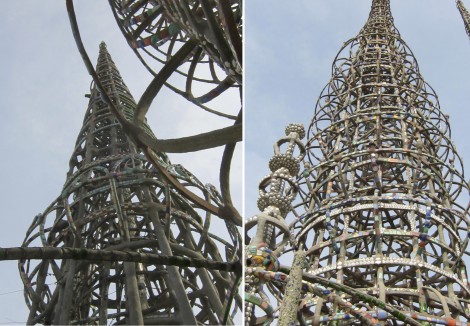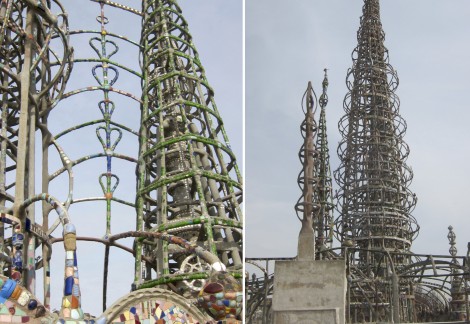 He added a "boat" to the towers and a gazebo and a fish pond and surrounded the masterpieces with a scalloped wall.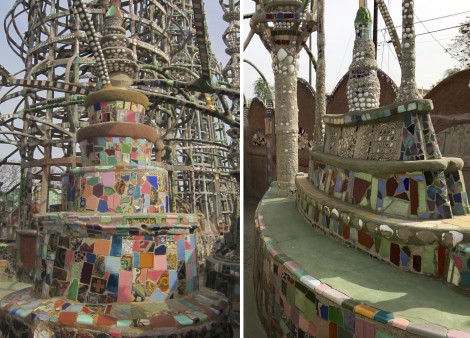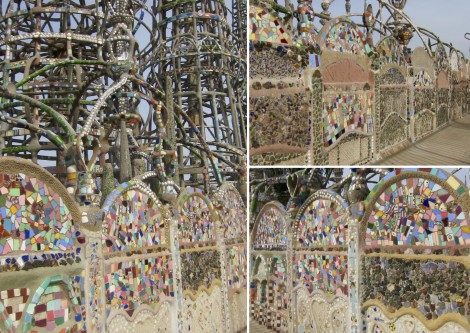 Unlike many people at the time the man had a paying job, some say as a construction worker, some say in a pottery factory, some say as a tile setter. Obsessed with building, he started paying others to bring him materials—scraps of iron and broken pretties, yet he always worked alone with the simplest tools. Instead of fancy drawing board designs he used his imagination for patterns. Instead of scaffolding he used a window-washer's belt and buckle to climb heights. Instead of machinery he used hand tools and a bucket that he would carry as he climbed the towers one rung at time.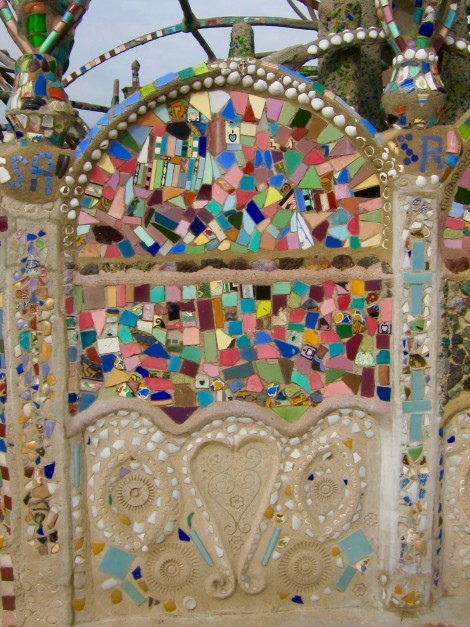 He worked on his towers in all his spare time, night and day, for 33 years. Then, in 1954, he abandoned all, giving his house and towers and land on which they stood to a neighbor. He left Watts, never to return.
When Sabato Rodia (aka Simon Rodilla, Simon "Sam" Rodia and, sometimes, Don Simon ) completed the project that he named Nuestro Pueblo (Spanish for "our town"), he left 17 major sculptures in place.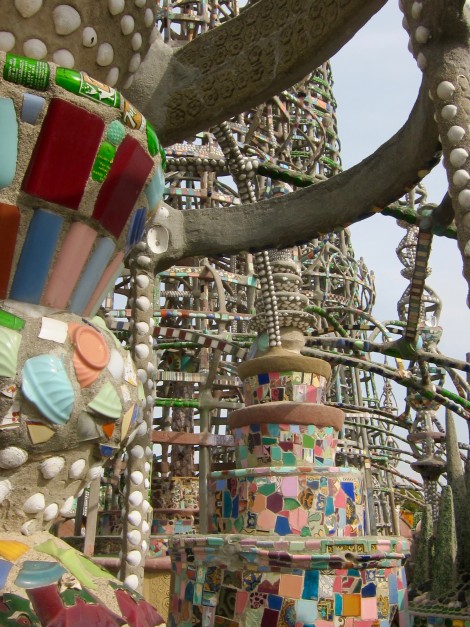 Today The Watts Towers of Simon Rodia are a National Historic Landmark, a State of California Historic Monument, a State of California Historic Park and a Los Angeles Cultural Heritage Monument. The towers are listed in the National Register of Historic Places and considered one of the top four iconic must-see L.A. sites.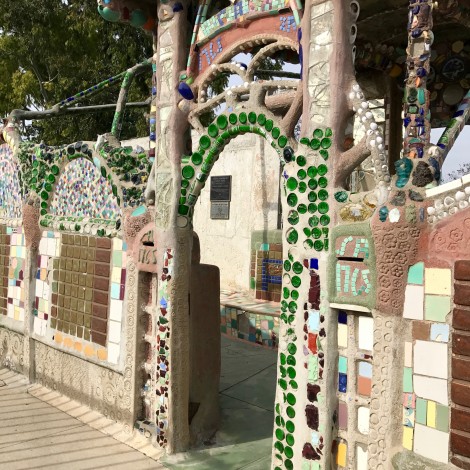 Barcelona has Gaudi, Paris has Eiffel, and L.A. has Simon Rodia and his remarkable, quirky, mosaic structures, which are open to the public on guided tours certain days and hours of the week.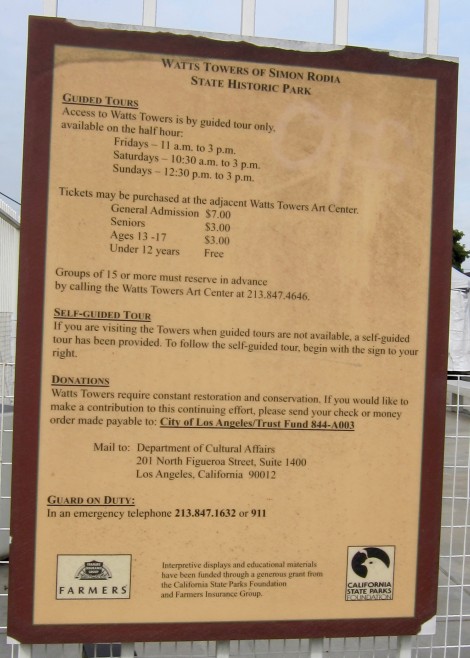 Although signs along the fence surrounding the park tell Simon's story,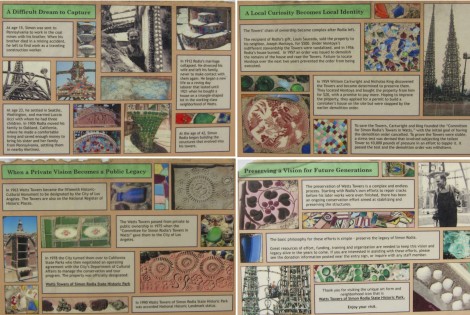 and one can catch a limited look at the towers without entering, only on a tour can one catch the full magic.
Adjacent to the towers is an Arts Center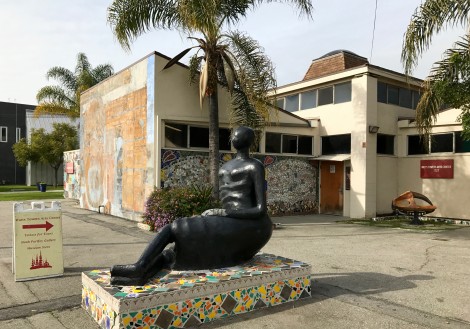 where visitors purchase tickets for tours as well as view a movie about Simon Rodia, shop for souvenirs and view art exhibitions.
Call it what you will, folk art, naive art, outsider art, or simply a magnificent achievement of a poor and probably illiterate immigrant, Simon Rodia's towers stake a forever claim in the history of art and serve as a stunning tribute to man's powers of dedication and persistence.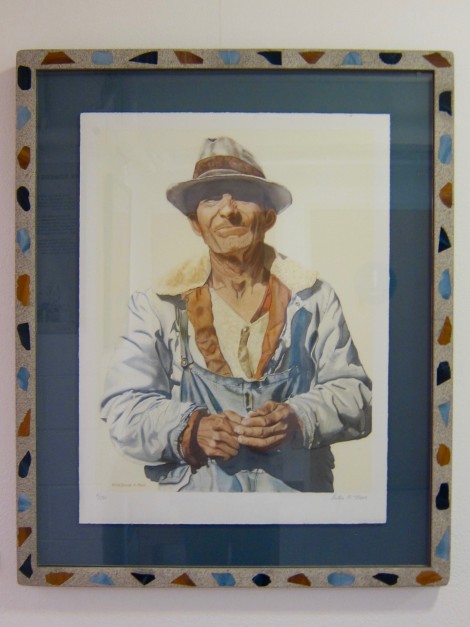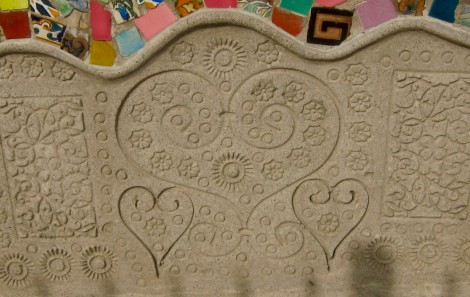 For more information see: Watts Towers of Simon Rodia State Historic Park