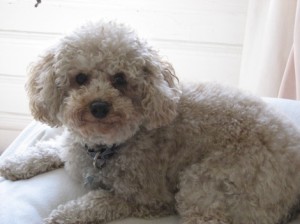 My dog ate a brownie. He managed to jump on a table at a party and devour the sweet before anyone noticed. This was a disaster on several levels. As chocolate can be lethal to dogs (especially adored poodles like Mojo), I rushed him to the emergency hospital, where vets did icky things equivalent to pumping the stomach. The whole deal took several hours and we didn't return home until hopelessly late. Needless to say, my guests had left, Mojo was shaky and I was totally drained, but the camel straw of irritants was that the brownies were gone. I confess, I love Mojo to neurotic distraction, but I also confess (this is not pretty) I was irritated that he got a brownie and I didn't. Of course these were not ordinary brownies. Patty Padawer, a St. Louis and Los Angeles cooking teacher and one of the best cooks I know, made them for the party. Rather than beg Patty for more, I begged for the recipe, which, always generous, Patty sent immediately. Of course, I will share the recipe with you, but I will take great care to never again share the brownies with anyone who bark begs.
PATTY PADAWER'S CHEESECAKE BROWNIES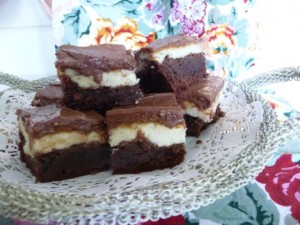 CHEESE MIX
1 teaspoon vanilla extract
2/3 cup sugar
2 eggs
1 pound cream cheese, room temperature
BROWNIE MIX
4 eggs
2 1/2 cups sugar
1 cup unsalted butter, melted
1 1/2 cups all-purpose flour
1/2 cup cocoa
2 teaspoons vanilla extract
1/2 teaspoon salt
ICING
4 tablespoons unsalted butter, room temperature
3 cups sifted powdered sugar
3 tablespoons cocoa
1 teaspoon vanilla extract
5-6 tablespoons cream or milk — more if needed
Preheat oven to 350 degrees.  Grease and flour a 9 X13 inch baking pan.  In a mixing bowl combine the ingredients for the cheese mixture and set aside.  In another bowl (for the brownie mix), beat eggs with sugar.  Add the melted butter, and then add the flour, cocoa, salt and vanilla, mix to combine.  Pour all the brownie mix into the prepared baking pan, and then top with the cream cheese mix.  Lightly spread cheese mix over chocolate, but do not mix.  Bake in the preheated oven 45- 55 minutes until a toothpick comes out clean.  Set aside to cool completely.  Make the frosting, combining the butter, sugar and cocoa.  Add the vanilla and 3 tablespoons cream, adding more cream as needed to spreading consistency.  For cutting into neat squares remove the brownies from the pan before icing.  Let icing set up before cutting.  Store in the refrigerator, or freeze.  They are great right out of the freezer.
Yield: about 30