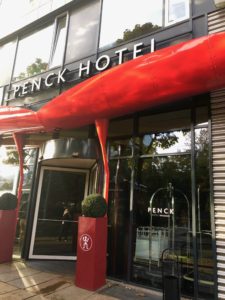 I just stayed in a most interesting hotel. 
The Penck Hotel Dresden (Germany) features art, sculpture and the spirit of artist A.R. Penck. 
It's hard for me to get a handle on Penck (also known by birth name, Ralf Winkler and pseudonyms Mike Hammer, T. M., Mickey Spilane, Y,  and Theodor Marx). The man of many names is also an artist of many talents. He's been described as a painter, illustrator, sculptor, printmaker, filmmaker, jazz musician (drummer), neo-expressionist, "pioneer of non-conformist artistic self-assertion in the GDR,"  and "a creator working with aesthetic resistance to artistic repression." Whew! The hotel is easier to explain. 
Located just a few minutes walk from the historic Old Town of Dresden, Germany, Penck hotel sports six floors, 174 rooms and suites- all profusely displaying original Penck art. 
Although built in 1995, the hotel was renovated in 2019 and all is sleekly modern and comfortable. Amenities such as a cosy bar and pleasant dining room serving a plentiful buffet breakfast and international as well as Saxon specialties add to the stay, as does the free Wifi and agreeable English-speaking staff. But it's the unusual design and immersion in art that adds excitement.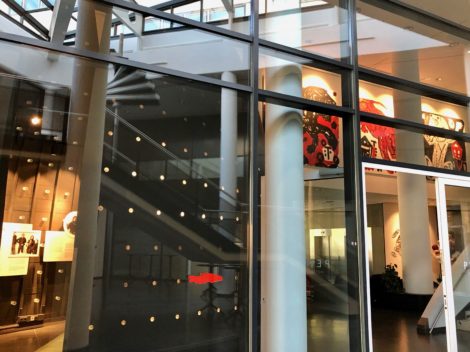 Room elements include TVs embedded in large black sculptures, double beds with thick white comforters and bathrooms with yellow tile centered with turquoise polka dots, glass pedestal sinks and large egg shaped bathtub/shower combinations (good looking, but a bit dicey to climb into and out of).
The whole hotel serves as a museum to Penck. His colorful canvases and sculptures, often described as simplistic stick figures with protruding phalluses, fill walls and halls. Stairways, and corridors wear elements taken from Penck's designs.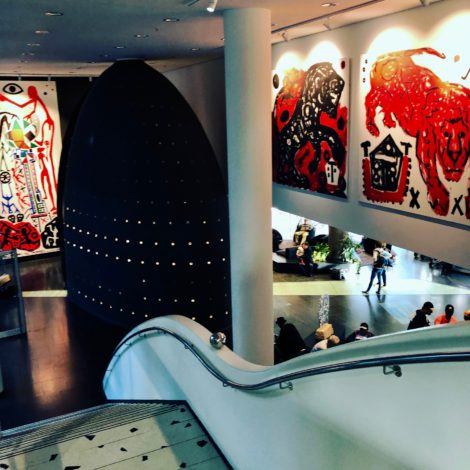 Lobby lighting leads to a bullet-shaped structure accented with  plaques describing the life and work of Penck. Information in both German and English tell us that he was born in Dresden in 1939 and died in Switzerland in 2017 and that he used his career as a social protest.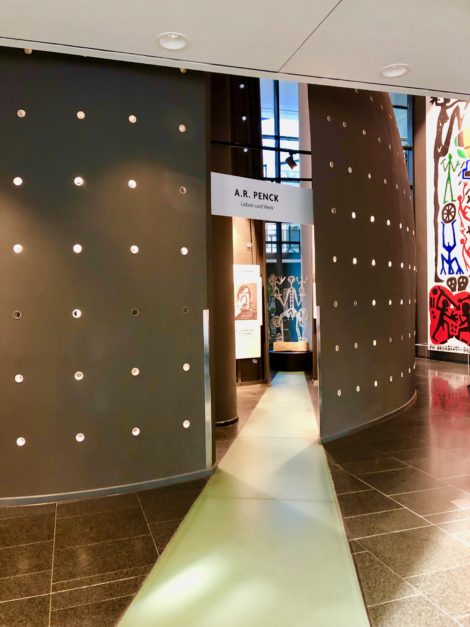 A plaque also explains that the enormous statue topping a corner of the roof extends a middle finger towards City Hall  where CDU ruled back in the 1990s. (There is no written explanation for the other appendage that is so apparent in the piece.)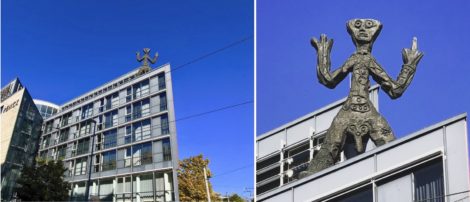 I have stayed in other art hotels with great pleasure, but this one is a bit above and beyond. The hotel allows guests a personal and immersive look at  a world-famous Dresden native son, his life and the disturbing times in which he worked. Although it might not be to everyone's taste, I found the art hotel wildly innovative and strangely attractive as well as welcoming and agreeable.
For more information click here: Penck Hotel Dresden.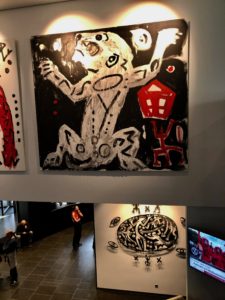 Click below to read about other particularly wonderful art-filled hotels: 
Hotel Saint Louis (St. Louis, MO) 
The Santa Maria Hotel & Golf Resort (Panama City, Panama) 
Mabel Dodge Luhan House (Taos, NM)