Our pick for today's happiest of happy hours is the luscious Panama Hat cocktail served at Salsipuedes Restaurant & Bar in the lovely Bristol Panama, a luxurious boutique hotel in Panama City, Panama.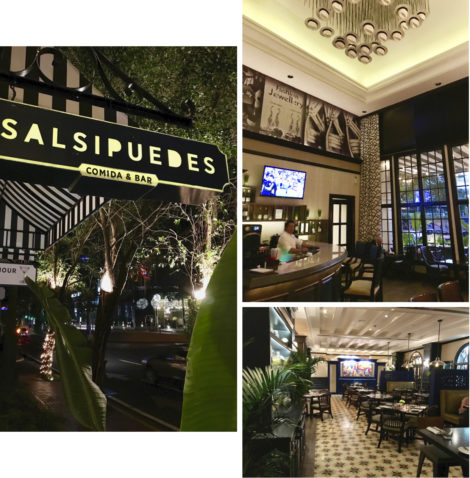 (Notice the Panama hats suspended from ceiling.)
Invented by bartender Poli (Policarpo), and named for Panama's iconic head gear—the cocktail is heads and shoulders above other of the city's cocktails. It's refreshing, somewhat sweet and full of flavor. 
But don't take my word for it. Try one with this recipe, which was given to me by Poli himself. 
THE PAMAMA HAT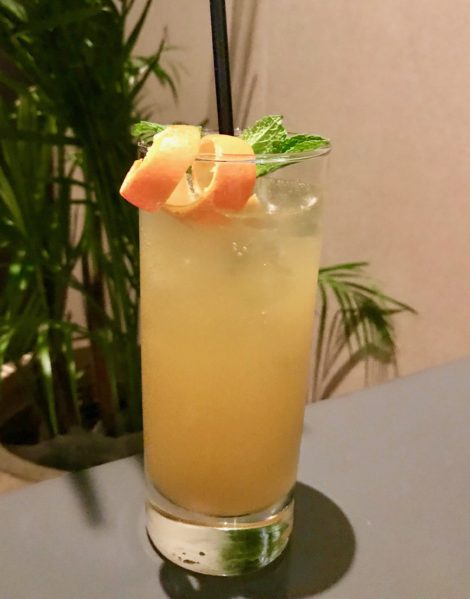 Yield: one serving.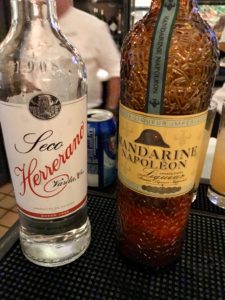 Ice cubes
1/2 ounce Seco Herrerano
1/4 ounce Mandarine Napoleon Liqueur (or other Mandarin liqueur)
1/2 ounce simple syrup made with fresh ginger
1/2 ounce fresh lime juice
1/2 ounce fresh mandarin juice (tangerines and clementine are mandarins)
Splash club soda
Orange twist, garnish
Fresh mint, garnish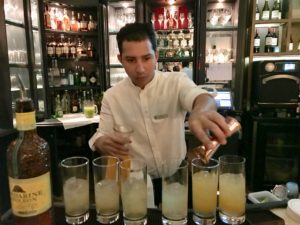 Put ice cubes in a tall glass, filling glass half full. Add all other ingredients except club soda and garnish. Stir gently. Top with club soda. Garnish with a twist of orange peel and fresh mint.  
SALUD!
For more about The Bristol Panama, click HERE.
For more about Salsipuedes, click HERE.
For an iconic Spanish pintxo (upscale tapa) to serve with this cocktail, click HERE.