Drum roll please.  And the grandest of them all—the winner—the best of the best resort spa in all of Mexico is…ta-da: SE Spa at Grand Velas Riviera Maya.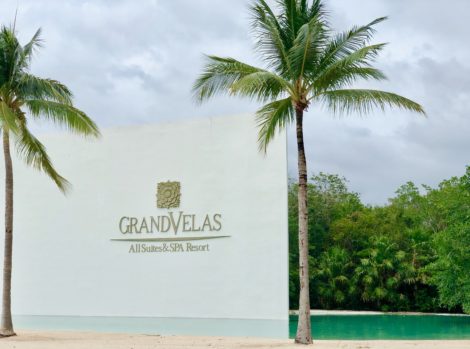 Not that I've been to all the pampering places (unfortunately, something I must correct), but have been to enough to know that this one would be really hard to beat.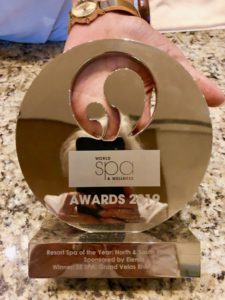 Of course I love the facility, the Water Ceremony and the menu of dreamy treatments. In addition, I adored the refreshments offered while waiting for treatments. I'm talking candy here. More about that later, but first, let me tell you about the pure bliss of the spa pampering.
First comes the incredible Water Ceremony (free for guests who book a spa treatment of 50 minutes or more or $80 for those just wanting to use the spa facilities). 
I double dipped, treatment and ceremony and here's how it went: 
I arrived 80 minutes before my treatment appointment, signed in and was greeted by my personal spa valet (yep, there is such a person)
Men and women have separate facilities at Grand Velas Spa and my valet took me to the dressing room to change into a bathing suit and then on to the woman's (literally totally hot and really cool) Water Ceremony circuit. First stop: the Sensory Pebble walkway which consisted of two long pebble lined corridors, one hot, the other cold. It was suggested that I walk  three rounds to stimulate the feet and legs, but I only managed one—not feeling warm and fuzzy about cold.
Next I plunged into the super sensational Dynamic Pool which was comfortably warm and outfitted with jets to massage shoulders, neck and back (to help circulate blood) and bubble beds (for super relaxing).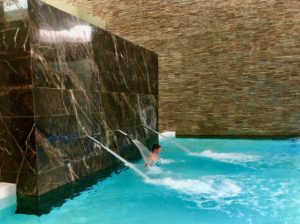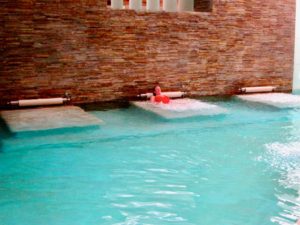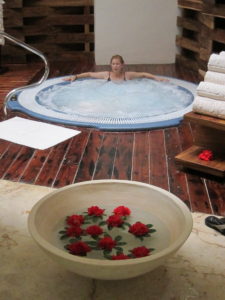 I could have lingered forever, but was eventually guided to a hot tub followed by a (quickie) cold plunge.  Then came the sauna infused with cinnamon for relaxing aromatherapy.  So nice! After heating up in the sauna, I cooled down in the aptly named Ice Room (yipes), then heated up again in a steam room followed by a Sensation Shower—a bi-thermal shower alternated hot and cold sprays. Last stop was the warm Clay Room where I slathered my body with clay and my hair with fragrant seaweed and white tea conditioner to be removed after awhile with a hand-held cool shower.
Each room diffused a different scent (lavender, eucalyptus and lemongrass among them) enveloping the body with relaxing aromatherapy. And the alternating hot-and-cold, sweat-and-shiver experiences balanced body temperature, stimulated circulation and detoxified. 
So surrounded by lovely scents, relaxed, detoxified, with body temperature balanced, hair conditioned, skin smoothed and blood circulating to the max I was shown to a relaxation area to await the spa's signature Organic Kaab Honey Experience.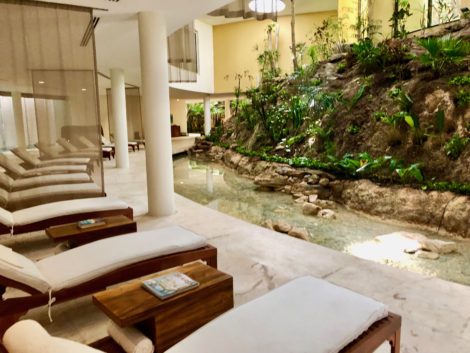 I could have stayed in the waiting room for several hours, drinking tea and eating candy, but I was collected for my treatment, which began with a secret ancient Mayan Ritual of healing and concluded with heaven-on-earth massage and tub soak.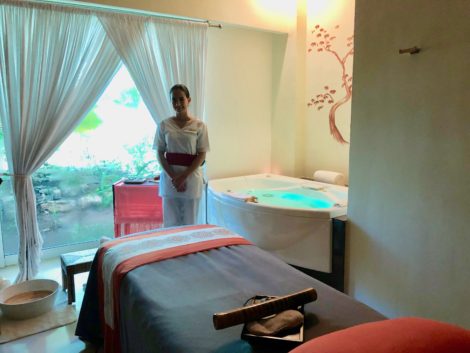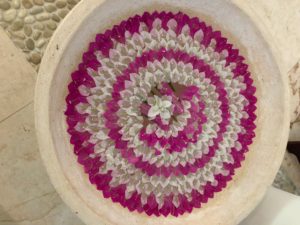 I am not going to tell you how divine, pleasurable, fabulous and pampering the treatment was as jealousy can rear its ugly head and there is nothing remotely ugly associated with Grand Velas Spa. Suffice it to say, that the first thing to do when you get to Grand Velas Riviera Maya is book this honey of a treatment.
Although it's a case of you have to be there to get the full benefit of Grand Velas Spa, here are two ways you can enjoy the spa's pleasures at home. Grand Velas shared two candy recipes served in the spa's relaxation/waiting rooms. I have not tested either recipe, but I devoured both candies and can certify  that they promote mind, body and spirit well-being. The Cacao Energy Bites, made with "super foods" are good for the body. The Toffee, enriched with butter, sugar and corn syrup, lusciously feeds the spirt and mind. And both are hot stuff to snack on when you want to chill out (my kind of chill thrill).
CACAO ENERGY BITES
16 dried dates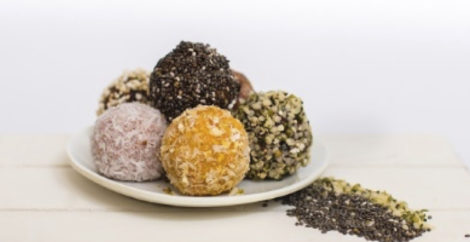 4 cups cashews
½ cup rolled oats
1/3 cup powdered cocoa
7 tablespoons honey
1 teaspoon coconut oil
1 teaspoon maca root powder
1 teaspoon acai
For toppings: amaranth, chia, hemp seeds and/or grated coconut
Chop the dates and nuts in a food processor until they are crumbly. Add the oats, cocoa, honey, coconut oil, maca root powder and acai mix well.  Pour the mixture into a bowl and mix until all ingredients are well combined. 
Form mixture into balls a little under an inch in diameter and coat with the topping of your choice.
TOFFEE SPA
1-1/2 cups unsalted butter plus additional butter to grease pan
2 cups brown sugar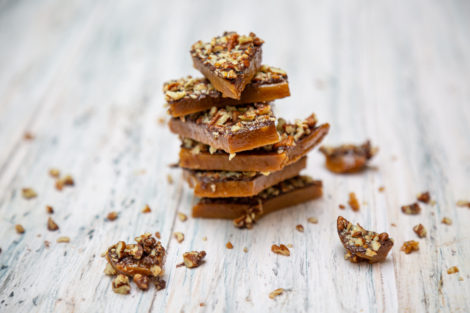 1/4 cup water
3 tablespoons light corn syrup
1 teaspoon vanilla
8 ounces semisweet chocolate, chopped
About 2 cups chopped almonds and/or other nuts, toasted
Butter an 11″ x 17″ baking sheet and place on a heat-proof surface.
Melt the butter in a heavy large saucepan over medium to medium-high heat. Stir in the sugar, water and corn syrup. Stir mixture until the sugar is completely dissolved. Once the mixture comes to a boil, stop stirring. Using a pastry brush dipped in water, wash down the sides of the pan to prevent any undissolved sugar crystals from coming into contact with the syrup. Attach a candy thermometer to the pan (do not allow tip of thermometer to touch the bottom of the pan). Without stirring, continue cooking to 300°F (hard crack stage).
When syrup reaches the hard crack stage, immediately remove from heat and stir in the vanilla. Pour onto the prepared baking sheet. Evenly sprinkle the toffee with chocolate; as soon as the chocolate is melted, spread with a spatula to cover toffee completely. Sprinkle evenly with the toasted nuts.
Cool completely and cut into bite-size pieces.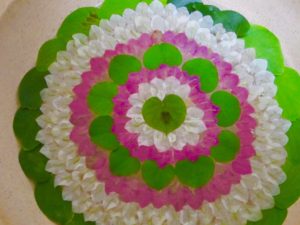 For more information about the AAA Five Diamond Grand Velas Riviera Maya ultra-luxury resort, click HERE.
For a cocktail recipe from the wonderful Grand Velas in Nuevo Vallarta, Mexico, click HERE.