They are contemporary art museums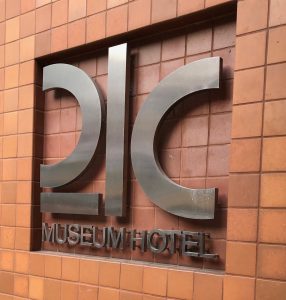 and 
boutique hotels 
and
chef-driven restaurants
and 
small shops 
and, almost always, spas.
Of course, I'm talking about 21c Museum Hotels. Laura Lee Brown and Steve Wilson, married art collectors, founded the 21c hotel chain in 2006, opening the first in Louisville, Kentucky. Others followed (more 21c hotels and also a variety of copycat hotels that incorporate art into their offerings). In 2018, the couple sold the 21c chain to AccorHotels, a French-based hospitality company. After the sale, Laura Lee and Steve promised to stay involved, and I sure hope they do, because right now, 21c (for 21st century) Museum Hotels are delightful in every which way.
Today there are eight 21c Museum Hotels and more opening soon. Each property is unique, with contemporary art, cool style and sweet hospitality the brand's unifying thread.
Here, Let me tell you about 21c Museum Hotel Cincinnati.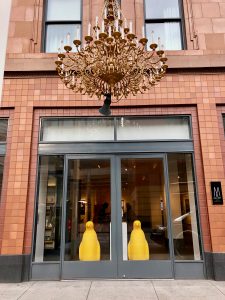 The hotel is located in the city's art-rich central business district and built into a 100 year old structure that was the former Metropole hotel (listed on the National Register of Historic Places). Designers strived to keep the historic character of the grand hotel alive while transforming the space into a stylish 21st-century cultural center.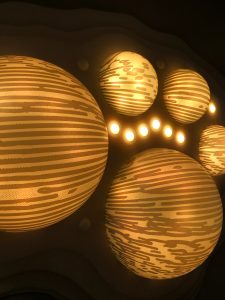 Much of the hotel's public space is devoted to art—fun, interesting, thought-provoking, surprising, unsettling, dramatic art in the form of sculptures, paintings, videos, installations, film, photography…well the whole shebang. Art fills walls, halls, floors, ceilings and dedicated galleries, which are open to the public 24/7 with free, docent-led tours on specific days.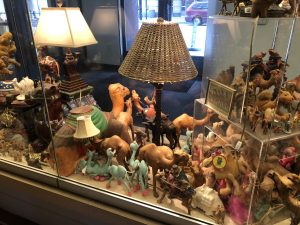 As if to counteract the art's high-energy pizzazz, the hotel's 156 guest rooms (some pet friendly) remain subdued and soothing with furniture custom made for comfort and decor colors that run to light natural wood, whites, beiges and grays.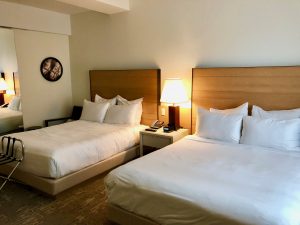 Guest room delights include:  Malin & Goetz bath amenities, a Nespresso coffee machine, a 42 inch HDTV flat screen television, a stocked minibar and free (yes free) Wi-fi. A rubber duckie plus sculptured body parts embedded in a few of the shiny white tiles lining bathroom walls add playful whimsy. I spied a nose, lips, a woman's breast, an ear and something that looked quite private, but was said to be a collarbone (still not convinced).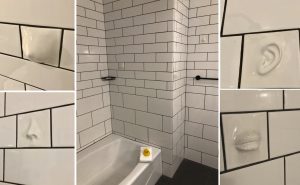 As with everything associated with 21c Cincinnati, the unpretentious Metropole bar and restaurant pleases on many levels. The bar stocks craft beers and excels in house invented cocktails, bourbons and good wines. Executive Chef David Kelsey fills his menus with farm-fresh dishes described as constructed with a "contemporary take on old world techniques."
I have to confess that Metropole's food had me at good morning—or breakfast, where I became addicted to granola with berries and yogurt. Here's the recipe so you can see why: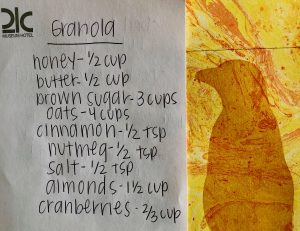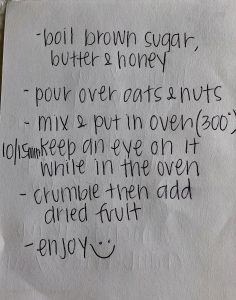 Last and but not least, penguins. All 21c hotels have a flock of large penguins made of recycled plastic that guests move about as they desire. Color defines the penguins at each hotel and bright yellow penguins add sunshine happiness to Cincinnati's space.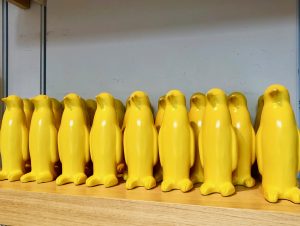 Guests can buy the hotel's signature rubber duckies, body part tiles and penguins in the small shop adjacent to the hotel's lobby.

For more information about 21c Museum Hotels, click HERE.  
For more information about 21c Museum Hotel Cincinnati, click HERE.

For more information about what to eat in Cincinnati click HERE.