Love food? Headed to Cincinnati? Lucky you. 
Forget your diet. Cincinnati is the place to gorge, gobble and gluttonize on high-fat, low-cost and pig-out delicious specialities. Whatever you do in the city—wherever you go, be sure to sample:
CINCINNATI CHILI
There is nothing like this chili anyplace else in the world. Unlike traditional chili, the Cincinnati version lacks beans and heat and is almost never served by itself in a bowl. The semi-sweet concoction shows up on top of unflavored spaghetti buried under a mound of shredded Cheddar. Some swear chocolate is responsible for the chili's unique flavor. Others say cinnamon. I say, who cares. Just give me more. I thought Cincinnati chili would be an acquired taste, and I was correct. I acquired the taste at first bite.
Although a slew of restaurants and chili parlors make Cincinnati chili, I like the  3-, 4- or 5-ways served at Skyline Chili. (Three is just spaghetti, chili and cheese. Four adds beans or chopped onions and the five adds beans and onions.)
 While at Skyline, you must try the Cheese Coney, a hot dog topped with mustard, chili, cheese and onion. OMG good!!! While waiting for a chili order to arrive, locals load up on "cracker bombs," made by splashing hot sauce over oyster crackers. Go figure.  https://www.skylinechili.com
GRAETER'S ICE CREAM
Hand-crafted French Pot ice cream from Graeter's can seduce even rigid dieters. 
Flavorwise, black raspberry chocolate chip ranks first in popularity. I prefer the cookie dough chocolate chip because both chunks of cookie dough and chocolate manage to stay soft and chewable despite being encased in cold. Truth be told, it doesn't really matter what you choose— black raspberry, cookie dough, salted caramel, Oregon strawberry, toffee chocolate chip, etc.—all of Graeter's  creamy, dreamy incarnations delight.  https://www.graeters.com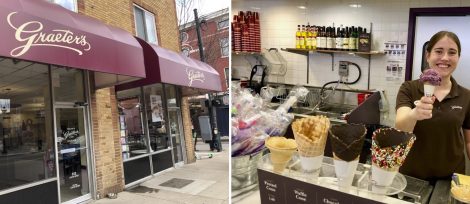 GOETTA
Gotta try it. Developed in Cincinnati's German community as a way to stretch a scant supply of sausage, Goetta (pronounced GET-uh), is a sort of cold meatloaf made of ground pork combined with steel-cut oats and seasonings. The loaf is sliced into thin patties and fried until crispy brown outside and melting rich inside. One can find goetta on menus at various diners and breakfast places throughout the city and folks can buy goetta to cook at home at most all Cincinnati supermarkets and grocery stores.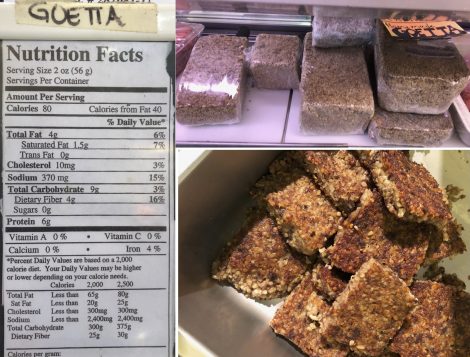 MONTGOMERY INN BBQ SAUCE
Although this famous thick and tangy wow of a sauce (tomato based with garlic, onions, molasses and spices) is sold in supermarkets and online, the very best place to try it is slathered over ribs at The Original Montgomery Inn and/or The Montogomery Inn Boathouse. Great ribs. Great sauce. Great fun.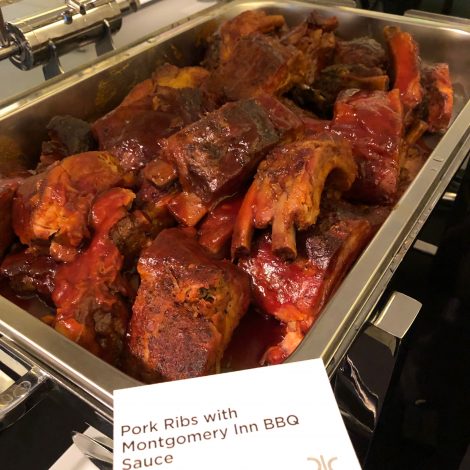 UNITED DAIRY FARMERS MILKSHAKES AND MALTS
United Dairy Farmers (UDF) is a chain of convenience stores that started out selling dairy products in 1940 and, today, sports 170 outlets spread over three states, most selling gas. What UDFs have in luscious common is ice cream, with an emphasis on handmade milkshakes and old-fashioned malts. Although UDF's classic strawberry shake took "best in the Buckeye State" honors, I say their chocolate malt ranks as my personal favorite. Go ahead. Try both. Make up your own mind.  https://www.udfinc.co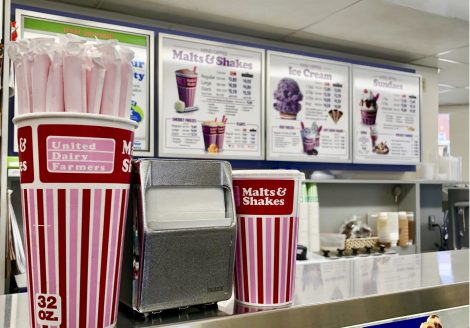 HOLTMAN'S DONUTS
One photo is worth a thousand words.   https://www.holtmansdonutshop.com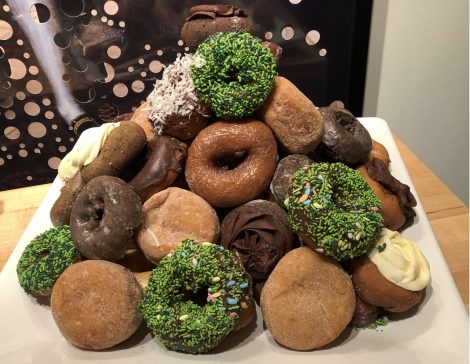 MAVERICK CHOCOLATE
Maverick's co-founders, Paul and Marlene Picton, start from scratch in producing their prize-winning chocolate. Scratch means sourcing the beans from around the world, then taking every step necessary to turn the beans into luscious bars, truffles and drinking chocolate. I suggest visitors stop at the Maverick Chocolate Co. shop/factory in Findlay Market to sample and savor, although one can buy Maverick Chocolates online to devour at home—wherever in the world home is. (Oh the glory of online shopping!) https://maverickchocolate.com
FINDLAY MARKET
In addition to Maverick Chocolates, Findlay Market merchants sell a rich variety of locally sourced, artisanal and speciality foods and craft products. Findlay is the oldest continuously operated public market in Ohio and well worth a visit. Best way to explore Findlay is on a Cincinnati Food Tour led by Barb Cooper. Barb makes sure her "clients" find and sample the best of the bounty.  http://www.findlaymarket.org       https://www.cincinnatifoodtours.com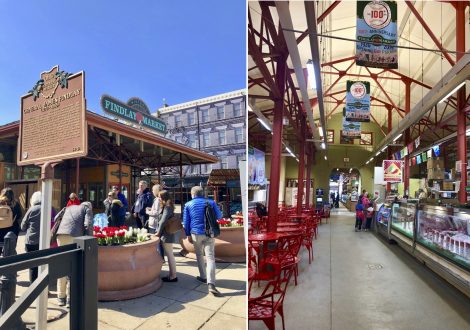 MITA'S

 
If I could only choose one restaurant to try in the cornucopia of Cincinnati's best, I would pick Mita's. James Beard Nominated Chef Jose Salazar's interpretation of Latin American and Spanish dishes shine in Mita's  pretty, casual, upscale dining room. Perhaps it's the pitcher of white sangria that preceded my meal, but I loved everything I ordered from the freshest ever jicama and green mango salad to the octopus with potatoes and potato foam to the paella.   https://www.mitas.co
JAPP'S BAR

 
The drinking crowd will find Japp's Bar particularly interesting, primarily because it's owned by the exuberant, colorful, delightful Molly Wellman, the Queen City's recognized "queen of cocktails." A historian, Molly whips up historic cocktails as well as contemporary craft concoctions. Although the bar is staggeringly good on its own, Molly adds a unique spirit that's positively intoxicating.