I only had a day in Strasbourg, which is a total disgrace for any serious traveler or food lover. I had been before, so I did a quickie catch-up tour of the city by walking around the postcard-perfect Petite France historic quarter, ogling the fairy tale houses stretched along the waterways formed by fingers of the Ill River.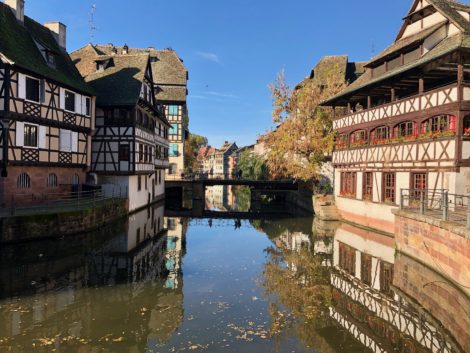 I also checked out the magnificent Strasbourg Cathedral (although skipped the clock show).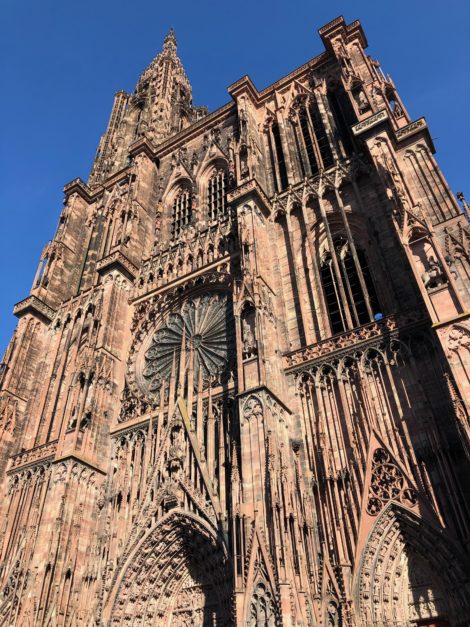 That's it. Enjoyed. Then I cut to the chase. 
Alsace is a region that ping pongs between Germany and France depending on which country won the last war. Influenced by both French and German tastes, Alsace's cross-culture food specialities are hearty, a bit rustic and filled with unique flavors and Strasburg is the city for one stop sampling. I was especially eager to try the top trifecta of Alsatian specialties: 
TARTE FLAMBÉE or FLAMMEKUECHE,  a flatbread slathered with creme fraiche and topped with a variety of ingredients, most commonly onion, bacon and cheese.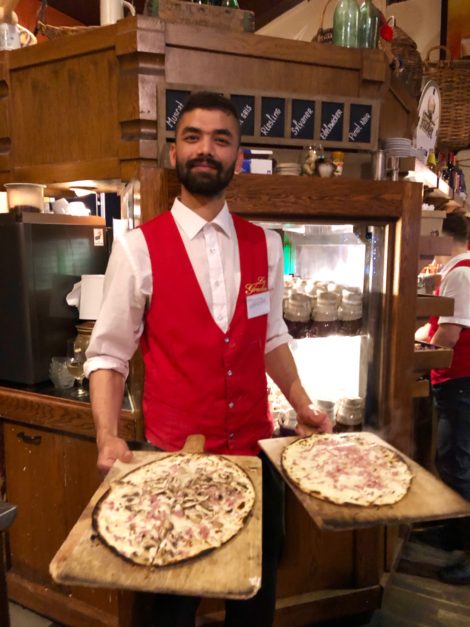 CHOUCROUTE GARNIE, slivered cabbage (sauerkraut) pickled in Riesling and served in a mound surrounded by a variety of sausages, potatoes and slow-cooked pork products.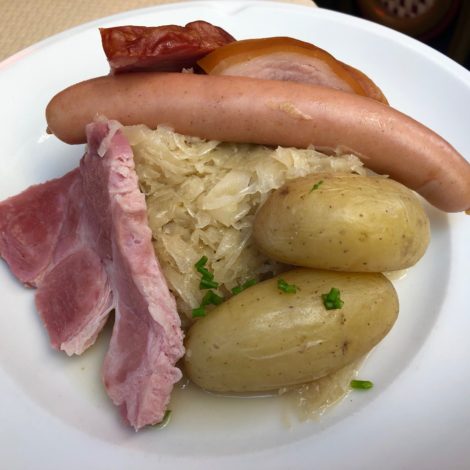 and 
PÂTÉ DE FOIE GRAS, a dish invented by a Strasbourg cook around 1780 and made from fatted-up (force-fed) geese or ducks.  (I know. Horrible animal abuse. I hate it too. On the other hand, eating pâté de foie gras is a centuries old Alsatian tradition and who am I to deny history.)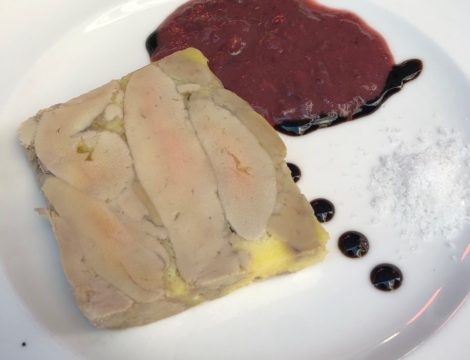 With so much to savor, so little time and so many restaurants, I asked several savvy-seeming locals where to eat. I requested a restaurant serving all three dishes, but not a hushed temple of gastronomy or an artisan darling of the hip and trendy. I wanted an unpretentious place seeped in history and popular with locals, where the food is not only authentic, but also delicious and not too expensive.
I took the advice of several rather plump locals and landed at Le Gruber.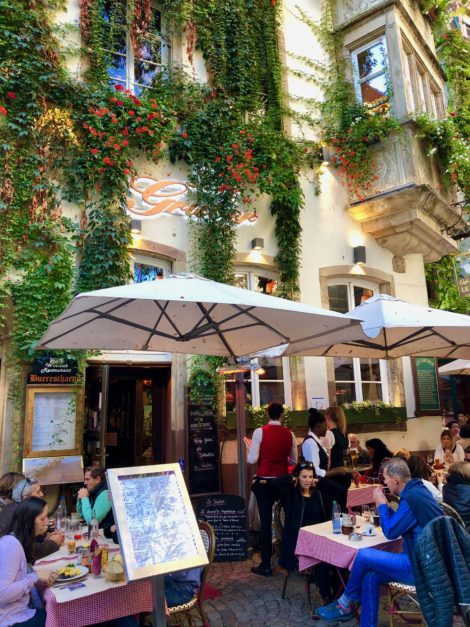 Occupying a very beautiful centuries old building, Le Gruber sits in the historic center of Strasbourg and is filled with all of the congenial bustling charm of an old-fashioned Alsatian winstub. The large spacious restaurant is divided into several dining areas, all filled to capacity with paintings, dusty knickknacks and people.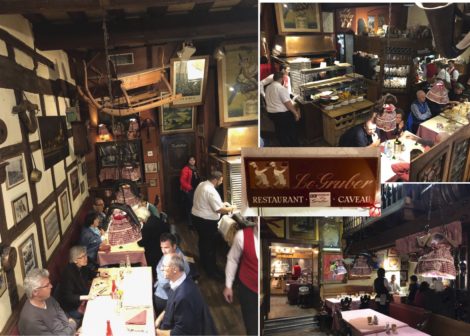 An outdoor terrace provides tables for pretty-day dining. 
Although it may not be the highest rated Strasburg restaurant, I loved the atmosphere and the food. 
As advised, my husband and I ordered three different tarte flambées and shared so that we could taste a variety of toppings.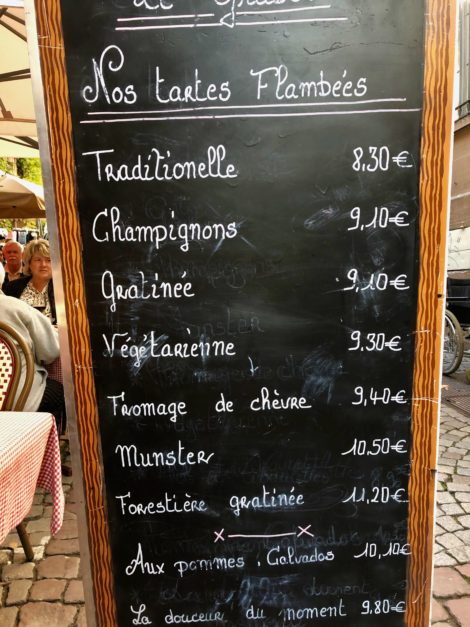 Keep in mind that this is NOT a pizza. The crust is thin as a dime and crispy around around the edges. Our toppings were all white and not ever over-stacked. Flavor profiles changed depending on the type cheese sprinkled on top. (For a good Flammkuchen recipe click HERE.)
As to choucroute garnie, I must say that I am addicted to the dish served at Brasserie Lipp in Paris, but Le Gruber's was a bit better than the Paris version.
Le Gruber's pâté de foie gras was make of duck. I like goose better. And I wasn't crazy about the fruit compote that came on the side, but when spread on crispy toast, the creamy, rich, flavor packed foie gras was a luxury beyond compare.
I drank a dry, crisp local Riesling. (Oh sigh! Heaven.) 
My husband enjoyed the local beer. 
For desert we stopped at Salon de the Christian for pastry and ice cream and then strolled over to Pain d'Epices Mireille Oster, a family-owned shop said to sell the best gingerbread in all of Europe.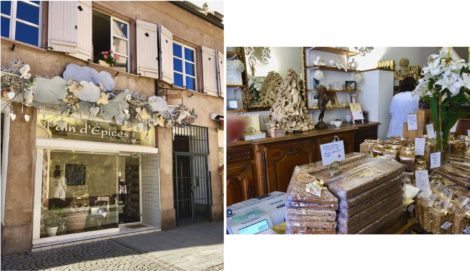 All was perfect! If ever I get stuck in my own Groundhog Day—this is the day I want to repeat.