There is a spirit that hovers over the Mabel Dodge Luhan House in Taos, New Mexico. It's the spirit of Taos itself, of the mountains and air and light and magic that inspired Native Americans as well as artists, writers, poets and rich socialites from near and far to settle and thrive.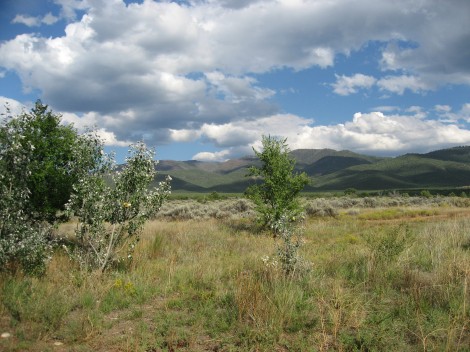 Mabel Dodge Luhan—or more precisely the multi-married Mabel Gans0n Evans Dodge Sterne Luhan falls into the socialite, art-patroness category, a pigeonhole she never fully escaped despite her considerable gifts for writing and her stack of published columns and memoirs.
Mabel made it to Taos at age 37. She had just married her third husband, the artist Maurice Sterne, and sent him, without her, to honeymoon in Santa Fe. Upon joining the honeymoon, Mabel so disliked Santa Fe that she refused to stay and moved to Taos where she fell in love not only with the remote village but also with
Tony Lujan, a married Native American from the Taos Pueblo.  
With Tony's help, Mabel purchased 12 acres of meadow adjacent to Taos Pueblo land and built a sprawling Pueblo Revival style home.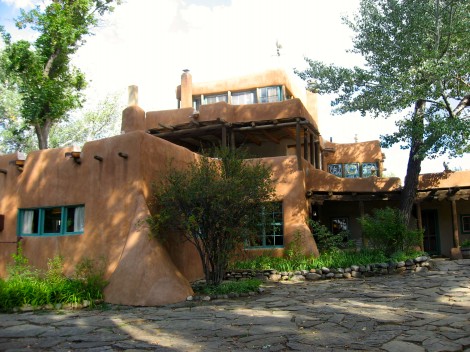 She also divorced Sterne, married Tony, and invited the cream of the cultural crop of intellectuals, artists, writers, dancers—or in Mabel's own words, the "great souls" of the creative world to visit Taos and stay with her. Famous houseguests included Georgia O'Keeffe, Willa Cather, Aldous Huxley, Ansel Adams and Martha Graham, but none were as important to Mabel as as D.H. Lawrence, who arrived in 1922 with his wife Freida.
A legacy from the first Lawrence visit remains in, of all places, Mabel's bathroom. D. H. painted the bathroom windows.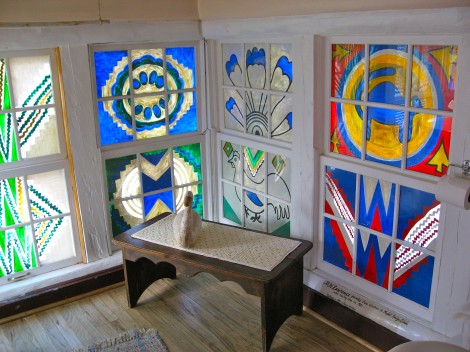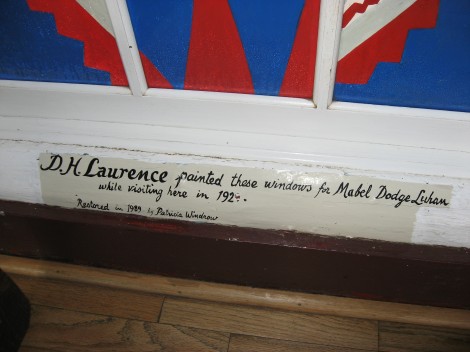 Despite the fact that D.H. wrote about Mabel and Mabel wrote about D. H. and others wrote about both personalities, no one knows the reasons for the painted windows. Speculation suggests that the renowned writer, who broke sexual barriers and was even labeled a pornographer by some, could not bare (in truest sense of the word) using the bathroom without curtains to protect him from bystanders (of course the bathroom overlooked wilderness; so the eyes were only those of lizards and the like).
Then it could have been that he painted the windows to protect him from Mabel, who in a rather intense but fruitless effort to seduce him, would shed her clothes and stretch out on the balcony outside the windows to sunbathe.

Mabel died in1962. Her home was declared a National Historic Landmark in 1991.
Although the property has gone through several owners, including movie star Dennis Hopper, it still functions as a guesthouse.
Today, the B & B-type historic inn features nine rooms in Mabel's original house, eight rooms in the Juniper House, a Southwestern-style lodge, built in 1980 as a conference center and workshop facility, and two rooms each in two separate cottages.


Present day visitors can easily recall ghosts of the guests past as much remains the same as when Mabel reigned.
The property's setting, bordered on three sides by sagebrush filled desert with the sacred Taos Mountain in the background, maintains the peaceful, retreat-like ambiance.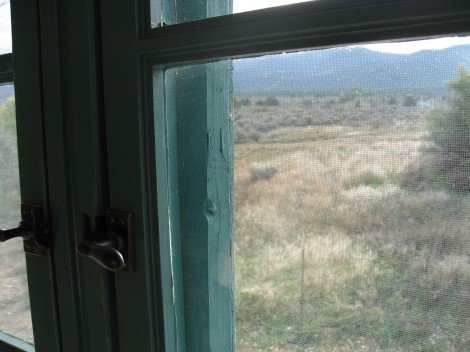 And just as in Mabel's day, the rooms lack TVs and Wifi, guests enjoy meals in the communal dining room, and the D. H. Lawrence painted bathroom windows protect inhabitants from prying eyes.
The major change is that today the inn is open to the public. Guests come for the history, for the workshops, for the tranquility and/or for the bountiful buffet breakfasts.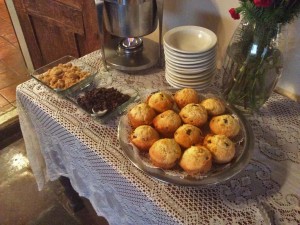 Mabel Dodge Luhan House is reputed to serve one of the best B & B breakfasts in all of New Mexico.
Part of the credit goes to Pamela Martinez, from the Taos Pueblo, one of the cooks who has made breakfast for guests on and off for the past 17 years. She say's this is her favorite breakfast muffin recipe:
BERRY CREAM CHEESE MUFFINS
Yield: 12 muffins.
Shortening to grease muffin cups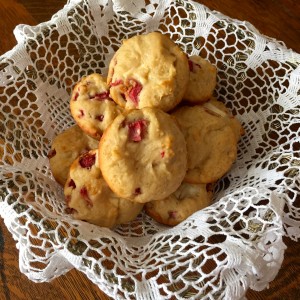 1-3/4 cup all-purpose flour
2 teaspoons baking powder
1/2 teaspoon salt
1/2 teaspoon cinnamon
1/2 cup buttermilk
1/4 cup vegetable oil
1 egg
1 teaspoon vanilla
1/2 cup granulated sugar
1/2 cup fresh blueberries or diced fresh strawberries (or other berries)
6 to 8 ounces cream cheese, divided into 12 pieces
Grease 12 muffin cups and set pan aside. Heat oven to 350°F.
Combine flour, baking powder, salt, and cinnamon in a medium-size mixing bowl. Put buttermilk, oil, eggs, vanilla and sugar in another bowl and beat just until well blended.Combine flour mixture with buttermilk mixture and beat until blended. Slowly stir in fruit.
Spoon equal amounts of batter into each muffin cup. Gently press a piece of cream cheese into the center of batter in each cup, smoothing batter back over top of cheese.
Place muffin pan in the center of a preheated 350°F oven and bake until muffins are pale golden brown and cooked through,15 to 20 minutes.
Serve warm or at room temperature.
For more about Taos, click HERE.