Dr. Aniyan, or Padmini as her friends call her, greets guests at the door of her south Indian restaurant with a smile as brilliant as the gold trimmed sari that she explains is her "work" uniform. The Ph.D professor of business management and accounting and her restauranteur husband, Aniyan Puthanpurayil, immigrated to the United States from Kerala, India, in 2003. Two months later, Padmini sister, Sathi, joined the couple. 
When the immigrants went looking for a business model to support their new life, it was only natural to settle on a restaurant as Padmini's parents owned a restaurant in Kerala where Sathi cooked and Aniyan and his parents were also in the restaurant business. 
In 2006, the husband wife team opened Mayura Indian Restaurant in the heart of Culver City, California, with Sathi in the role of chef.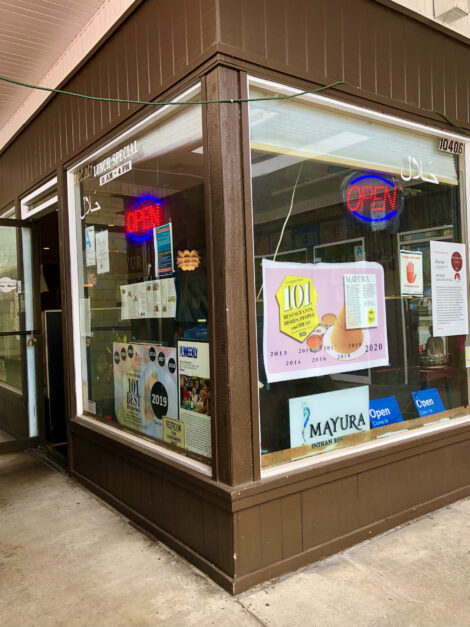 "We chose the name because Mayura is a Sanskrit word meaning peacock," explained Padmini, "and peacocks symbolize grace and elegance."
Early on, Mayura caught the eye of Jonathan Gold, famed restaurant critic of the Los Angeles Times and LA Weekly. Gold became an ardent fan, featuring the restaurant in many articles and spreading it's fame. Today, a long wall above the buffet displays multiple awards earned through the years as well as photos of guests from around the world—including Abdul Kalam the former president of India.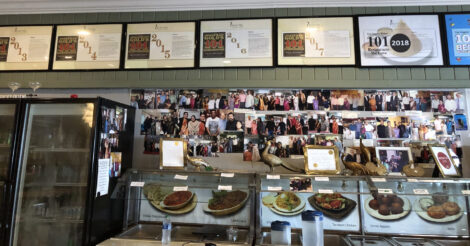 Mayura serves traditional and authentic, vegetarian and non-vegetarian home-style specialities of Kerala.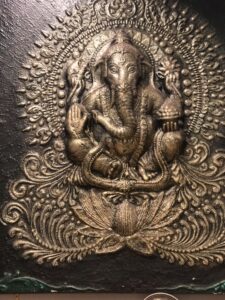 A tiny state, Kerala sits on a slender strip of land tucked in between the Arabian Sea and Western Ghats in the southwestern tip of India. Culinary spices that include the famous Malabar black pepper, cinnamon, cardamom and cloves grow in such rich abundance as to support a thousand-year-old spice trade, elevating Kerala to a multi-cultured, cosmopolitan center known for its cuisine.
"Southern Indian cooking differs from northern Indian food in its spicing," Padmini said, "North Indian food is spicy in the sense of "hot." The foods of Kerala rely on a complex combination of spices that produce a subtle,  unique and special flavor." 
"We want to make sure we cook with love, serve with love and live with love," says Padmini. "We believe in karma and want to do the best for the community."
Judging by the restaurant's popularity, the community returns Mayura's love, especially for the Kerala menu specialties that include several different varieties of dosa.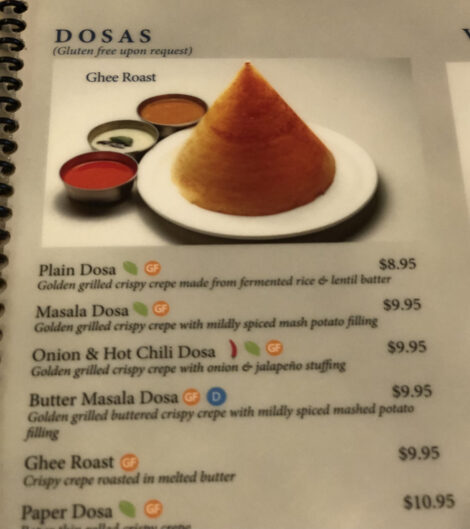 Originating in southern India in the 5th century AD, dosas are crepe-like goodies that cooks usually make from a simple fermented batter of lentils and rice. Eaten warm, served in crispy cones, in flat disks, plain or rolled or folded around flavorful fillings, dosas delight diners at breakfast, for snacks or as a special part of an elaborate meal.
The following recipe is fashioned after Mayura's Gee Roast Dosa, a delectable, golden-grilled, paper-thin, crisp cone-shaped masterpiece.
Although the restaurant cooks this spectacular dosa on a large, flat surface, spreading a circle as big as a super-sized frisbee to make towering cones, the size of home-made version will depend on the size of home cook's skillet.
The recipe may look daunting, but it is actually easy. Really. See for yourself:
DOSA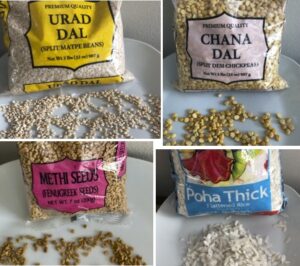 Yield: 6 to 12 depending on size.
1/2 cup urad dal (skinned, split black lentils)
2 tablespoons chana dal (split and polished yellow lentil)
1/2 teaspoon methi seed (fenugreek seed)
1-1/2 cups raw rice
2 tablespoons poha (par-boiled and flattened rice)
Non-iodized rock salt or sea salt
Oil, butter or ghee 
Put dals and methi seed in a strainer and rinse with cold water until water runs clear. Transfer dal mixture to a large bowl, add water to cover by several inches and set aside to soak for 4 to 5 hours.
Put rice in a strainer and rinse with cold water until the water runs clear. Transfer rice to a large bowl add water to cover by several inches and set aside to soak for 4 to 5 hours. 
After dals and rice have soaked and before blending, rinse the poha and put it in a small bowl with 1/4 cup water, stir to mix and set aside for 30 minutes.
Put soaked poha in a blender jar. Drain dal mixture and add to blender along with 1/2 teaspoon salt and 3/4 cup water. Blend until very smooth, adding more water if necessary to make a frothy, thick batter of pouring consistency. Transfer batter to a large bowl.
Drain rice and put in blender jar with 1/2 or a little more water.  Blend until mixture is very smooth. 
Add rice batter to dal batter and mix well (some people say mixing with your hands adds warmth to start the fermenting process). The mixture should be thick, but of pouring consistence; if too thick to pour, thin with a little water. 
To ferment batter: cover bowl and set in a warm place until batter increases in volume and turns light and bubbly. Fermentation takes from 8 hours to overnight depending on room temperature. Warm is quickest. (Batter placed in an oven that had been preheated at lowest temperature for 10 minutes then turned off, with oven light kept on and door closed, takes 8 to 15 hours to ferment.)
Do not over ferment. Test readiness by dropping 1/2 tablespoonful of fermented batter into a bowl of water; the batter will float—not sink—if ready. Once fermented, you can refrigerate batter up to 3 days until ready to cook.
When ready to cook, transfer some of the batter to a mixing bowl. Thin to a pourable consistence with a little water. Add a tiny bit of oil, butter or ghee to a seasoned cast-iron skillet and rub well with a paper towel until the fat is absorbed. (Can use a heavy-bottom non-stick skillet without oiling.) Set the skillet over medium high heat, using the largest burner so heat reaches edges of pan and crepe cooks evenly. When the skillet is hot, turn heat to medium, stir batter and pour a spoonful in center of pan. Immediately spread the batter in a clockwise circle over bottom of skillet to make a thin circle.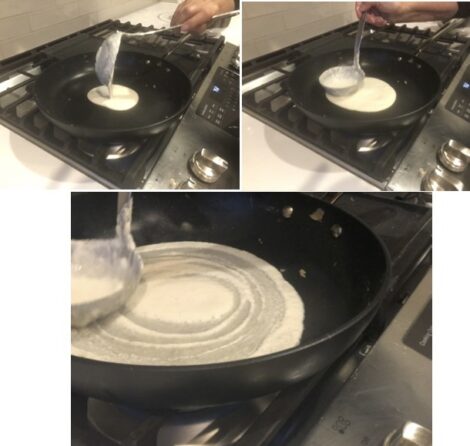 Add 1/4 to 1/2 teaspoon oil, butter or ghee around edges of crepe and let crepe cook until edges start to lift from pan and underside is browned. Lift from pan and roll or fold for serving. (If batter sticks to the pan, the batter was too thick or pan too hot. Adjust batter consistency with a little water or reduce heat before cooking more.)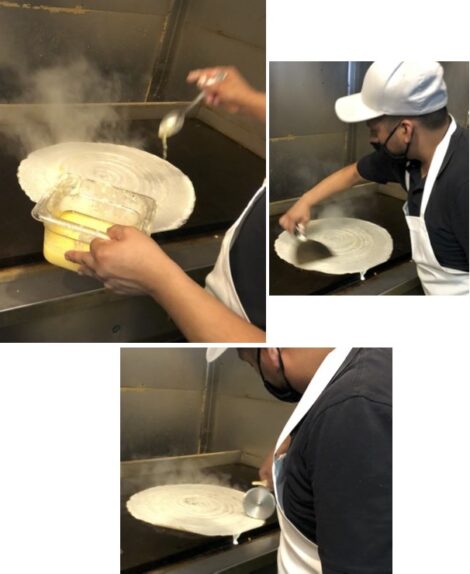 To curl into a cone, with a sharp knife, cut crepe from center to one edge. Lift the crepe at edge of one side of the cut and roll it to the other side.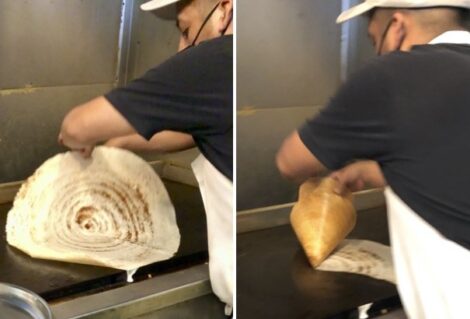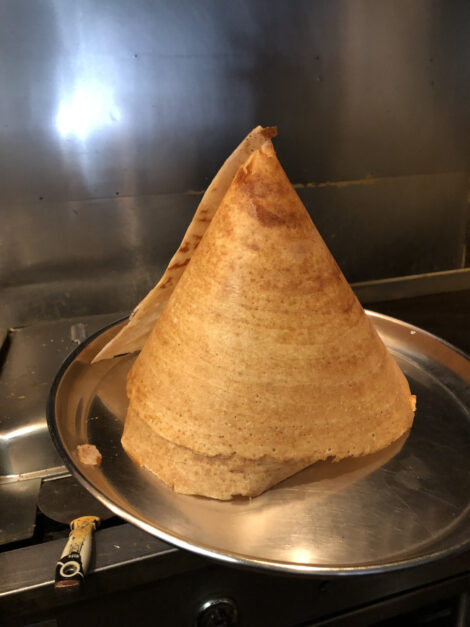 For more information on Mayura, click HERE.