Disclaimer: Scott Manlin is my nephew. As far as I can remember, he has always appreciated fine food and good restaurants. When he was barely an adult and living in Chicago, and I was a James Beard Foundation restaurant judge and couldn't get to all of the nominated Chicago restaurants, I asked Scott for advice. His picks usually turned up top James Beard winners. Today Scott is still picking winners, but in a different role. This time as managing partner of Meiso Hospitality—a group of three (Scott, Sky Strouth and the talented chef Makoto Okuwa) who created Edobox, my new favorite restaurant in Santa Monica, CA.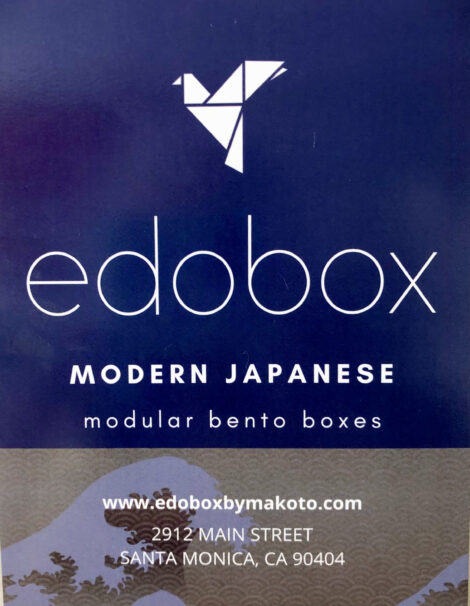 Let me tell you what I adore about Edobox:
Let's start with the CONCEPT. 
Edobox offers modern Japanese food packed into well-designed bento boxes. Everything about the restaurant is contemporary, environmentally sound and thoughtful. A small kitchen building and a street-side sake bar sandwich the main dining patio. All seating is outdoors. All service, by waitstaff.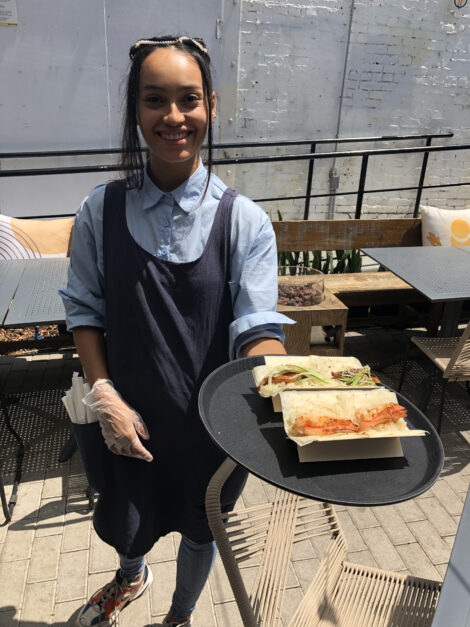 All service ware—including utensils, plates, bento boxes, etc.— are either compostable, recycable or reusuable.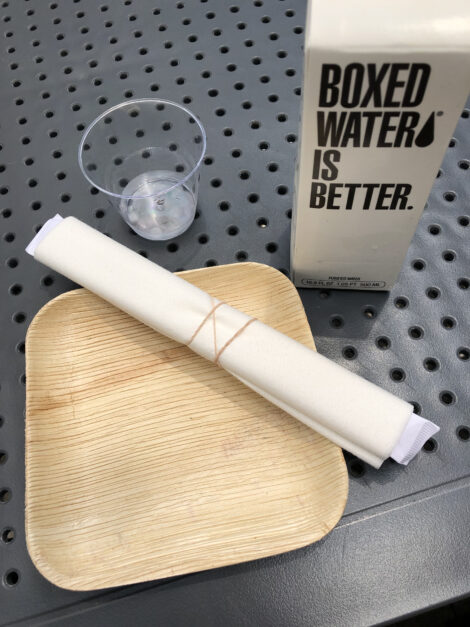 And all food is beautifully packed for eating on premise or takeaway. (Just a reminder that the beach is steps away and Edobox bento boxes make for super-chic picnics.)
I like the DESIGN and DECOR. 
The small kitchen building at the back of the space wears a deep, ocean-blue paint. White paint covers one of the two long brick walls that define the patio dining area. The other wall sports a sea-blue background splashed with swirls of sunshine-yellow scallops, and white floating bubbles and foamy waves.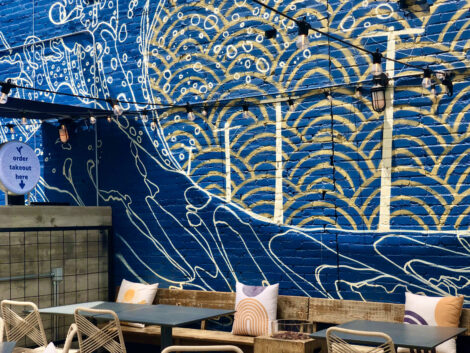 Wood benches and beige woven-back chairs surround black metal tables. Throw pillows pick up dashes of yellow and black. And wood-colored, block heaters fitted with lava rock add pizzaz as well as warmth on cool nights.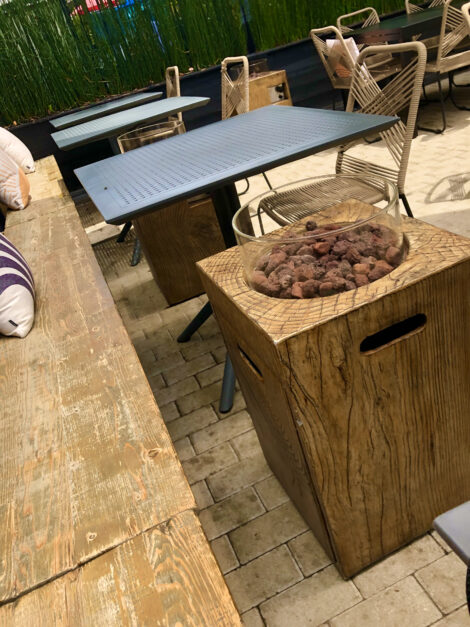 When the sun goes down, overhead string lights shed a mellow glow over both patio and bar.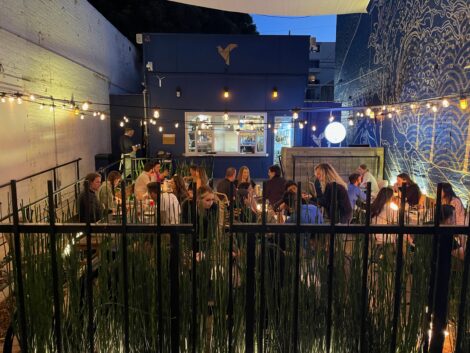 The entire ambiance feels sophicated and stylish, creative and comfortable.
But most of all, I'm mad about the FOOD.
Oh my. Terrific doesn't quite cover it—but then I am prone to raving about perfectly cooked and beautifully served bites of pure delight.
The menu offers a choice of chef-designed bento boxes. The Vegan Bento features wild mushroom onigiri for $20; The Tono Bento contains Japanese fried chicken kaarage, dry aged Flannery Beef dumplings and wasabi fried rice for $30; and the Edo Bento adds black cod to the dumplings and fried rice for $35. All of the boxes come with spicy cucumber salad, edamame and an Edobox house salad (we scored the salad recipe—see below).
Of course, diners can order al la carte from the menu, which showcases such delights as sushi, nigiri, sashimi, tacomaki, rock shrimp tempura, Miyazaki Wagyu steak, spicy pork mazeman ramen and 
As to beverages, draft saki and beer, wines and sake-based cocktails join non-alcoholic waters, juices and ginger-lemon soda and Vintage cola.  Edobox is "corkscrew free" so all beverages, incuding cocktails, are packaged to be opened without a tool.
California climate, Covid-conscious outdoor dining and drinking, captivating food, creative atmosphere, congenial staff—that's Edobox. As I said, a classy favorite!  For opening hours, location, menu and up-to-the moment information, click HERE.
For a home-made taste of Edobox, see:
EDOBOX HOUSE SALAD

 
 Yield: 4 small side servings.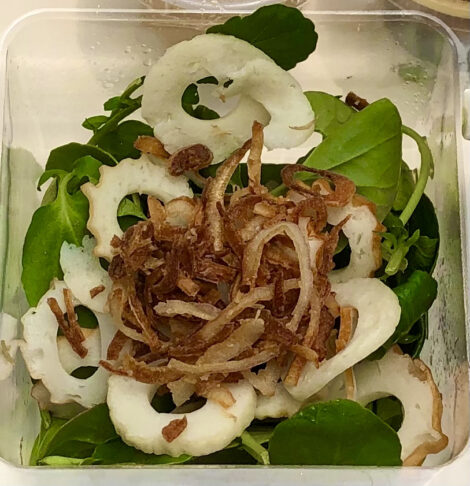 (Please see NOTES below for ingredient descriptions.)
8 ounces watercress, rinsed and patted dried
Miso Aioli to taste (recipe follows)
3 dashes wasabi oil (or transfer oil to an oil sprayer and use 3 sprays)
3 ounces chikuwa, thinly sliced
1 tablespoon fried shallots (recipe follows)
1 tablespoon tempura flakes
Put watercress in a serving bowl. Toss lightly with miso aioli. Spray with wasabi oil.   
Sprinkle chikuwa, fried shallots and tempura flakes over top.  
MISO AIOLI DRESSING
Yield: 1 cup dressing.
1/2 cup Saikyo miso
1/2 cup Kewpie mayonnaise
3 tablespoons fresh squeezed lemon juice 
Put miso, mayonnaise and lemon juice in a bowl and stir until well blended.
Refrigerate until ready to serve.
FRIED SHALLOTS
Shallots
All-purpose flour
Vegetable oil
Salt 
Peel and trim shallots. Cut shallots into thin slices. Toss slices in flour. 
Heat enough oil to cover shallots in a skillet. When hot, add the shallots and fry until crispy. Drain on a paper towel. Sprinkle lightly with salt. Set aside to cool completely.
NOTE: INGREDIENTS
Saikyo miso is a pale—yellowish, mild, high-quality, somewhat sweet miso paste. 
Kewpie mayonnaise is a sweet, eggy mayonnaise with hint of umami. 
Wasabi oil is a vegetable oil seasoned with wasabi horseradish.
Chikuwa is a Japanese seasoned fish cake product cooked on rods resulting in a  tubular shape. 
Tempura flakes are crispy bites of deep-fried tempura batter.  
Most of the Japanese products called for in this recipe can be purchased from specially food markets or online. Some can be made at home. (Check online or a great, Japanese cookbook for recipes.)