I just loved this email from Toast Bakery Cafe—it's so very laid-back L.A.:
"Hello Susan, 
thank you so much for reaching out to us. What a great idea! We would love to be featured in your blog post. I'm sure that it would be a comfort to our customers at home to have a reminder of Toast!
our jalapeño spread: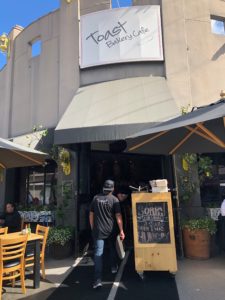 Cilantro
Mint
Jalapeño 
Garlic
Fresh squeezed lemon juice 
Salt 
Grounded Cumin 
Grounded Coriander  
Citric salt if available 
Olive oil
Please let me know if you have any questions." 
Question: Are you kidding?  What are proportions? How does one combine? Where's the recipe?
THE BACKSTORY
During this period of shelter-in-place, I miss going out for Sunday brunch, especially In Los Angeles. I miss sitting in the sunshine, dog at my feet, friends at the table, watching pretty people, drinking lusty black coffee and eating something that feels like a celebration. 
In the spirit of rememberence-of-things-past and let's-look-forward-to-the-future, I thought it would be fun to feature a special brunch that could wow family and friends when life begins again.
Thus we get to Toast Bakery Cafe.
Toast is trendy to the max. It's so hip as to have separate menus for vegans, regular folk and dogs.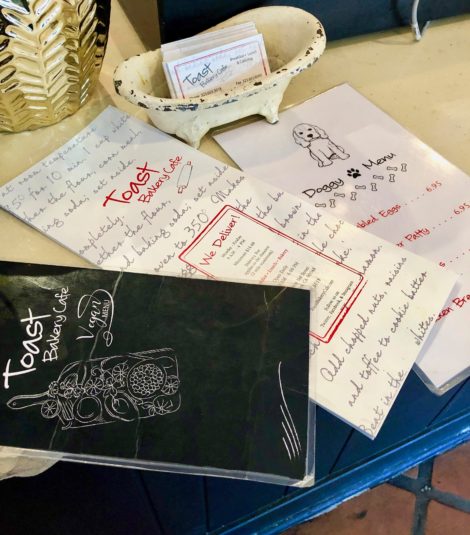 I happen to love the concept and presentation of their ultra-cool House Breakfast for 2.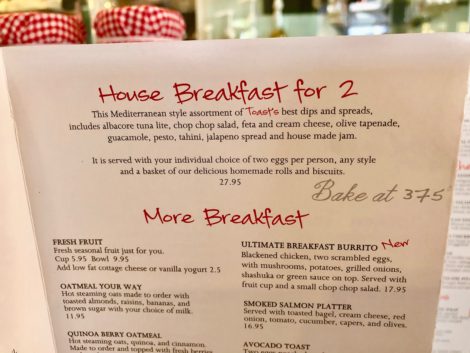 Essentially the breakfast is a take on a Middle East mezze meal—which is a collection of small and tasty dishes all served at once and  shared with table mates. 
For their speciality House Breakfast, Toast fills small bowls with an assortment of spreads and dips, adds a basket of bakery rolls and serves the mini mezze with eggs, fruit salad and a cilantro/jalapeño sauce.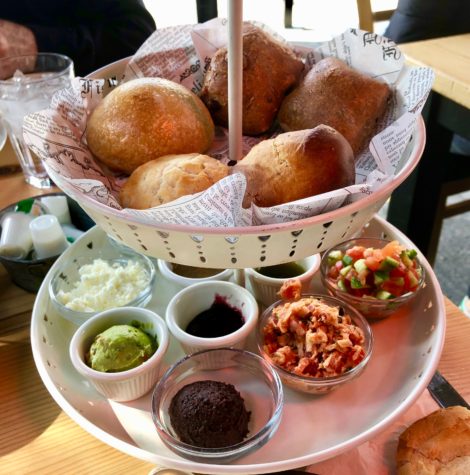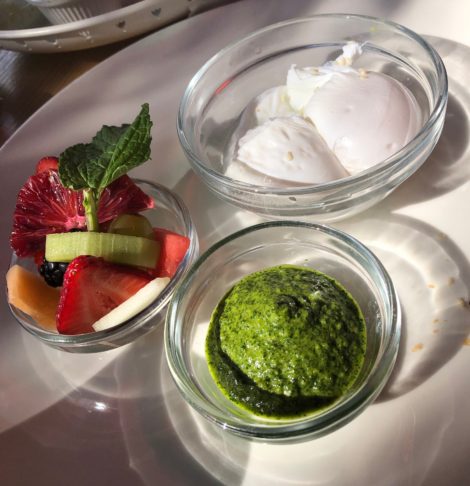 It's the sauce served with the eggs that earned my attention and the subject of the requested recipe above. As you can see the recipe lacks direction by recipe standards. (I would chop equal amounts of cilantro and mint in a blender, add enough lemon juice and oil to give the mixture a spreading texture and use the remaining ingredients to season to taste. This may not produce a replica of Toast's sauce, but it should be good.) On the other hand, the presentation of Toast's House Breakfast rocks with Hollywood pizzaz and is super easy to copy.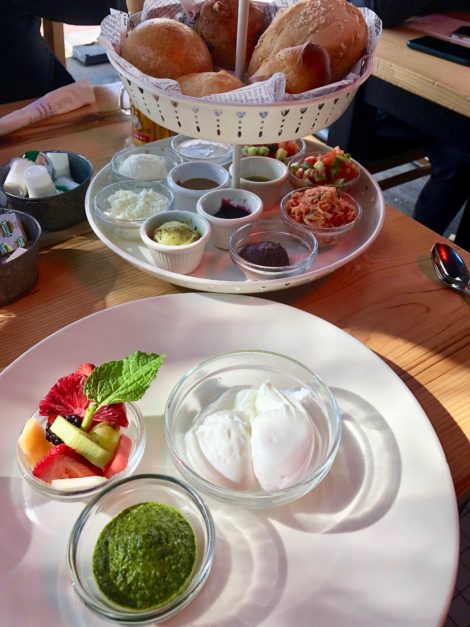 Another version of the mezze approach comes from Ta-eem Grill, a popular kosher restaurant also in Los Angeles. Fill larger bowls with assorted goodies and serve with pita. A mezze meal works well to break the monotony of family dinners in these trying times.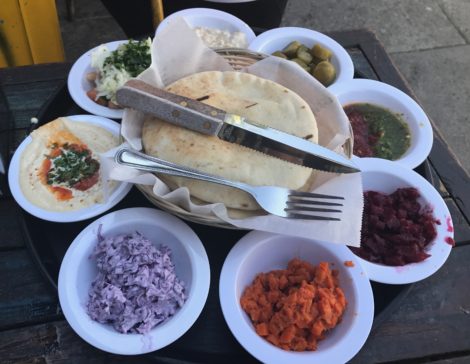 As to what to put in the bowls, click on any of names below for recipes: